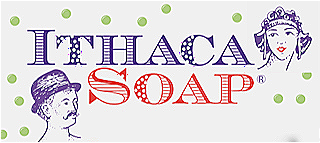 ---
Bursting with Zucchinis
It's Labor Day weekend, and farmers markets in the Northern Hemisphere, are bursting with zucchinis. Zucchini is so versatile, I can make something different with it for weeks worth of dinners.

I posted my simple zucchini chips recipe. Click the link below.

If you are taking a small vacation to Ithaca, make sure you visit Andy in booth 6 at The Ithaca Farmers Market. He will have free foaming pumps to be given away with every Instant Liquid Soap 4 quart purchase.

ithaca-farmers-market.html


---
Small business rocks!
P and C Fresh in Ithaca is a great neighborhood grocery store.

They carry products from over 100 local businesses. If you can't make it to the Ithaca Farmers Market, they have our new foaming pumps on the shelves, plus bar soap, Instant Liquid soap, and LiXTiK Lip Balm.

Click the link below to find soap and lip balm near you.

If you are going to Seneca Lake, check out The Finger Lakes Welcome Center. They have a fabulous tasting bar and will also have samples of our Instant Liquid Soap, diluted to the "On the Go Soap" ratio. Clean, comfortable hands, while on the go makes a great day!

Give it a try.

best-natural-hand-soap-near-me.html


---
Everyone LOVES the Free Foaming Pump
We got these foaming pumps so I can have On the Go Soap when I do sampling and demos, and for our Ithaca Farmers Booth. So far, I am so pleased with them. The pump cap fits a standard glass small mouth Mason jar size or a mayo jar headed for the recycling. The pumps fit a 16 or 32 oz. jar.

We are giving them away free until Sept. 1, 2022 with any Instant Liquid Soap 4 or 8 quart purchase.

But for you subscribers, we are also offering them free with any $50.00 purchase. If you already have Instant Liquid soap and want one of these foaming pumps, type "Free Pump Please" in the notes section of the shopping cart. The expiration date for your special offer is Oct. 1, 2022

Instant Liquid Soap

best-camping-soap.html

fruit-and-vegetable-wash.html


---
18 in 1 soap plus a whole lot more
The Instant Liquid Soap is very versatile. Here's the short list of uses.

You can dilute the Instant Liquid soap to different strengths and use it for different purposes. The Instant Liquid Soap is great for:

1. Hand washing dishes 2. Cleaning a greasy stovetop 3. Clean your refrigerator 4. Clean small kitchen appliances 5. Fruit and vegetable wash 6. Farm fresh egg wash (right before cracking open the egg) 7. Cleaning hair brushes 8. Cleaning your toilet 9. Use as an accessory to your bidet toilet seat 10. Shower body wash

Click the link below for the whole list

best-natural-hand-soap-near-me.html

Ithaca Soap Bars


---
Bees


It's been so hot and dry, that the bees that live at my house, slowed way down for a few weeks. They didn't make new hives like they normally do, so the bee numbers are down for the season. According to our bee keeper, the bees had a difficult Spring and Summer. Please plant a garden and stop using insecticide. bees.html


---
Shipping


Since shipping is out of our hands, I have adjusted our free shipping offer to keep up with the changing times.

Because you are Soap Tribune Subscribers, you have a free shipping coupon for orders of $75.00 or more.

Simply copy and paste the coupon code in the shopping cart. This is the code "freeshippingtribune"

I apologize for this extra step in the checkout process.




---