Ithaca Farmers Market
Sunday Market opens May 2, 2021 10-3pm
Sundays at the Ithaca Farmers Market open May 2, 2021. The hours are
May-Oct. 10-3pm.
Nov.-Indigenous Peoples Day 10-2pm
Sundays at the market are a time for brunch and planning for the week ahead. We are there in our new booth 6. 
Bouquet at Glenhaven Farm Winery booth 66 (?). Tell John I sent you.
The weather is supposed to be great this coming Saturday at the Ithaca Farmers Market. Andy will be there in booth 6 from 9-3pm. She's back at the Ithaca Farmers Market...We are in between Macro Mama's and Waid's Apiary. It's always so nice to see everyone! See you Sat. Sundays start May 2nd from 10-3pm.
order online for Ithaca Farmers Market pick up here
Opening Day
The Ithaca Farmers Market
April 3rd, 2021 9-3pm

As I write this, Andy is moving our booth once again. After 20 years, we are moving to booth 6 in the middle of the pavilion. 
Goodbye booth 22 and to our friends on the waterfront trail end of the pavilion.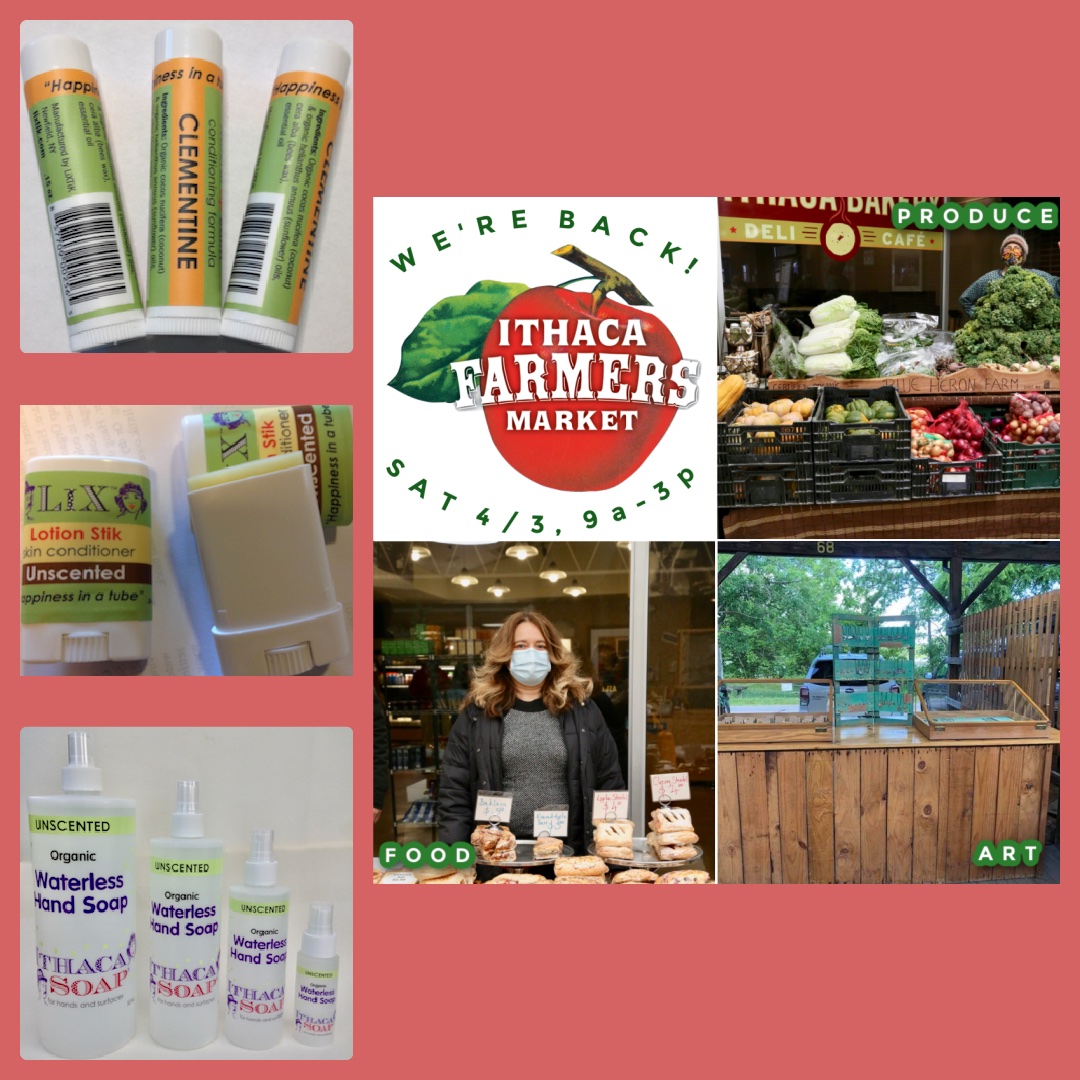 Spring Swag Special
Our market is having a special and we are featured! Here's what's in the tote:
Spring Swag Package includes: our famous canvas sunflower tote, a 3-pack of lip protection from Ithaca Soap, a handmade mask from Carolina Perez Designs AND a $5 gift certificate to spend anywhere in the pavilion. Upon purchasing, you will be contacted to make mask style and lip balm flavor selections. All this for $35 (excluding tax), a $45 value. One week only, limited quantities available.
Click here to get yours
The Ithaca Farmers Market moves back to Steamboat Landing starting 4/3/21
It's that time of year again. The 1st Sat. in April, the market moves back to the pavilion at Steamboat Landing. Come on down April 3rd from 9-3pm in Booth 22. If you would like to speak a coupon to Andy, write a product review on any page that has a tell your story box at the bottom. Here are some links to a pages to write your favorite Ithaca Soap and LiXTiK Beeswax Lip Balm Story on.
We look forward to seeing you after this sort of lonely Winter.
Sat. April 3, 2021 from 9-3.
Curbside pick up available at The Ithaca Farmers market

 Order here: 
on line store
 Picks up on Saturdays between 12 - 2 pm. Place your order from Sundays - Thursdays until 10pm.
Plan ahead for Valentines Day.
The Ithaca Farmers Market has set up an on line store for curbside picks up on Saturdays between 12 - 2 pm. Place your order from Sundays - Thursdays until 10pm.
The Winter Farmers Market is located at:
The Triphammer Marketplace
2255 North Triphammer Rd.
Ithaca, NY 14850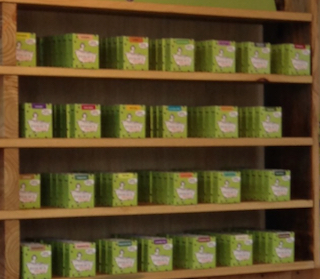 Our product line is mostly all there in the online marketplace, plus you can order from other vendors participating in the marketplace store. You pay for everything at once and do a pick up. You can also go into the marketplace and see who is set up and shop in person. 
PLEASE NOTE: We do not have a booth at the Winter Farmers Market, we only participate in the online Marketplace store. 
We do however have our regular website here. You can do a scheduled pick up in our driveway, or get it shipped, as always. If you haven't signed up yet to receive our newsletter, The Soap Tribune, please do so here and you will receive a 15% off coupon toward your order.
Ithaca farmers Market
Market in the outdoor pavilion at Steamboat Landing is closed until the First Sat. in April. The Market moves indoors to the Triphammer Mall on Jan 9, 2021 from 10:30-2pm.
We do not attend the Winter Market. You can order here, and pick up or we will ship it. Mention "Happy Solstice" in the notes, now through 12/31/20, with every $32.00 order, and receive a Free LiXTiK Lip Balm
Rutabaga Curl today (12/19/20).
Join the silliness.
Celebrate the end of 2020 with us at the market pavilion this Saturday. Stock up on food, farm and artisan products - and wish your favorite vendors happy holidays! WINTER MARKET starts January 9th at TRIPHAMMER MARKETPLACE.RUTABAGA CURL: December 19thWant to participate in the Rutabaga Curl? Buy a rutabaga at market on 12/19/20 and then curl it in your back yard! Record a video or snap a photo and post it to Instagram/Facebook and TAG the market to be featured in our game day coverage! While at market -you can stop by the office to register for the virtual curl and grab a bib number to wear.

Facebook Event You can order a t-shirt online or at the market office. These will be available for pickup at market tomorrow or to be shipped.

Buy the t-shirtMerchandise sale!This weekend at market we are running a HUGE sale on our branded merchandise! We're talking T-shirts, hoodies, hats, bags, mugs, cookbooks and more! Buy 1, get 1 50% off - on EVERYTHING! Mix and match - and the discount will be applied to the item of lesser value.

LAST CHANCE to get merchandise!
12/19/20 Last
Ithaca Farmers Market for 2020
10-2pm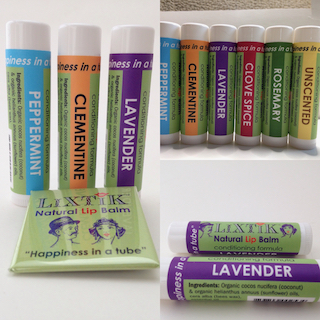 Once again, the end of the IFM season ends with curling rutabagas. Only this year, the event has a funny little twist. You can attend in person or join a virtual Facebook event here. Andy will be at market from 10-2pm. 
I want to give a shoutout to my friends who have passed on and made the Rutabaga Curl near and dear to my heart. Coco Reboh and Peter McDonald. I miss you both every time I even think about market, let alone the curl.
This is also the finish of our 20th!! year at the market. What a long strange trip this year has been. Come down to the pavilion, get a rutabaga, and wish Andy a Happy Solstice. He'll give you a free LiXTiK Lip Balm with every $32.00 purchase.
Or mention "Happy Solstice" in the notes section of the shopping cart and which free LiXTiK Lip Balm you would like with a $32.00 purchase.
Offer good through 12/31/20

Check out the Winter Solstice on Dec. 21st. Saturn and Jupiter are in conjunction for the 1st time in almost 800 years. Read about it here
12/12/20 Ithaca Farmers Market 10-2pm
There are 2 more Ithaca Farmers Markets left for the outdoor season at Steamboat Landing. Andy will be there from 10-2pm.
You can order ahead here, select pickup in the shopping cart and he will have your order ready when you arrive. The weather is going to be in the high 40's.
I got a rutabaga last week and will be making rutabaga latkes for dinner. I got some incredibly beautiful lettuce. It looked like a bouquet, before we enjoyed eating it.
The Rutabaga Curl is going viral on line. Read about it so you can join the fun from anywhere in the world.
Celebrate our 21st year in business!
Free stuff when you

order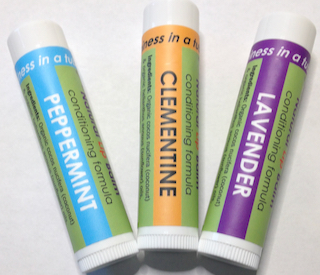 As an anniversary gift, put the code "happy21styear" in the notes section of your order to receive a free LiXTiK Lip Balm on orders over $32.00. Also select which flavor/scent LiXTiK you would like. Choose here
Our celebration free lip balm offer is good on orders from today through 12/17/2020

12/5/20 Ithaca Farmers Market 10-2pm
Andy will be at the Ithaca Farmers Market this Sat.
Get out, stock up for winter, and get some great gifts. We stock up on vinegar, apples, apple butter, root vegetables, and frozen meats.
Also, I have yet to find fresher vegetables. For the same money as the grocery store or supermarket, I get a better head of lettuce that looks like a bouquet, the stoutest leeks, and perfect celeriac. The last 2 celariacs that I got from the store, looked great on the outside and had rotten centers. The Ithaca Farmers Market rocks. We have quite a selection of farmers that know the divas. If you don't know what I'm referring to, you have to read the book, "The Magic of Findhorn"
And of course, the best soap maker I know is there.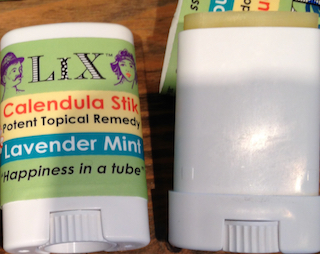 Our same great skin conditioners have been transformed into a convenient Lotion Stik package. Slip it in your pants or shirt pocket, purse or knitting bag. It great for those on the go or at a work site. It's always with you. Simply swipe LiX Lotion Stik where you want it. It's fast, neat and it works!
There's Lavender, Unscented, Patchouli and for that extra boost LiX Calendula Stik with Lavender Mint. 
LiX Calendula Stik Lavender Mint is a great natural disinfectant and Potent Topical Remedy for cuts, burns, and other booboos. Made with our own garden grown, hand processed flowers. 
Free LiX Calendula Stik with every $100.00 or more purchase. Buy in bulk for gifts and get a little something extra. 
Is Andy going to Ithaca Farmers Market (IFM)?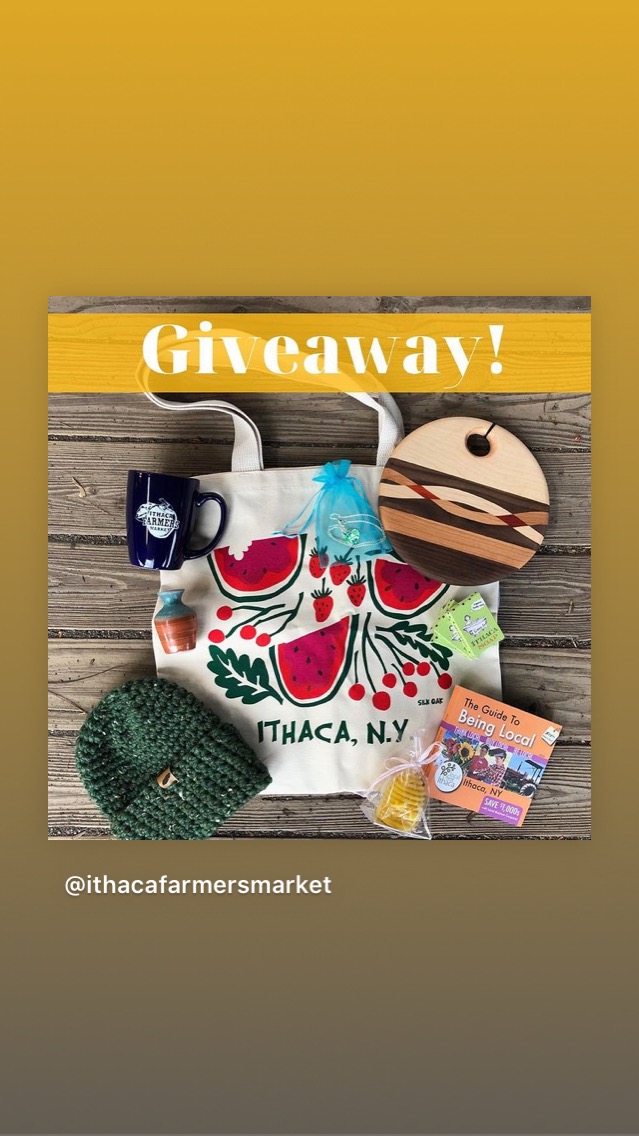 Sat. Nov. 28th, Andy will be at the IFM from 10-2pm. We are having a sale for market goers this day only, since all of our coupons are usually for our website. This time it's for you who show up. 15% off any purchase in our booth of $50.00 or more. Just mention it to Andy when you are making your selections. Plus the market is holding a contest. Read the instructions here.
---
It is Friday, 11/20/20 at 9:30pm. Andy is definitely going to The Ithaca Farmers Market (IFM) Sat from 10-2pm and is pretty sure he is not going on Sunday.
I forgot to mention in the newsletter that this is the last Sunday of the season. Sunday Market starts up again the 1st Sunday in May. For those of you who are new here, Saturday markets go til the last Sat. in Dec. before Christmas.
Rutabaga Curl 12/19/20
This year that's Dec. 19th. The last Sat. of the year is the Rutabaga Curl. WooHoo! It's a really fun curling game. Anybody can play. You sign up the day of and play with a market grown regulation rutabaga. If you haven't been to the Rutabaga Curl, this is not something to be missed.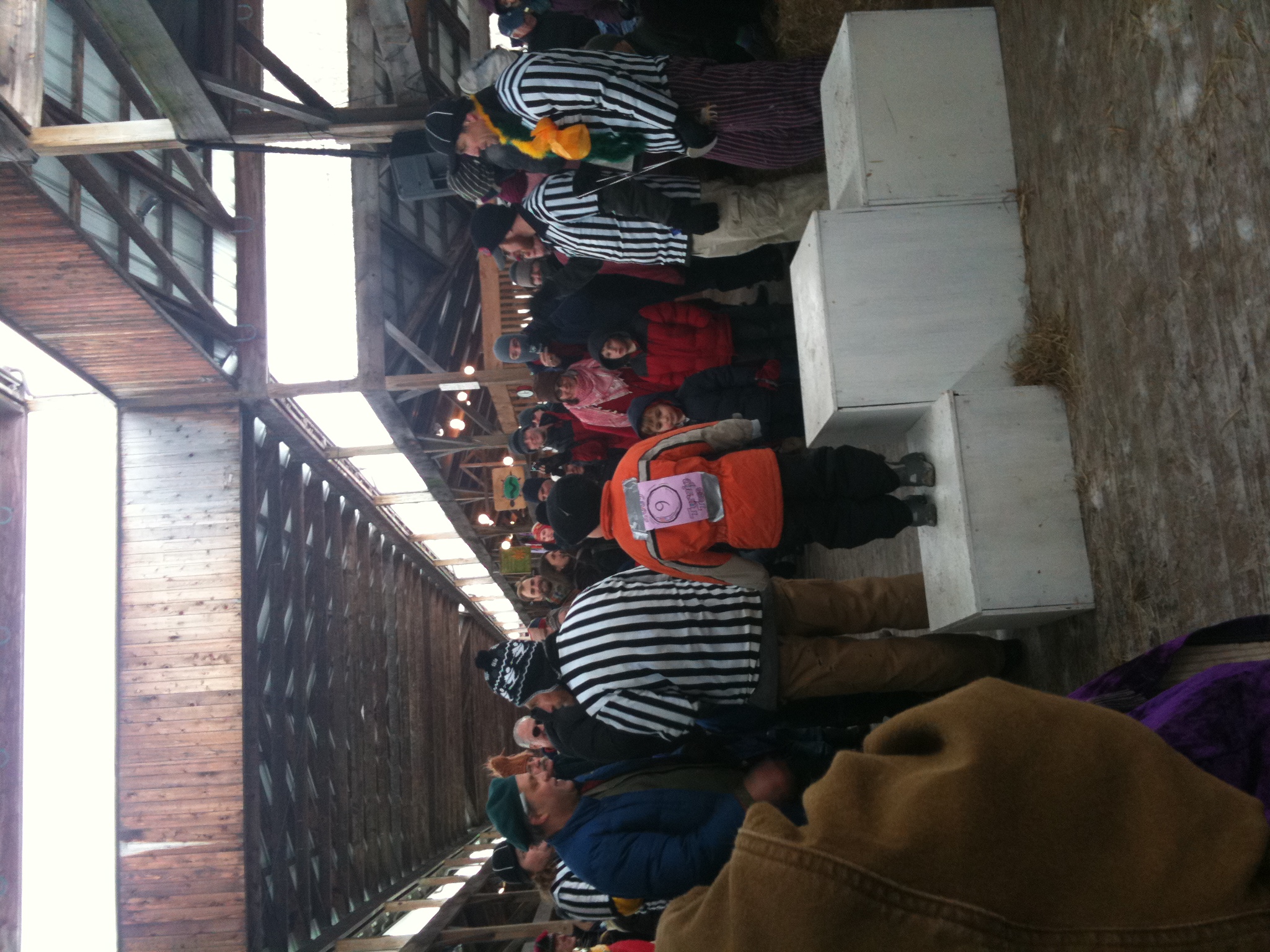 ---
Saturday 11/21/20. Ithaca Farmers Market weather is projected to be high of 48 degrees. It's a great time to get your holiday feast ingredients. I have a turkey on order. I will pick up apples, which I can never get enough of. Our market has an amazing assortment of apples. The best I've ever seen. I will also pick up lettuce, greens, and a celeriac to wilt with remoulade dressing. My favorite.
---