Ithaca Farmers Market
Winter Market
The Ithaca Farmers Market moves indoor for the Winter through to the end of March. Here's a link to the information. We do not attend this market. But you can order through the farmers market store and pick up your market goodies (us included) by clicking on that link. Or you can order through our regular website too.  
Until we meet again in the Spring
Andy and I would like to thank everyone for a wonderful Ithaca Farmers Market year. It wouldn't be the same without all of you.  The Rutabaga Curl was packed and a fun time was had by all. Our neighbor, Macro Mama's served Rutabaga Fritters and Rutabaga Soup. 
In case you missed it, click here for my rutabaga fries and rutabaga soup recipe
Until then you can check out the Winter Market, which we do not attend. You can order through the Ithaca Farmers Market online store for pick up to get Ithaca Soap and LiXTiK Lip Balm, along with other IFM goodies, shop on our website, or visit your favorite store on your travels, where our soap is stocked.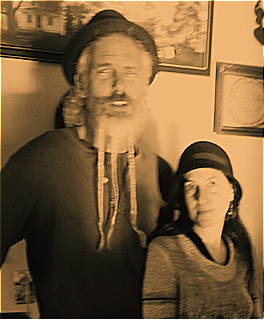 12/18/21 Last Market of the year and the Rutabaga Curl
Come on down to the Ithaca Farmers market from 10-2pm on Dec. 18th. Get your regulation grown curling rutabaga to compete, shop for local food and last minute gifts. Get a cup of hot cider and be with community. 
We will be in booth 6, as usual. Stock up for winter on all of your bar soap, liquid soap refill, olive oil shampoo bar, lotion stik, and lip balm needs.
Below are 2 quick rutabaga recipes
Rutabaga recipes
Rutabaga Fries:
Preheat your oven to 375 F.
Scrub off the dirt with a sponge and soap and water. Peel your rutabaga.
Slice into strips about 1/4-1/2" wide. Toss in cooking oil of your choice. Sprinkle with salt, chipotle and onion powder. Spread out on a baking pan and bake for 30 minutes. Turn once or twice when they begin to smell sweet.
Extra ingredients:
Add to each recipe potatoes and  fresh onions (replacing the powered onion) following the same instructions.
If you are lucky enough to have access to organic, farm fresh rutabagas that are not waxed, chop up the skin for your chickens.
(Do not feed your chickens onions, since they are toxic to them, potatoes will make them fat, and they cannot process any oil or salt and spices. )
Rutabaga Soup.
Scrub off the dirt and peel your rutabaga.
Cut into cubes about 1/3-1/2" square. 
Place in a 3 quart sauce pan and cover with water. Bring to a boil and simmer until rutabaga pieces are tender and break apart. 
Mash up with a potato masher or a stick blender.
Add to taste salt, coriander, turmeric, cumin.
Winter Squash
The winter squash selection at market is vast. I made a delicious butternut soup that is so simple I'll put the recipe right here
Andy will be at The Ithaca Farmers Market on Saturdays ONLY from 10-2pm
Dec 4th- Dec. 18th which is The Annual Rutabaga Curl. 10am-2pm
I will be at The Lexington Food Coop, at the Hertle Store Dec. 4th from 11:30-2pm in a demo party. Come sample, taste and select goodies for this holiday season.

Fresh Ginger and updates
Andy will be at The Ithaca Farmers Market on Saturdays ONLY from 10-2pm
Nov. 6th - Dec. 18th which is The Annual Rutabaga Curl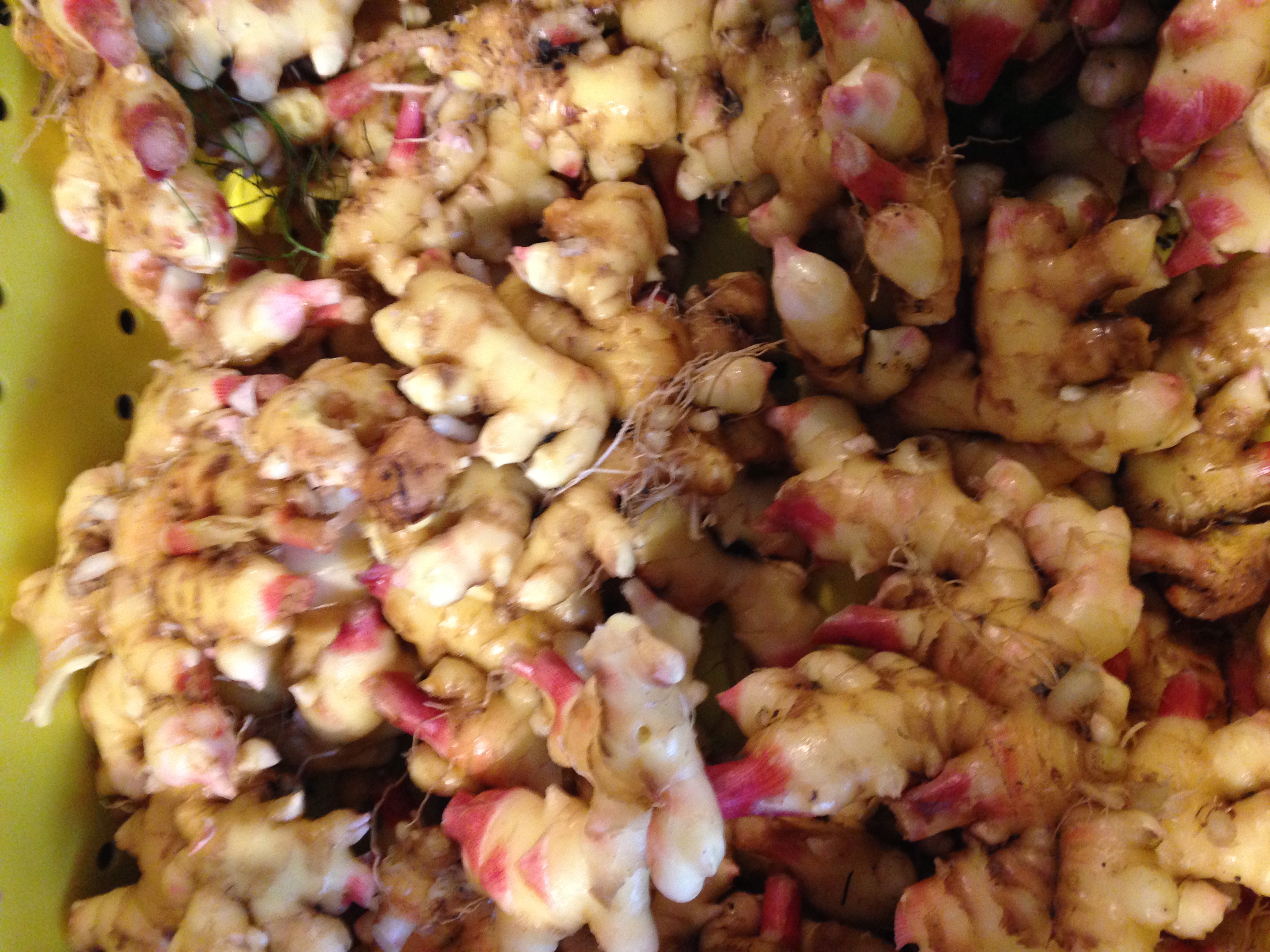 There's something very special about fresh organic ginger. It's more flavorful, sweet, crisp, and hot. Ginger is also very high in vitamin C. I've been getting ours from Muddy Fingers Farm at The Ithaca Farmers Market.
I made some super delicious apple ginger chutney with it! Click here for the recipe. Also read about ginger storage so you'll be able to enjoy fresh ginger all winter until next year's harvest.
Halloween weekend
Trick or Treat. Some vendors love to give out candy at the Ithaca Farmers Market for Halloween. One year a farm went crazy and staged a haunted House. You never know what's going to happen. Dress up as your alter ego, go out and have some fun.
This the last weekend at the Ithaca Farmers Market when we will be open from 9-3 on Saturdays and 10-3 on Sunday.
Starting Nov. 6th, November hours change to both Sat. and Sun. 10-2pm 
The last Sunday market of the year is Sun. Nov. 28th.
December market hours are Saturdays only 10-2pm
The Rutabaga Curl is Sat. Dec. 18th from 10-2
Peppers
If you love peppers of all sizes, shapes and colors, The Ithaca Farmers Market has an excellent array. Click this link below for my Hot Pepper Paste recipe, made with roasted tomatoes and beautiful hot peppers Andy brought home from the Ithaca Farmers Market from Humble HIll Farm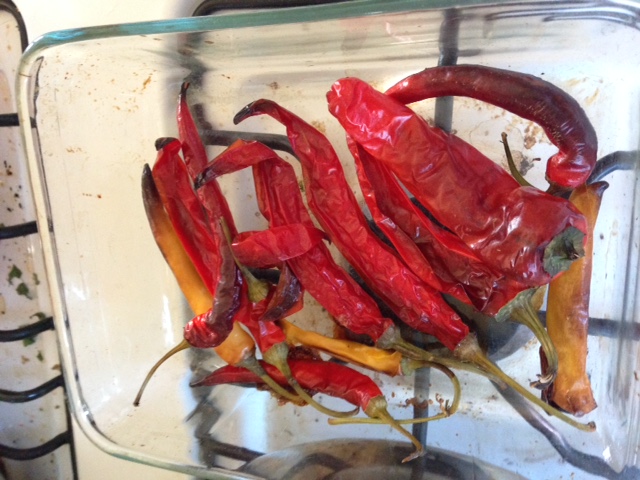 Fall hours
As the light wanes here in the Northeast US, Archie, our adult rooster is crowing a little bit later every day. 
This coincides with the Ithaca Farmers Market hours changing:

October hours remain the same: Sat. 9-3pm Sun. 10-3pm
Starting Nov. 6th, November hours change to both Sat. and Sun. 10-2pm 
The last Sunday market of the year is Sun. Nov. 28th.
December market hours are Saturdays only 10-2pm
The Rutabaga Curl is Sat. Dec. 18th from 10-2
Get your winter squash supply at your farmers market or join us at ours. The Ithaca Farmers Market farmers grow an impressive variety of winter squashes for you to collect and enjoy throughout the Fall and coming Winter months.
Since we are not going to set up our booth at The New York Sheep and Wool Festival in Rhinebeck, NY. this year, Andy is bringing my beautiful plant dyed organic Merino yarn to the Ithaca Farmers Market through Oct. 17th.
Click here to purchase yarn online
Click here to read about my yarn and dying adventures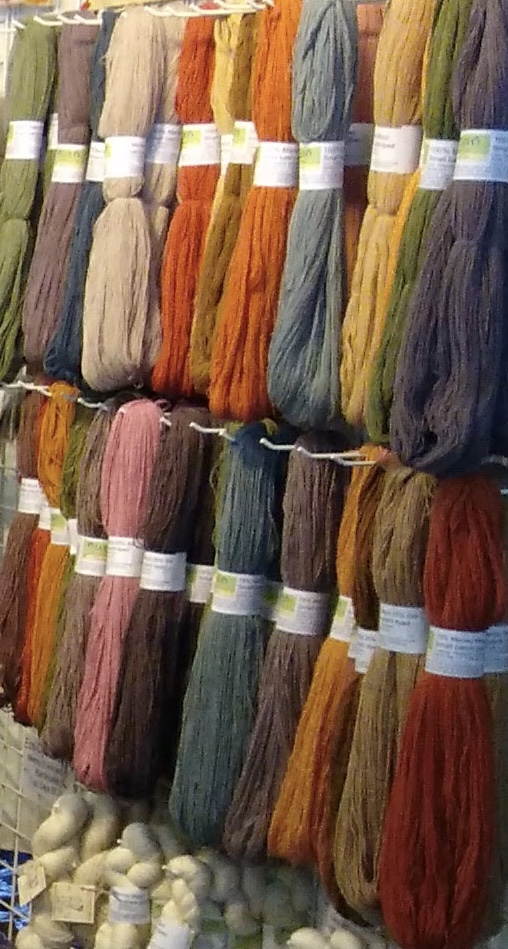 I will be in booth 6 this coming weekend. The harvest is in full swing. There are onions, shallots, sweet corn, peppers, tomatoes, eggplants, cheeses, meats, and fruit!! Love your farmers. They do amazing things to be able to supply you with delicious food.
I was amazed when picked our first apple. It's incredible that we have any. In the early mornings, I do my animal cleaning tasks, and then gardening is my zen time before work.
The beginning of the growing season came with an abundant supply of tent caterpillars, that I fought off daily for weeks. Since our garden is organic, I would go out to the apple trees, with thick gloves on, and spend quite a while every morning picking off caterpillars and squishing them. It was a disgusting task. Sometimes the caterpillars would jump off the trees and into my jacket. Their spiny hairs have a little toxic venom on them so if they scratched your skin, it was a very itchy "bite" 
We gently barbecued a tender, juicy pork chop over applewood coals from Michael from Cayuta Sun Farm. Check it out!
I am growing a wonderful variety of peppers in my garden this year. 1/2 of them were a gift from my friends at Under the Tree Farms. That's where my beautiful Orange Sweet Pepper plants came from.
When you come to the Ithaca Farmers Market, check out Under the Tree Farm. They are 2 booths away from us in booth 8. See you there!
Apple Cider Vinegar
I stocked up on Apple Cider Vinegar from Little Tree Orchards. Yummy. It makes the best pickles and salad dressings. Summer food at it's finest.
I met a traveler at market many years ago. He was from Paris and was spending the Summer in Ithaca. He said we had the best selection of fresh food he has ever seen, which is a big compliment coming from a Parisian. When I was in Paris oh so many years ago, there was amazing fresh food everywhere in the middle of Winter. 
Join in the celebration of the Summer harvest and eat well.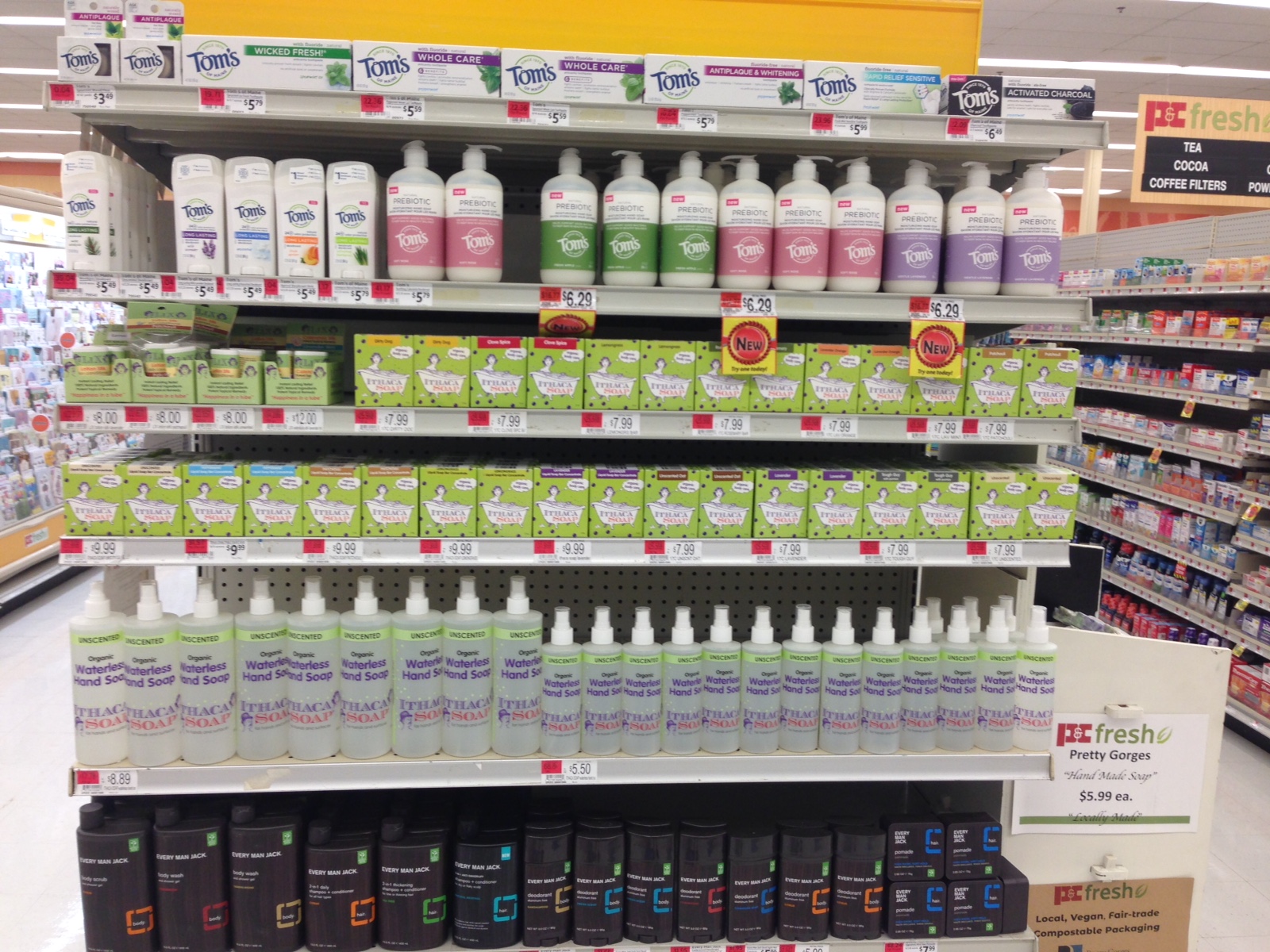 This news is tangentially related to the Ithaca Farmers Market. We are now on an end cap display in P and C Fresh grocery store in the East HIll Plaza, Ithaca, NY.
Andy will be delivering more Liquid Soap Refill in Lavender, Peppermint, and Unscented tomorrow. Check it out! 
This is related to Ithaca Farmers Market, because this store has over 100 local small suppliers filling their shelves. Quite a few are farmers market members. The staff are friendly and knowledgable. You will always be greeted with a smile.
Blueberries
We got some blueberries last week at the market. They were plump and sweet. Yummy. I will be getting more and make some blueberry jam. 
See you in Booth 6
The Ithaca Farmers Market
Andy will be in booth 6, our fabulous new location at the Ithaca Farmers Market, with Lavender, Peppermint and Unscented Liquid Soap Refill in stock. It is moving very quickly, so come early if you'd like some or order here.
Too much rain is a challenge for fruit harvesting. It speeds up the ripening time, making it hard for farmers to pick it all. If you are a fruit lover, come early to get your share.
Blueberries are juicy fruit this July
I was unable to make it to the Ithaca Farmers Market last weekend, only to find out Andy was too busy to bring home some perfect blueberries. I will definitely get some this weekend.
Visit Andy in booth 6. We now have Liquid Soap Refills in Lavender, Peppermint, and Unscented. 
| | |
| --- | --- |
| | Save 20% on Liquid Soap Refills Lavender 4 quarts when you subscribe. Click here |
July is filled with Music in Ithaca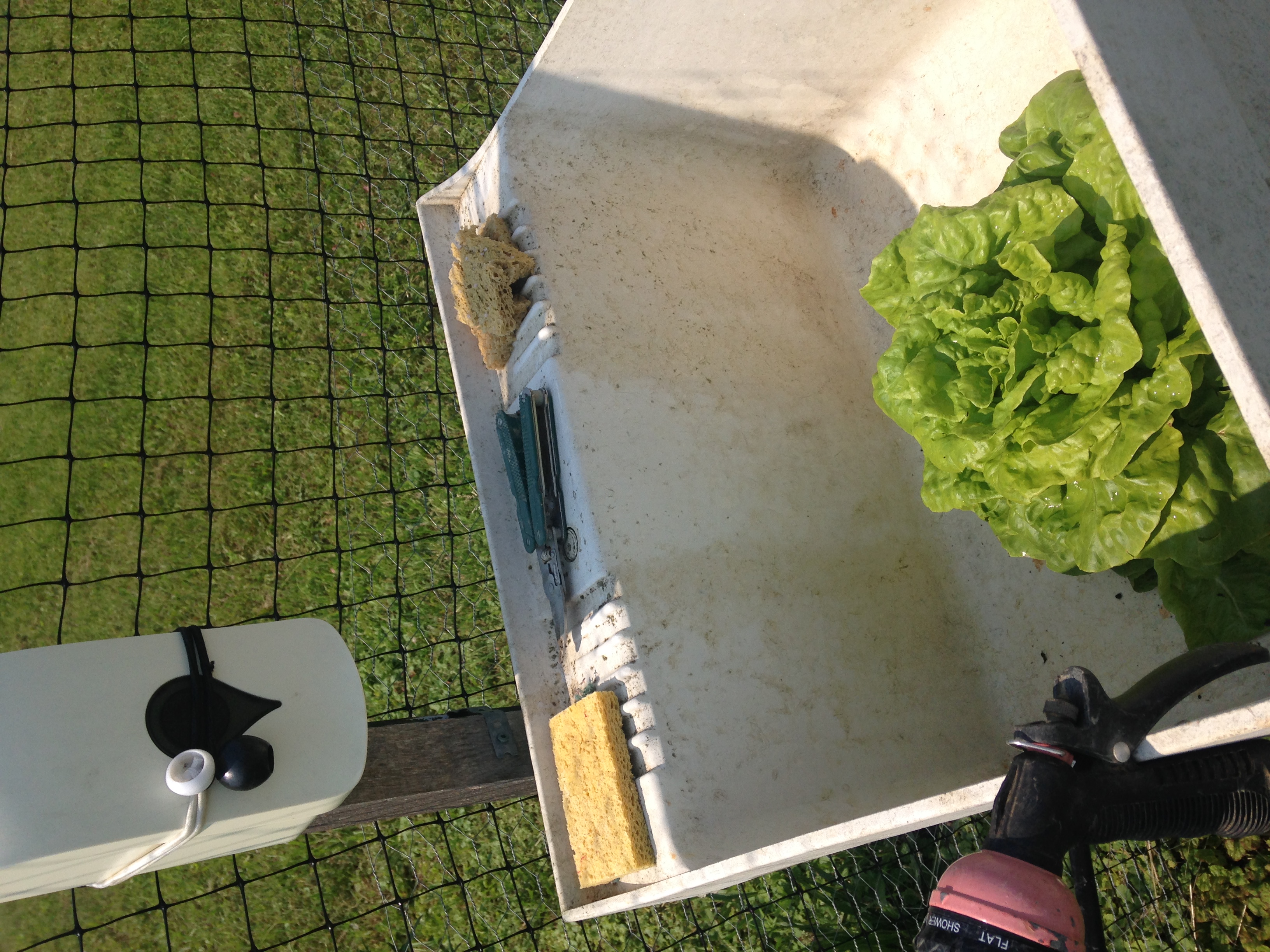 This is my garden sink complete with liquid soap refill in a dispenser, and a fresh picked head of lettuce.
And the freshest produce. Music is back at the Ithaca Farmers Market pavilion. It's a festival on the waterfront, with great food, and a breeze from the lake. I eat lettuce all year, but it is especially delicious during the summer. See you in Booth 6 til 3pm.
One more week of sweet cherries and then the sours are ready. Pucker up!
Samples are back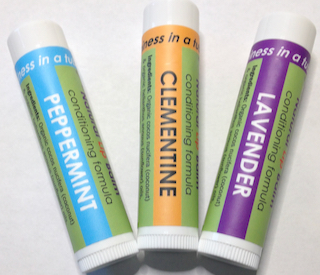 can't make it? Order online https://www.ithacasoap.com
Samples are back at the Ithaca Farmers Market and we are giving out     LiXTiK Lip Balm tastes. If you haven't tried LiKTiK, come to the Ithaca Farmers Market to booth 6 Sat.9-3 and Sun. 10-3. Andy will there.
It's also the beginning of Cherry season. Sweets 1st, then in 2 weeks it will be tart or sour cherries. With all of the rain we've had, this should be a good juicy year. My wild black raspberries are just the right amount of flavor, juice, but not too plump. So the cherries should be perfect.

It reminds me of when I ran the FingerLakes GrassRoots Festival hospitality kitchen. I managed 50 volunteers (who all have a special place in my heart). We made 1500 meals, three times a day, for 7 days. Most of the food, at that point in GrassRoots history, came from local farms and suppliers. It was a special moment in time.
Saturday night was the big night. Everyone got dressed UP. The dinner menu had a Bayou flair, in honor of the Cajun/Zydeco bands that kept us dancing all night. Desert was Vanilla Ice Cream from Purity (the inventors of the Ice Cream Sundae), Topped with Sour Cherries from Little Tree Orchards. Yuuuummmy. Get your tix here
Sweet cherries from Black Diamond Farm
It's strawberry Season!!!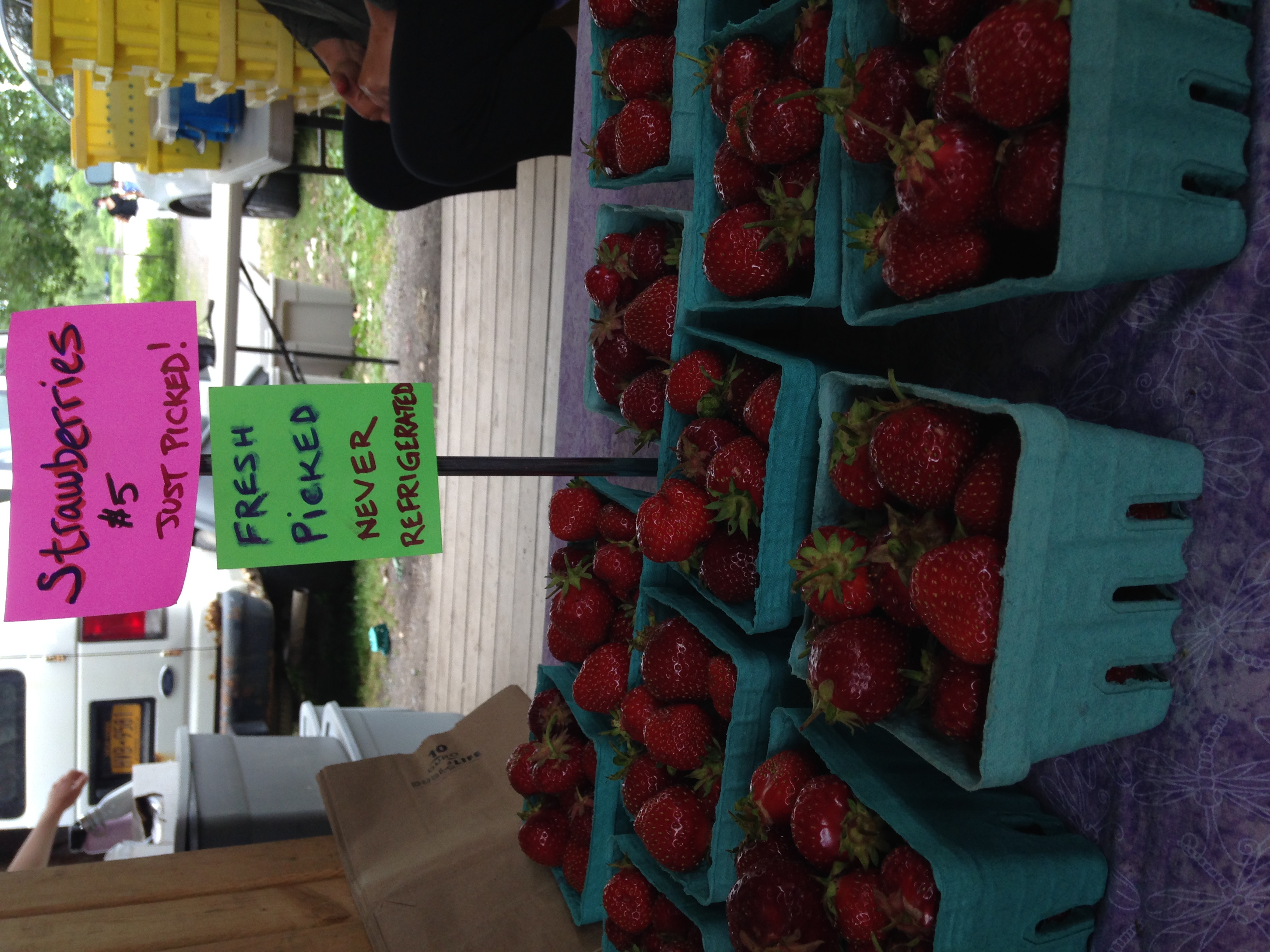 Soooo Good. Yummy. Fresh and sweet. Doug (who knows the divas!!), Mary, and Rachel from Buried Treasure Farm are across the isle from us kitty-corner, sort of.  We also got some collard greens from Six Circles Farm, and cheese from Snow Creamery. All good stuff.
I picked some rhubarb and made a simple sauce with butter on the stove. Then I made a buttermilk custard with our fresh eggs. Get them before they're gone!
The Ithaca Farmers Market lost a friend last week
It is with great sadness that I share with you the news of the loss of one of our long-time beloved members Jim Hardesty who passed away recently after a year long struggle with illness. Jim was a master of Chinese calligraphy, a renowned painter of traditional Chinese art, and a treasured artisan at our market. A member of our market for 35 years, Hardesty presided over every annual stall auction at our market since the construction of the pavilion at its current location. He was known for his good humor and unexpected acts of kindness. He will be missed by so many!
Samples and food at the Market
It looks like we are going back to vendors being able to give out samples in their booth. Shoppers can order food, pick it up and I think eat inside the pavilion. Yay to eating, shopping and visiting normally. 
We are still giving away free sample kits with a $20.00 purchase,
Saturday 9-3pm and Sunday 10-3pm in booth 6. 
They are in a cotton zippered pouch and contain:

*Waterless Hand Soap 2 oz. unscented
*Silk Dental Floss
*Bamboo toothbrush - prepasted with mint toothpaste
*KN95 mask
You can also order here. Mention FreeSampleKit in the notes section of your shopping cart.
Ithaca Soap and LiXTiK Beeswax Lip Balm, is an environmentally conscious and socially responsible company located in the heart of the Finger Lakes in New Your State. Visit the Finger Lakes Region of Upstate New York sometime soon. 

Sunday Market opens May 2, 2021 10-3pm
Sundays at the Ithaca Farmers Market open May 2, 2021. The hours are
May-Oct. 10-3pm.
Nov.-Indigenous Peoples Day 10-2pm
Sundays at the market are a time for brunch and planning for the week ahead. We are there in our new booth 6. 
Bouquet at Glenhaven Farm Winery booth 66 (?). Tell John I sent you.
The weather is supposed to be great this coming Saturday at the Ithaca Farmers Market. Andy will be there in booth 6 from 9-3pm. She's back at the Ithaca Farmers Market...We are in between Macro Mama's and Waid's Apiary. It's always so nice to see everyone! See you Sat. Sundays start May 2nd from 10-3pm.
order online for Ithaca Farmers Market pick up here
Opening Day
The Ithaca Farmers Market
April 3rd, 2021 9-3pm

As I write this, Andy is moving our booth once again. After 20 years, we are moving to booth 6 in the middle of the pavilion. 
Goodbye booth 22 and to our friends on the waterfront trail end of the pavilion.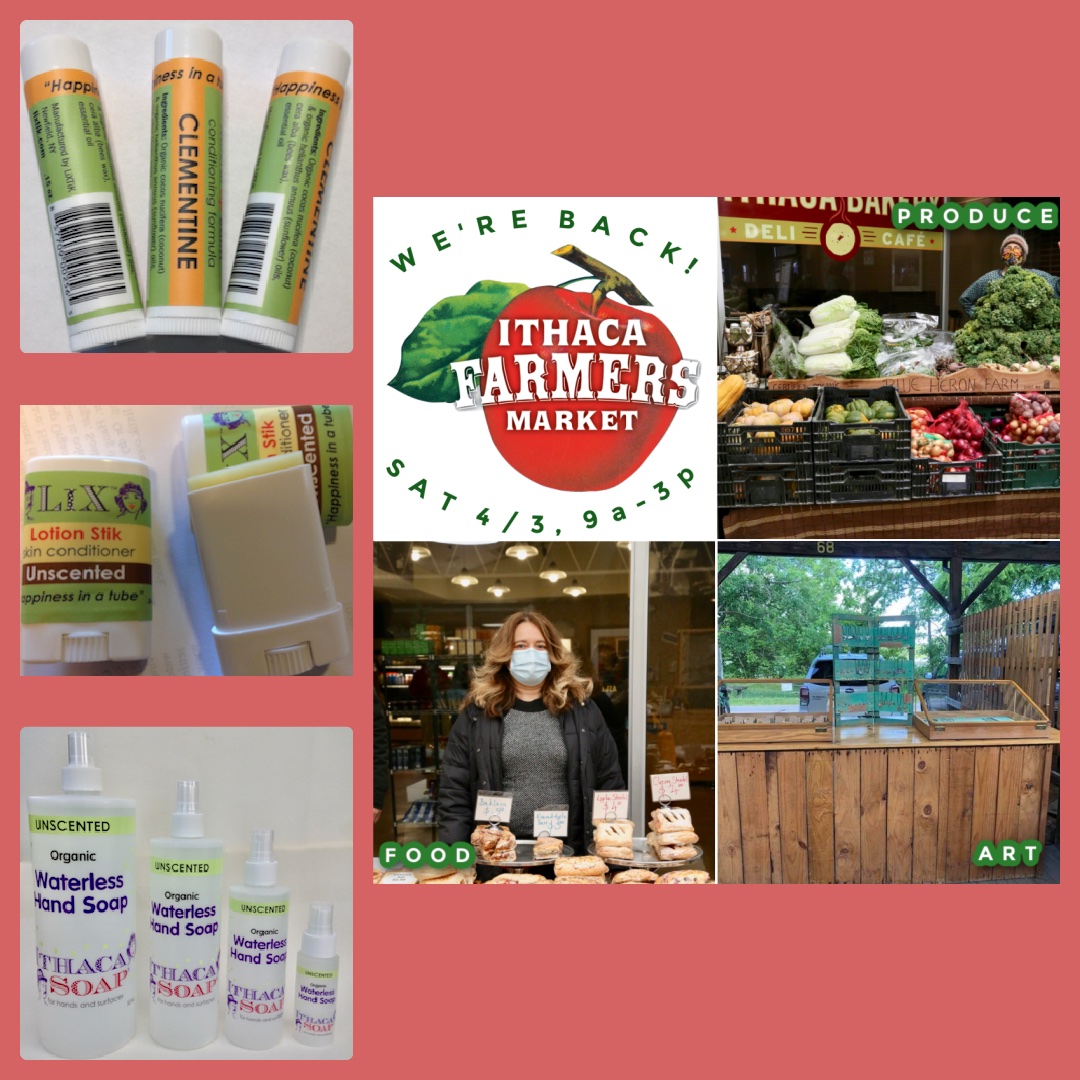 Spring Swag Special
Our market is having a special and we are featured! Here's what's in the tote:
Spring Swag Package includes: our famous canvas sunflower tote, a 3-pack of lip protection from Ithaca Soap, a handmade mask from Carolina Perez Designs AND a $5 gift certificate to spend anywhere in the pavilion. Upon purchasing, you will be contacted to make mask style and lip balm flavor selections. All this for $35 (excluding tax), a $45 value. One week only, limited quantities available.
Click here to get yours
The Ithaca Farmers Market moves back to Steamboat Landing starting 4/3/21
It's that time of year again. The 1st Sat. in April, the market moves back to the pavilion at Steamboat Landing. Come on down April 3rd from 9-3pm in Booth 22. If you would like to speak a coupon to Andy, write a product review on any page that has a tell your story box at the bottom. Here are some links to a pages to write your favorite Ithaca Soap and LiXTiK Beeswax Lip Balm Story on.
We look forward to seeing you after this sort of lonely Winter.
Sat. April 3, 2021 from 9-3.
Curbside pick up available at The Ithaca Farmers market

 Order here: 
on line store
 Picks up on Saturdays between 12 - 2 pm. Place your order from Sundays - Thursdays until 10pm.
Plan ahead for Valentines Day.
The Ithaca Farmers Market has set up an on line store for curbside picks up on Saturdays between 12 - 2 pm. Place your order from Sundays - Thursdays until 10pm.
The Winter Farmers Market is located at:
The Triphammer Marketplace
2255 North Triphammer Rd.
Ithaca, NY 14850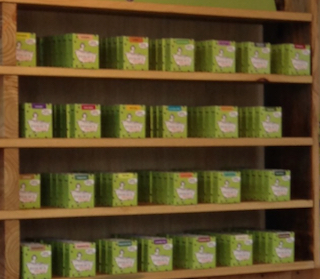 Our product line is mostly all there in the online marketplace, plus you can order from other vendors participating in the marketplace store. You pay for everything at once and do a pick up. You can also go into the marketplace and see who is set up and shop in person. 
PLEASE NOTE: We do not have a booth at the Winter Farmers Market, we only participate in the online Marketplace store. 
We do however have our regular website here. You can do a scheduled pick up in our driveway, or get it shipped, as always. If you haven't signed up yet to receive our newsletter, The Soap Tribune, please do so here and you will receive a 15% off coupon toward your order.
Ithaca farmers Market
Market in the outdoor pavilion at Steamboat Landing is closed until the First Sat. in April. The Market moves indoors to the Triphammer Mall on Jan 9, 2021 from 10:30-2pm.
We do not attend the Winter Market. You can order here, and pick up or we will ship it. Mention "Happy Solstice" in the notes, now through 12/31/20, with every $32.00 order, and receive a Free LiXTiK Lip Balm
Rutabaga Curl today (12/19/20).
Join the silliness.
Celebrate the end of 2020 with us at the market pavilion this Saturday. Stock up on food, farm and artisan products - and wish your favorite vendors happy holidays! WINTER MARKET starts January 9th at TRIPHAMMER MARKETPLACE.RUTABAGA CURL: December 19thWant to participate in the Rutabaga Curl? Buy a rutabaga at market on 12/19/20 and then curl it in your back yard! Record a video or snap a photo and post it to Instagram/Facebook and TAG the market to be featured in our game day coverage! While at market -you can stop by the office to register for the virtual curl and grab a bib number to wear.

Facebook Event You can order a t-shirt online or at the market office. These will be available for pickup at market tomorrow or to be shipped.

Buy the t-shirtMerchandise sale!This weekend at market we are running a HUGE sale on our branded merchandise! We're talking T-shirts, hoodies, hats, bags, mugs, cookbooks and more! Buy 1, get 1 50% off - on EVERYTHING! Mix and match - and the discount will be applied to the item of lesser value.

LAST CHANCE to get merchandise!
12/19/20 Last
Ithaca Farmers Market for 2020
10-2pm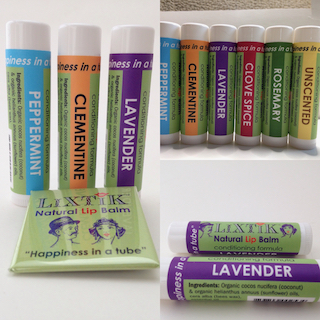 Once again, the end of the IFM season ends with curling rutabagas. Only this year, the event has a funny little twist. You can attend in person or join a virtual Facebook event here. Andy will be at market from 10-2pm. 
I want to give a shoutout to my friends who have passed on and made the Rutabaga Curl near and dear to my heart. Coco Reboh and Peter McDonald. I miss you both every time I even think about market, let alone the curl.
This is also the finish of our 20th!! year at the market. What a long strange trip this year has been. Come down to the pavilion, get a rutabaga, and wish Andy a Happy Solstice. He'll give you a free LiXTiK Lip Balm with every $32.00 purchase.
Or mention "Happy Solstice" in the notes section of the shopping cart and which free LiXTiK Lip Balm you would like with a $32.00 purchase.
Offer good through 12/31/20

Check out the Winter Solstice on Dec. 21st. Saturn and Jupiter are in conjunction for the 1st time in almost 800 years. Read about it here
12/12/20 Ithaca Farmers Market 10-2pm
There are 2 more Ithaca Farmers Markets left for the outdoor season at Steamboat Landing. Andy will be there from 10-2pm.
You can order ahead here, select pickup in the shopping cart and he will have your order ready when you arrive. The weather is going to be in the high 40's.
I got a rutabaga last week and will be making rutabaga latkes for dinner. I got some incredibly beautiful lettuce. It looked like a bouquet, before we enjoyed eating it.
The Rutabaga Curl is going viral on line. Read about it so you can join the fun from anywhere in the world.
Celebrate our 21st year in business!
Free stuff when you

order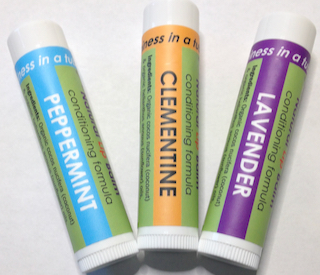 As an anniversary gift, put the code "happy21styear" in the notes section of your order to receive a free LiXTiK Lip Balm on orders over $32.00. Also select which flavor/scent LiXTiK you would like. Choose here
Our celebration free lip balm offer is good on orders from today through 12/17/2020

12/5/20 Ithaca Farmers Market 10-2pm
Andy will be at the Ithaca Farmers Market this Sat.
Get out, stock up for winter, and get some great gifts. We stock up on vinegar, apples, apple butter, root vegetables, and frozen meats.
Also, I have yet to find fresher vegetables. For the same money as the grocery store or supermarket, I get a better head of lettuce that looks like a bouquet, the stoutest leeks, and perfect celeriac. The last 2 celariacs that I got from the store, looked great on the outside and had rotten centers. The Ithaca Farmers Market rocks. We have quite a selection of farmers that know the divas. If you don't know what I'm referring to, you have to read the book, "The Magic of Findhorn"
And of course, the best soap maker I know is there.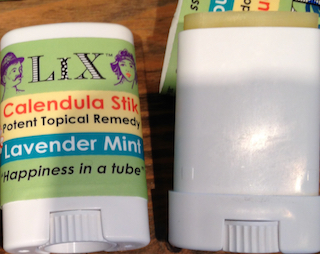 Our same great skin conditioners have been transformed into a convenient Lotion Stik package. Slip it in your pants or shirt pocket, purse or knitting bag. It great for those on the go or at a work site. It's always with you. Simply swipe LiX Lotion Stik where you want it. It's fast, neat and it works!
There's Lavender, Unscented, Patchouli and for that extra boost LiX Calendula Stik with Lavender Mint. 
LiX Calendula Stik Lavender Mint is a great natural disinfectant and Potent Topical Remedy for cuts, burns, and other booboos. Made with our own garden grown, hand processed flowers. 
Free LiX Calendula Stik with every $100.00 or more purchase. Buy in bulk for gifts and get a little something extra.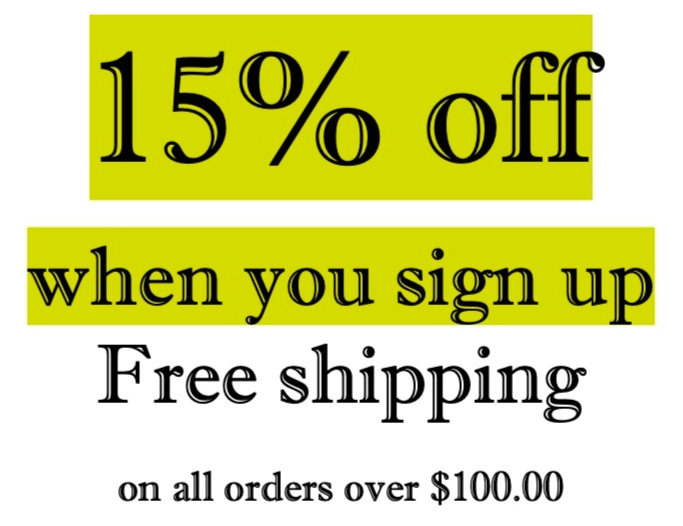 Is Andy going to Ithaca Farmers Market (IFM)?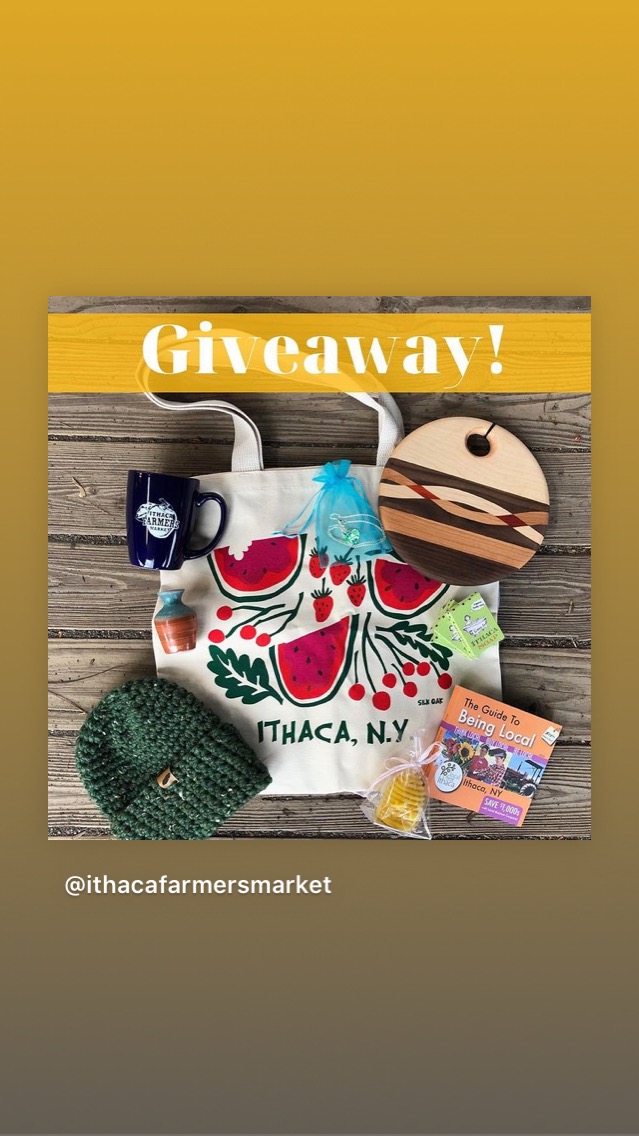 Sat. Nov. 28th, Andy will be at the IFM from 10-2pm. We are having a sale for market goers this day only, since all of our coupons are usually for our website. This time it's for you who show up. 15% off any purchase in our booth of $50.00 or more. Just mention it to Andy when you are making your selections. Plus the market is holding a contest. Read the instructions here.
---
It is Friday, 11/20/20 at 9:30pm. Andy is definitely going to The Ithaca Farmers Market (IFM) Sat from 10-2pm and is pretty sure he is not going on Sunday.
I forgot to mention in the newsletter that this is the last Sunday of the season. Sunday Market starts up again the 1st Sunday in May. For those of you who are new here, Saturday markets go til the last Sat. in Dec. before Christmas.
Rutabaga Curl 12/19/20
This year that's Dec. 19th. The last Sat. of the year is the Rutabaga Curl. WooHoo! It's a really fun curling game. Anybody can play. You sign up the day of and play with a market grown regulation rutabaga. If you haven't been to the Rutabaga Curl, this is not something to be missed.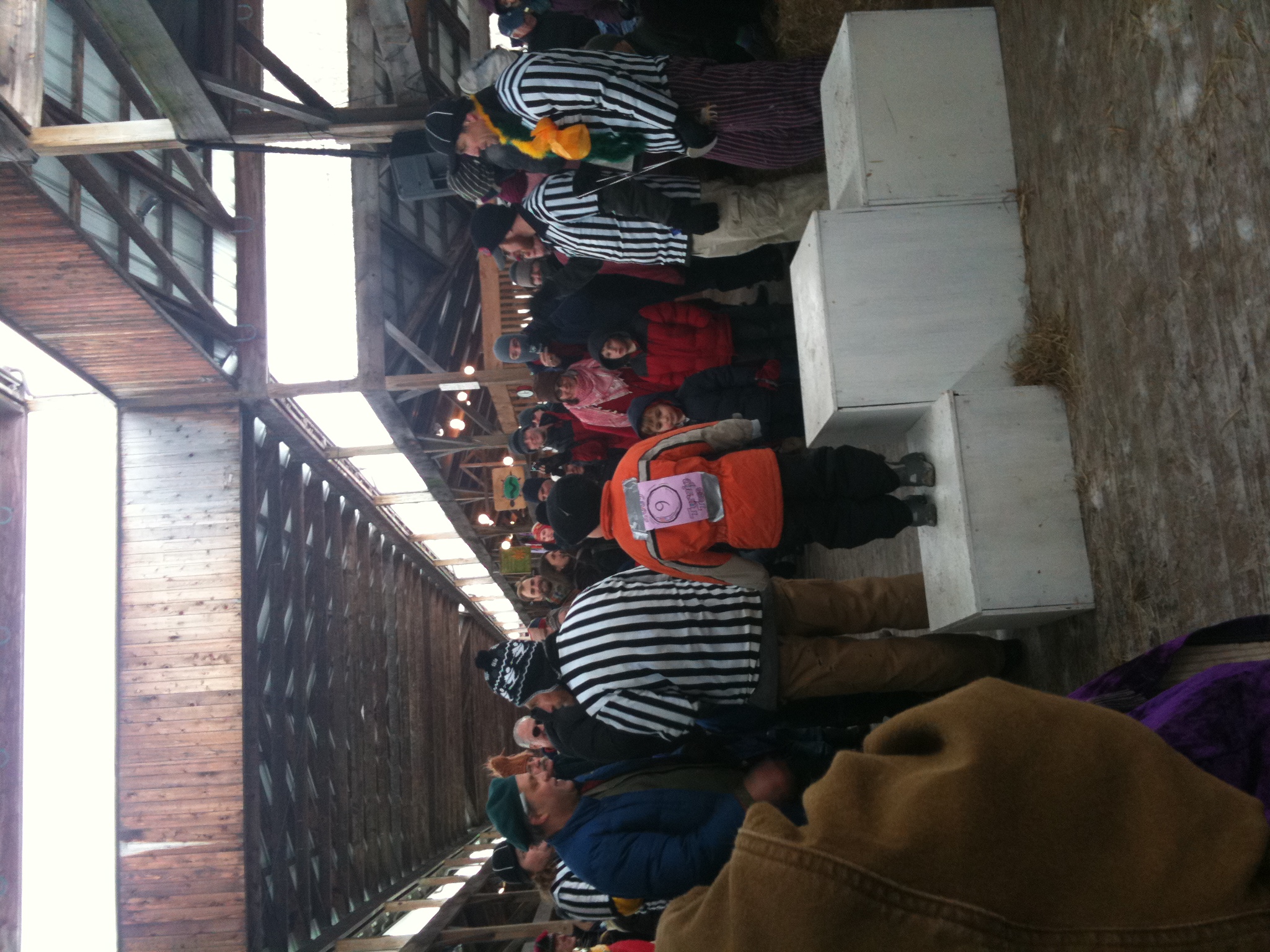 ---
Saturday 11/21/20. Ithaca Farmers Market weather is projected to be high of 48 degrees. It's a great time to get your holiday feast ingredients. I have a turkey on order. I will pick up apples, which I can never get enough of. Our market has an amazing assortment of apples. The best I've ever seen. I will also pick up lettuce, greens, and a celeriac to wilt with remoulade dressing. My favorite.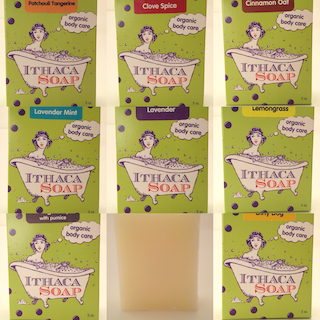 Soap and water kill germs, while cleaning you
Good bar soap is an essential as a whole body soap wash. It's economical, luxurious, and effective. When selecting a bar of soap, look for simple ingredients with pleasing essential oil aromas and lots of sudsy lather. Sudsing all the way down to a sliver, over 3-4 months of daily use, is key in good bar soap. Try Ithaca Soap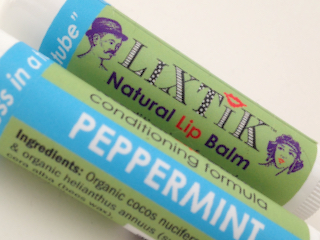 Moisturize, hydrate, and nourish your lips with wonderfully luxurious
Leave your lips moist and smooth for many hours. Soothes severely chapped lips.

| | |
| --- | --- |
| Choose from 8 LiXTiK Beeswax flavors/scents. Ingredients: Organic coconut and sunflower oils, premium beeswax, 100% pure essential oils | |