All natural hand soap
makes a difference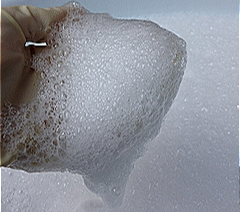 Good all natural hand soap makes a difference.
Dry hands? Empower yourself and say no to alcohol sanitizers right now and get yourself some all natural hand soap. If you're on the go, get some Go Soap, aka Waterless Hand Soap. 
In a world inundated with alcohol hand sanitizers (and hydrogen peroxide hand sanitizers), problems have been introduced into your life unnecessarily.

Using hand soap is best. You would be having a good day if your hands had soft skin instead of chapped skin. 
All natural hand soap is versatile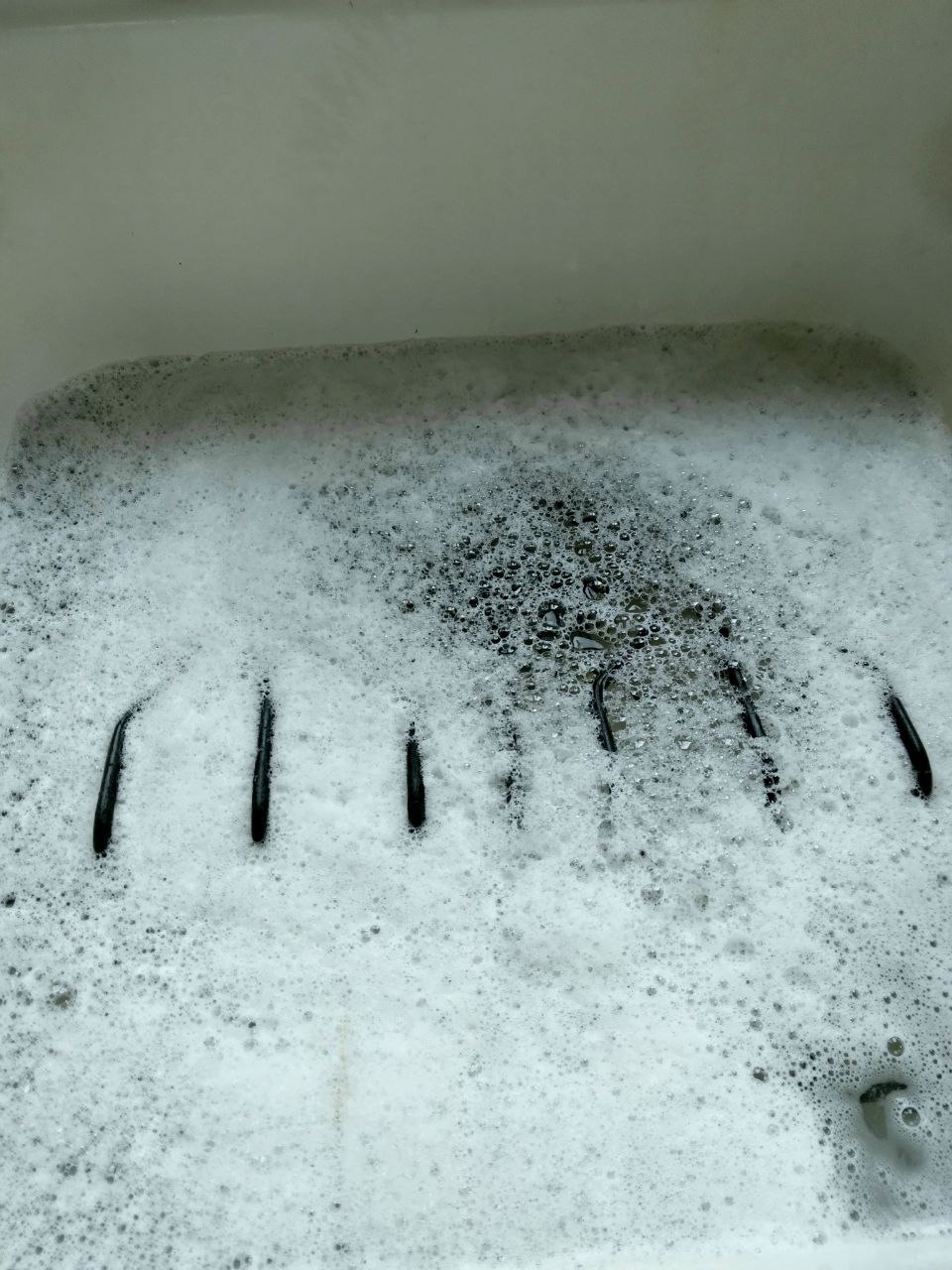 Soap up and soak your stovetop grills in Instant Liquid Soap to remove grease and caked on food
How many different soaps, shampoos, and "cleaning fluids" do you have cluttering up your under the sink cabinets, mop closets, and basements?
One for face, one for hands, one for body. One color cleaning fluid for dishes, another for the floors, an aerosol for furniture, and something else for rugs. Then there's a different one for shower tile, and yet another one for the car, pets...it's too much!
All of the liquids and gels come in single use plastic bottles, since the fumes are too strong and offensive to reuse the bottle for anything else. They irritate your skin, lungs and give you headaches, all in the name of making yourself and your environment "clean".
What does "clean" mean anyway? Does it only mean sparkly and shiny? I think not. The concept of cleanliness is far more complex in terms of pathogens and far simpler in terms of how many cleaning products you really need.
If you get the right soap, you only need one bar soap and one liquid soap to deep clean everything well. It's versatile enough to be hand soap and dish soap, plus everything in between.  Add vinegar, baking soda, and a few other staples to your cleaning supplies, and that's all you need to clean everything in your life. 
Does antibacterial soap kill viruses? 

All natural hand soap is naturally antibacterial and it does kill viruses, germs, bacteria, and any other pathogens it comes in contact with. It's a mechanical processes instead of a chemical reaction. Each soap molecule has a special shape that punctures virus membranes.
See the diagram below.
Many antibacterial soap products are not soap at all. They are a detergent soap-like substance that imitates all natural soap.
Anything you wash your hands with goes into your waste water system, whether it's privately owned or a public utility. From there is goes back to the earth through that system. Soap with antibiotics in it, will go there also. Unfortunately, bacteria adapt to anti-biotics and become resistant and mutate.
Natural soap is 2 things:
It has a ph above 8 which will kill all pathogens. Any soap saying it has a "0 ph" or a "neutral ph" is completely ineffective and you should stop using it. A properly made natural soap with an alkaline ph is sudsy, leaves your hands soft and clean.  
Concept of cleanliness
The concept of cleanliness is far more complex than it looks. You are getting rid of microscopic pathogens. Dirt, grime, grease, viruses, bad bacteria, vermin, bugs, dust, oders. When these constant microbes linger for too long, the cats move over to another, cleaner spot and the neighborhood rats smell something for dinner.
I'm making light of this fact, because it's not pleasant to discuss. The concept of cleanliness means all of those problems are far away from your house, your children and other family members, your pets, your yard, your chicken coop, and you. All natural hand soap is an easy solution to the complex concept of cleanliness. 
Otherwise known as soap and water. Definition of sanitizer: a substance designed to kill pathogens on a surface. This includes hands.
Waterless Hand Soap is an alcohol free hand sanitizer.
Here's how Waterless Hand Soap works:
Spray a generous amount of the soap onto your hands. Then rub your hands together for 20 seconds to produce a lather. The lather collects excess oil and dirt, punctures and kills any virus and bacteria. It does so by by breaking down the outer virus and bacteria membrane, which exposes it to the alkaline environment, causing the disease to die. Ingredients: Saponified organic coconut oil.
Go Soap (aka Waterless Hand Soap) dilute ratio
We have renamed Waterless Hand Soap to Go Soap.
You have an empty Waterless Hand Soap 2 oz. spray bottle and want to refill it. Make a Go Soap refill. 

Dilute one bag of Instant Liquid Soap into one quart of liquid soap (32 oz.).
Follow the instructions on the package.
Pour 1/2 of the quart of liquid hand soap (16 oz.) into a one gallon container and fill it SLOWLY with water. This makes 1 gallon of Go Soap, aka waterless hand soap, that you use as hand sanitizer replacement and general cleaner.
Refill an empty spray bottle to use on everything. Click here for more uses  
---
Think about it: how many times have you touched your face today?Research shows that we touch our faces 23 times an hour. Every time we do, germs can get into our skin, our eyes, noses, or mouths.
With our Waterless Hand Soap though, it's easy to clean your hands on the go. It's completely organic, alcohol free and safe to use on skin and surfaces without leaving streaks behind. Swap out your hand sanitizer and feel the difference.

By changing to a non-toxic hand soap, your hands and hand washing experience will be more comfortable and you will be ready to deal with life's daily challenges. Clean hands, in waterless situations, is possible. Help your hands, and your mood, by changing what you wash them with. It's easier than it sounds. Comfort is your goal. Simply add good all natural hand soap to your life. It's easy. 
Check out what the CDC has to say about handwashing here: https://www.cdc.gov/handwashing/index.html
Hand soap gels
Hand soap gels are used to suspend and evenly distribute the "active" ingredients in personal care products. These active ingredients are usually potent in nature, so only a small amount is needed. These gels are vinyl polymers.
Take a moment to think about washing your hands with liquid vinyl. A plastic variety. It has no cleaning value and could possibly coat your hands. If it does coat your hands, even temporarily, you are possibly trapping in pathogens, such as germs and viruses. Wouldn't it be better to break them down and effectively kill them? A little common sense and critical thinking action will get your hands in great shape quickly. Consider changing your hand washing soap today. Select bar soap, liquid soap, and waterless hand soap to fill all of your hand washing needs.
These gels are commonly called carbomer, carbopol, polymer, homopolymer, copolymer, etc. They are also a hydraulic fracturing fluid ingredient, used in the oil industry.  
Why I started making soap
I was simply tired of using soap (natural or synthetic) that irritated my skin and my sense of smell. Many soaps' aromas are so toxic, I would get headaches or a sore throat.
The word natural is liberally used and abused when it comes to personal care. Fragrance in our world means synthetic perfumes, usually made from coal tar and petroleum byproducts. Natural perfumes are made from plant distillates in a category broadly called essential oils. 
---
Bar Soap for the whole body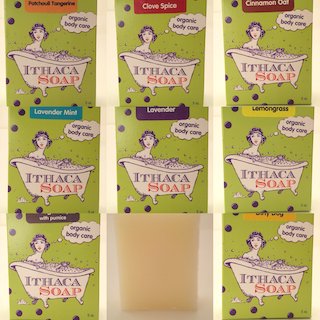 I started using natural soap when I was 10 years old. I was finished with detergents turning my nice skin into sandpaper. Even though the natural soap I used back then was caustic, it was much better than the lesser quality soap I had been using. As a grown-up, I discovered a fabulous organic coconut oil soap, which I loved. Not that long after I fell in love with that soap, the company went out of business. As someone who makes things, that's when I decided if I was ever going to get the best soap, I had to make it.
Visit Ithaca Soap bar soap collection to learn more. 
Soap and Money
How much soap money does a shower cost you?

Let's say you spend $6.00 on a bar of soap and it lasts for 7 days of showers. That's $.84 per shower. 
For your next bar of soap, you spend $10.00. That seems like a lot of money, except it lasts for 8 weeks or 56 showers. That's $.18 cents per shower. F.Y.I.: One bar lasts me and Andy 6 weeks of daily showers - 84 showers. That's $.12 a shower.
Good soap is cost effective. More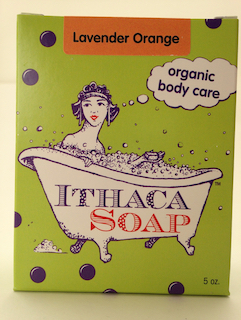 ---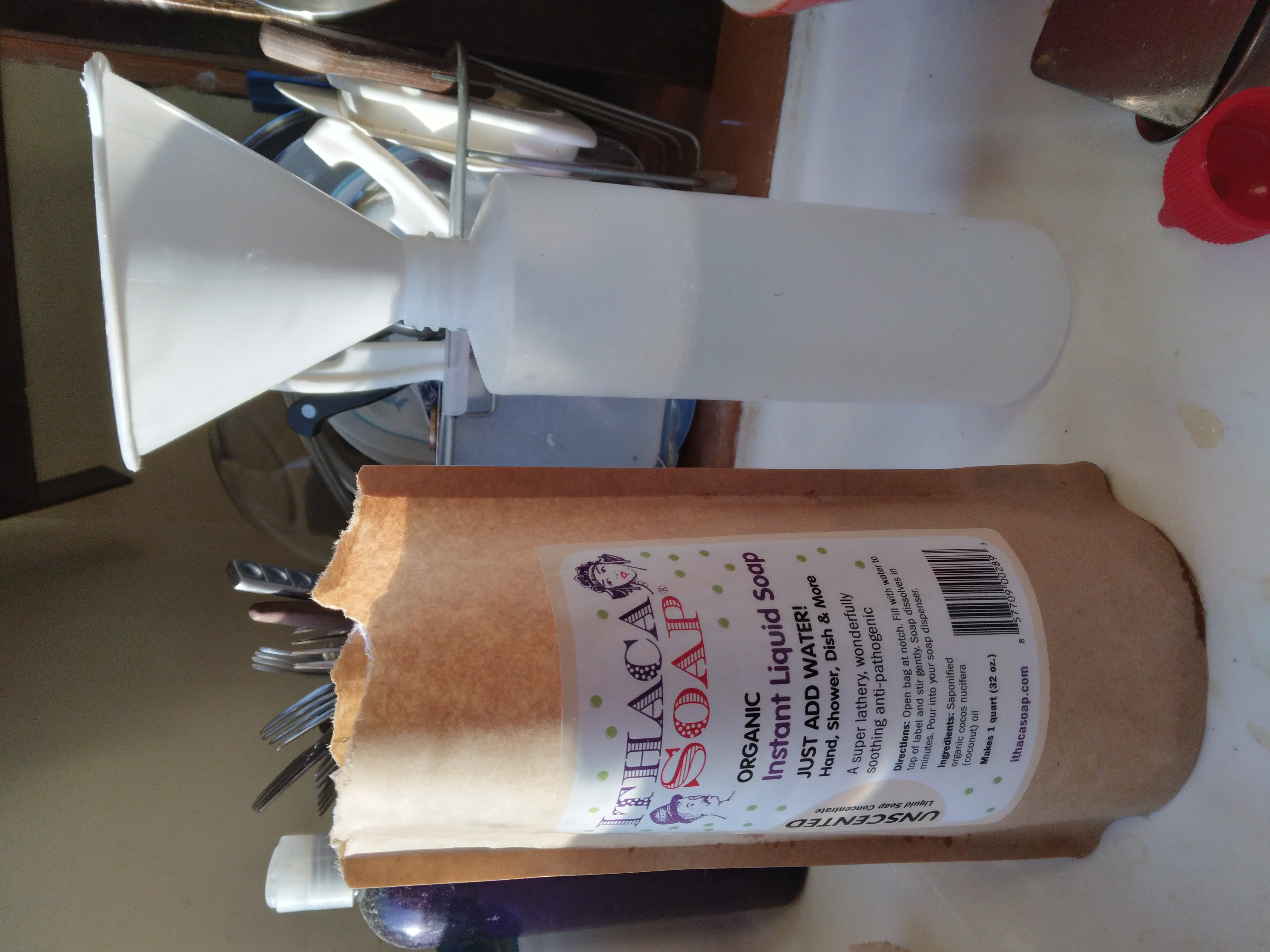 I use liquid soap to wash my dishes, just like everyone else. I am acutely aware of plastic bottles, and how they impact our world. Plastic is an amazing invention that changed how food is stored, how long it lasts, and what other things we can buy, like liquid soap, that is transported in plastic. What if you could get good, natural soap and reuse a plastic bottle you already have? 
Read about Ithaca Soap's Instant Liquid Soap Refill and the liquid hand soap refill instructions here. Just add water.
Are you a bath person? Liquid Soap Refill makes an excellent bubble bath. 
---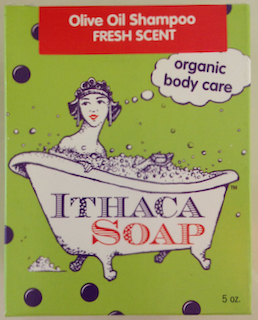 This paperboard box, printed with soy based ink, is made of pre-consumer recycled factory waste.
In the years leading up to my 1st batch of soap making, I got into the hemp soap revolution. This was somewhere around 1997-1998. I wrote personal care product reviews for The Hemp Times, an offshoot of High Times. I received lots of samples; soaps, shampoos, lip balms, shoes, fabrics. It was fun, but also trying. I got 2 shoes, in the mail, to write a review for. They were not a pair and were different sizes, neither of which fit me. All I could do was look at them. Not so useful if you're supposed to write a favorable review. 
What does all of this have to do with an olive oil shampoo bar?
---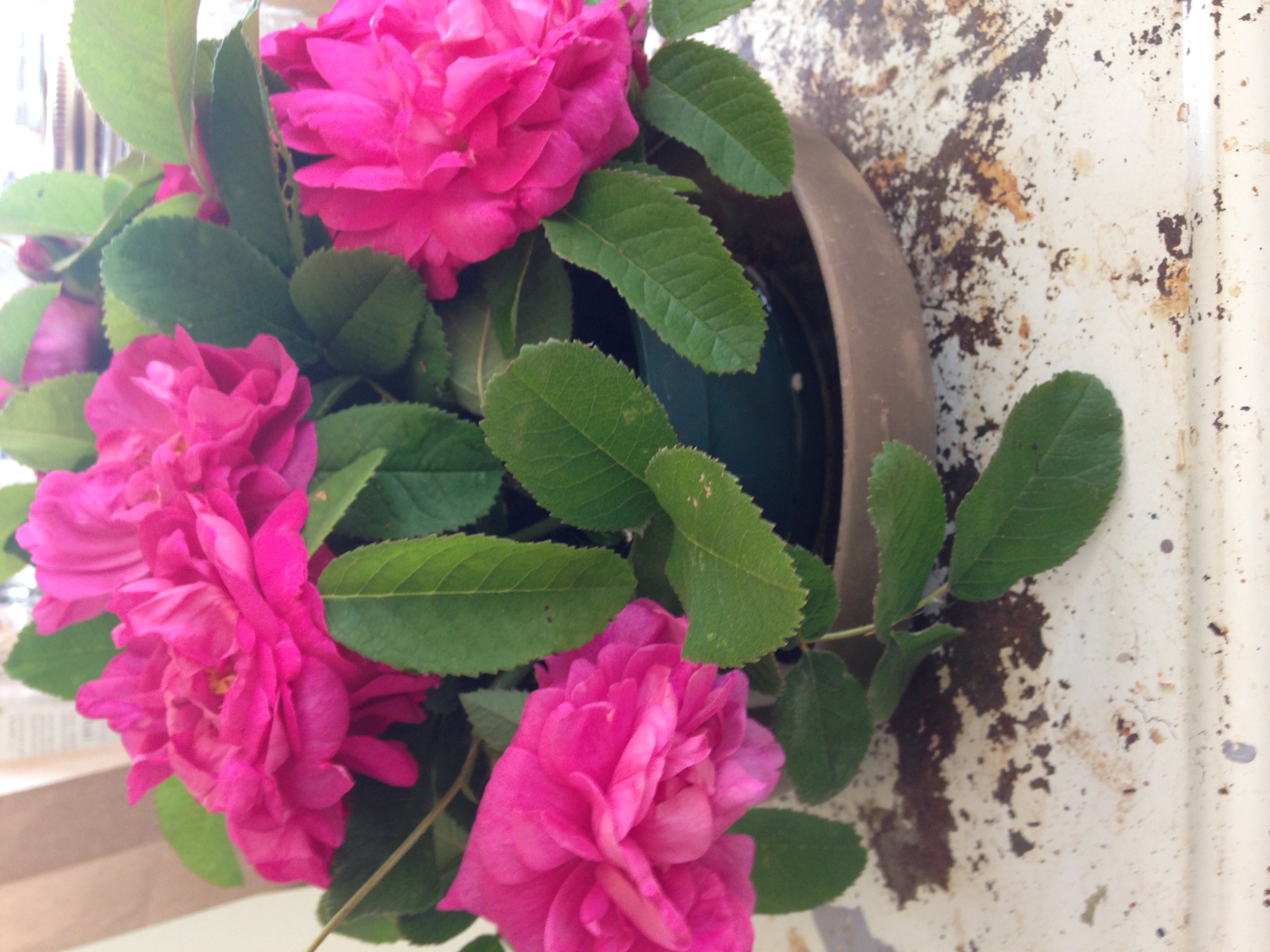 Essential oils come from plants. They are obtained through a distillation process of many pounds of plant material to collect and separate out the essence of what makes that particular plant special. There are thousands of plants that have an aroma, pleasing or otherwise. Only several hundred have essential oil pockets that can be distilled and captured..  
Read more about that here
interesting essential oil inflation math
In 1979, I paid $5.00 for 1 dram of Damask Rose Otto Concrete, that I bought in a NYC West Village apothecary. It was so potent, I could touch the rim of the bottle and it was more than I needed to be fully perfumed for weeks. In 1999 that dram cost $80.00, which was approximately $1360.00 an oz. Inflation…

Skin Care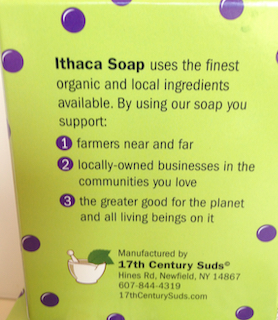 You've no doubt heard that your skin is your largest organ.  It's your 1st line of defense in a world full of pollutants and disease. If you take good car of it, it take good care of you. 
Love your body. Know your ingredients
Using premier soap can be cost effective, with high quality ingredients. Feeling good is a key part of personal care. Ithaca Soap and LiXTiK Beeswax Lip Balm, is an environmentally conscious and socially responsible company located in the heart of the Finger Lakes in New Your State. All of our ingredients are recognizable and good for you. Many companies mask the bulk of their lesser quality ingredients, with tiny percentages of popular key word ingredients to catch your attention. As an Ithaca based soap company, we actually make and use the soap we talk about. 

Have A Great Story About Your Favorite Soap & Lip balm?
Do you have an interesting, fun and fact filled Ithaca Soap and LiXTiK Beeswax Lip Balm story? Share it! You'll receive a 15% off coupon for your next purchase as a thank you gift.

It is a requirement that you be nice, respect others, and refrain from using profanity. This is a fun place to get on your personal soap box. Thanks for sharing.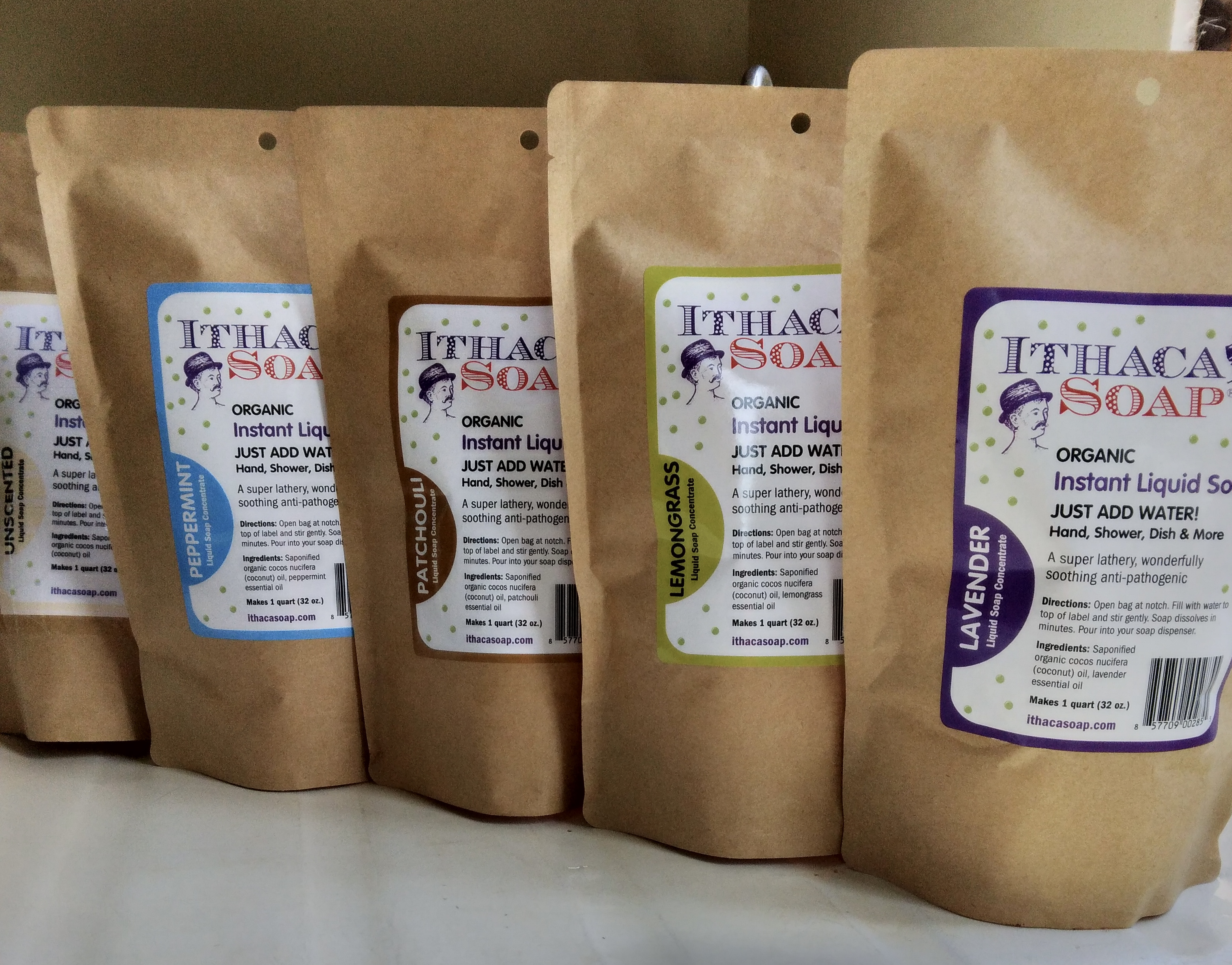 Choose from 5 different natural essential oil scents
Instant Liquid Soap is the perfect stovetop cleaner. It's gentle on your hands while being tough on built up, caked on grease. Click here to read How to Clean your Greasy Stovetop using zero waste natural soap methods
Tear open pouch at notch
Fill pouch with water to top of label. Gently stir.
Pour into a reused plastic bottle. Use.
The future starts now as you end single use plastic bottles. Click here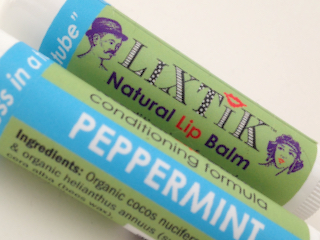 Peppermint bees wax lip balm
Moisturize, hydrate, and nourish your lips with wonderfully luxurious
Leave your lips moist and smooth for many hours. Soothes severely chapped lips.
| | |
| --- | --- |
| Choose from 8 LiXTiK Beeswax flavors/scents. Ingredients: Organic coconut and sunflower oils, premium beeswax, 100% pure essential oils | Get a 3 pack and save |