Waterless Hand Soap
 Waterless Hand Soap (WHS) works better than other sanitizers. It's a simple fact.
I had a small spray bottle of this soap in my purse for many years. I would use it on the road, especially at festivals. It was great to be able to wash my hands at the Rhinebeck Sheep and Wool Festival or The FingerLakes GrassRoots Festival before eating, after using the bathroom porta-pottie, etc., or at an Expo, when I wanted to clean my hands but it wasn't a good time to leave my booth.
When covid-19 hit, I still used it the same as always, except this time at the grocery store, and to wash my groceries before putting them in my reusable shopping bags. I no longer take the bags in the store. Instead, I leave them in my car and bring the shopping cart out there. Give each item a spray, LEAVE the WHS on the item, and load my bags. 
I never leave home without my Waterless Hand Soap. I know, I'm a little nuts, but it works!
Soap and water is best
This alcohol-free formula offers proactive security, making it the safest and most effective at destabilizing germs, viruses and bacteria, without also destabilizing your health. Its' gentle formulation also leaves your fabrics or surfaces intact, making it the best choice for a surface cleanser and fabric spot cleaner as well. 
Waterless Hand Soap cleans everything
Waterless Hand Soap has multiple uses for daily cleaning chores:
for the chicken coop cleaning 

cat litter box cleaning

garden tool basket for hand washing

office cleaning, including computer, phones, devices, printers, desktop

in the car for windows, car interior, and exterior, and grocery wash

in the kitchen as a veggie wash

in the bathroom for cleaning all fixtures

house cleaning, including windows and floors

in my purse or pocket for hand washing on the go, before eating, and in public restrooms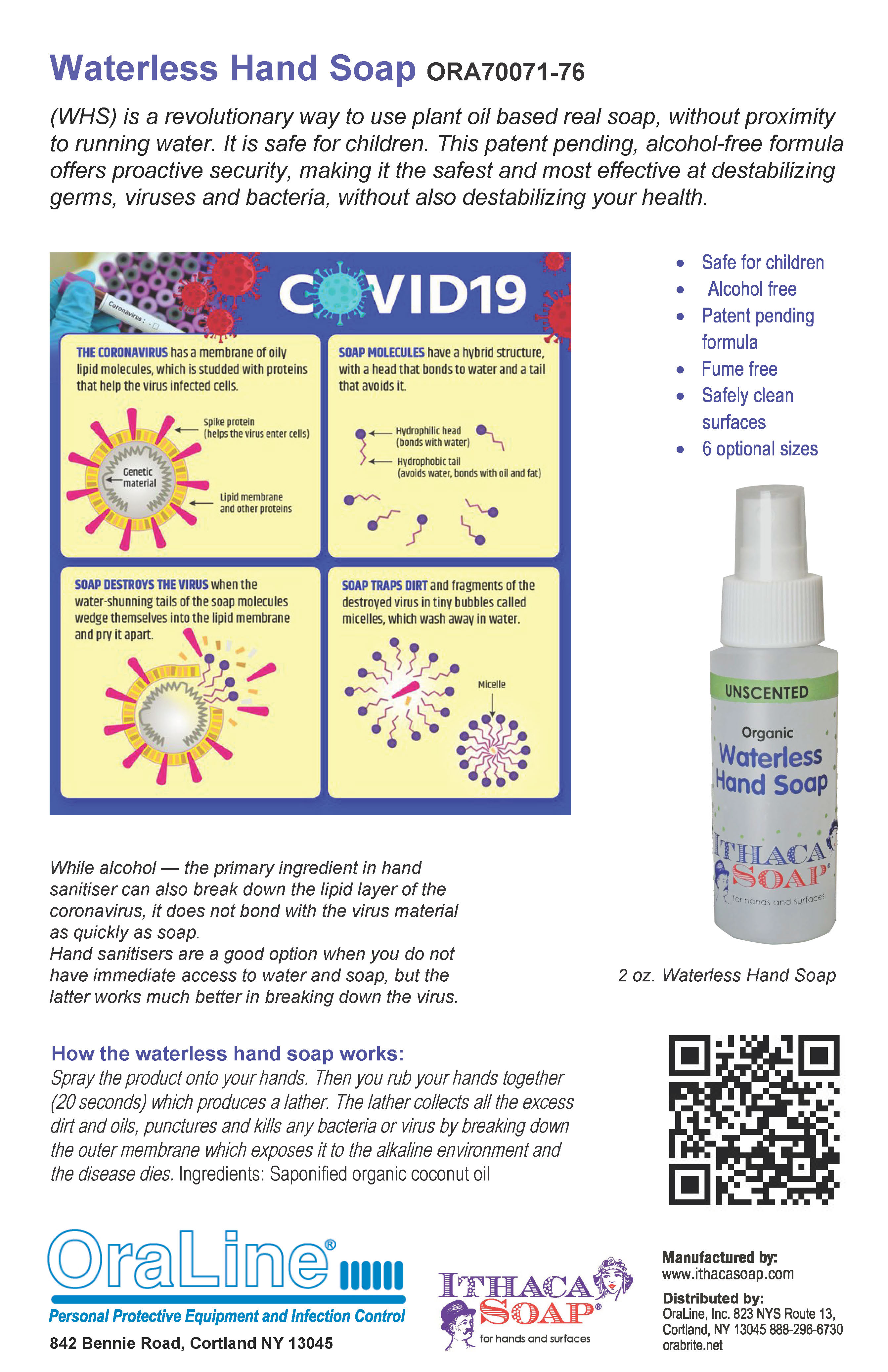 More than waterless hand soap
WHS is a streak free surface cleaner, eliminating the airborne toxins which result from repeated surface cleaning with chemically based household cleaners. Use WHS on produce, windows, countertops, bathrooms fixtures, all floor surfaces and coverings including rugs, computer screens and keyboards applied with a cloth, phones, vinyl, etc. I even wash the car windows, mirrors inside and out and the car interior. It works beautifully.
Spray on a damp cloth or paper towel (I prefer linen scraps from my dye studio) to clean surfaces. The cloth picks up dirt, germs, and grime. Rinse in water and continue cleaning. 
Make a change: Hand Soap vs. Hand Sanitizer
Replace your hand sanitizers with Waterless Hand Soap today, so you can comfortably go about your day. Alcohol and Benzalkonium Chloride based sanitizers are known to cause skin and eye irritations from long term repeated use.
State of the Art Report, Liquid Hand Soaps & the Covid-19 Virus
5/30/20 by Andrew Turco
U.S. consumers have been given a mixed message as to the best remedy for the daily prevention of the spread of the Covid-19 virus, as it relates to hand cleaning.  At present, there are three options upon which no final judgement or recommendation has been made: 1) Alcohol based hand sanitizer, 2) non-alcohol based hand sanitizer, and 3) frequent hand washing with any commercially available liquid, bar or foam soap. Read more about why hand soap vs. hand sanitizer is the smart choice, from the CDC here.
. This article concludes that "Soap and water are more effective than hand sanitizers at removing certain kinds of germs, like Cryptospridium, norovirus, and Clostridium difficile. "Another telling statement: "If soap and water are not available, use an alcohol-based hand sanitizer that contains at least 60% alcohol."
Safety warnings for isopropyl alcohol: Isopropyl alcohol vapor is denser than air and is flammable, with a flammability range of between 2 and 12.7% in air. It should be kept away from heat and open flame. Distillation if isopropyl alcohol over magnesium has been reported to form peroxides, which may explode upon concentration. Isopropyl is a skin irritant. Wearing protective gloves is recommended. Read about rubbing alcohol on wikipedia more
6 simple steps for a virus-free workplace
Install a touchless infrared thermometer at your business entrance. You will identify any customer running a fever. 

Install a waterless hand soap dispenser at your business entrance and require your customer to wash his/her hands for 30 seconds. This will disable any active virus on the customer's hands.

Give your customer a KN95 face mask. The customer may put it over their cloth mask.

After the customer leaves clean any surface within six feet of the customer with waterless hand soap. 

Clean your own hands with waterless hand soap at least once an hour.

Install a UV-LEDC ultraviolet lamp that will activate in your business space up to five hundred square feet and disable any virus droplets or bacteria within the designated commercial space.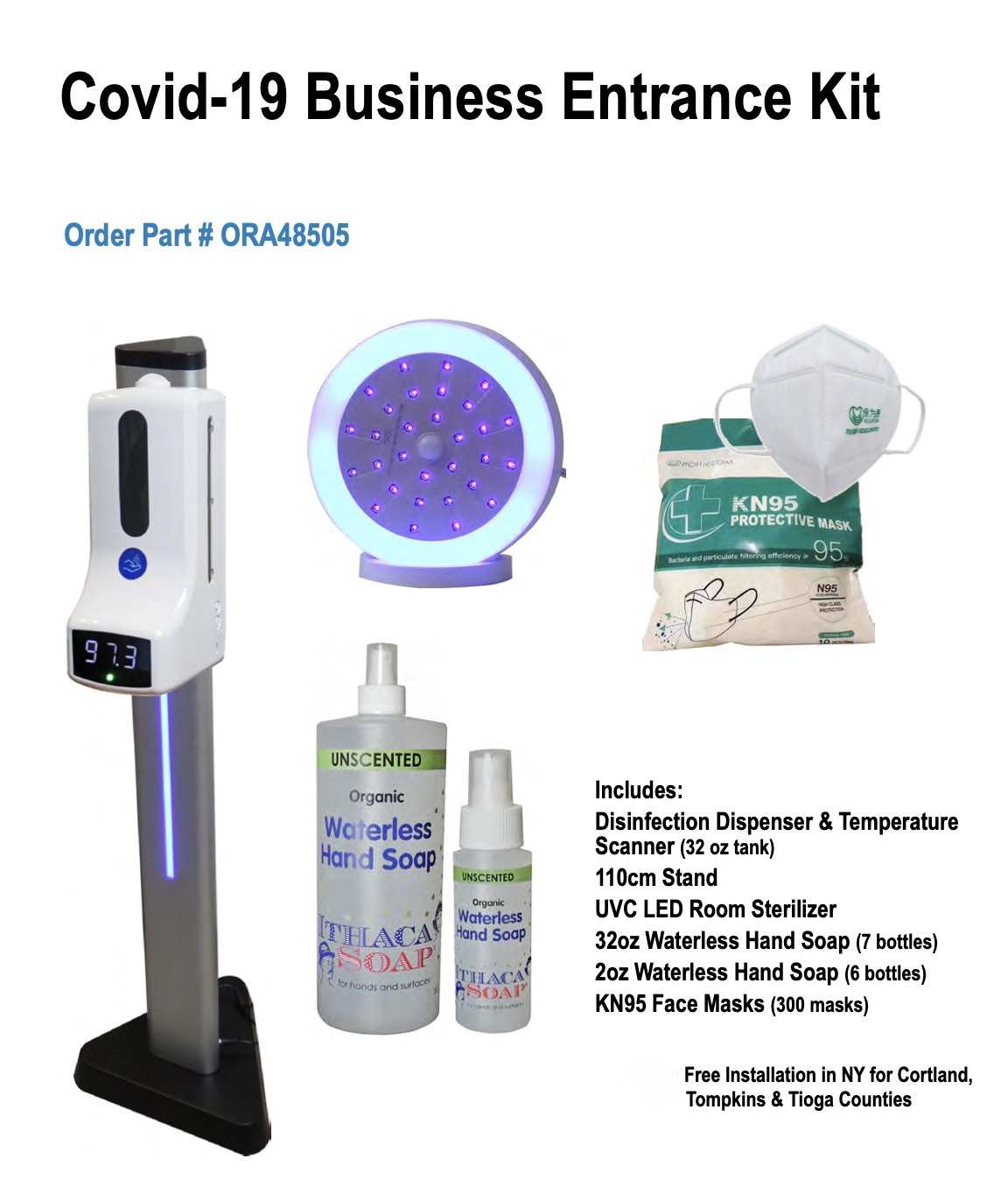 Purchase wholesale Waterless Hand Soap here

Purchase the Business Entrance Kit here
Made in New York
 The history of the word "manufacture" for many centuries, was a single skilled artisan, sometimes with with assistants. Each artisan kept the secrets of the production and transferred the knowledge only to apprentices. Production was limited to manual operations. 
Have A Great Story About Your Favorite Soap & Lip balm?
Do you have an interesting, fun and fact filled Ithaca Soap and LiXTiK Beeswax Lip Balm story? Share it! You'll receive a 15% off coupon for your next purchase as a thank you gift.

It is a requirement that you be nice, respect others, and refrain from using profanity. This is a fun place to get on your personal soap box. Thanks for sharing.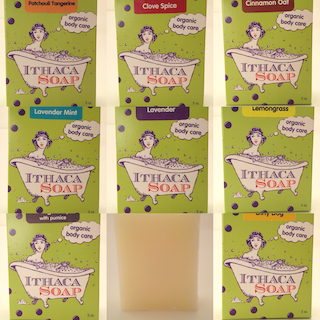 Soap and water kill germs, while cleaning you
Good bar soap is an essential as a whole body soap wash. It's economical, luxurious, and effective. When selecting a bar of soap, look for simple ingredients with pleasing essential oil aromas and lots of sudsy lather. Sudsing all the way down to a sliver, over 3-4 months of daily use, is key in good bar soap. Try Ithaca Soap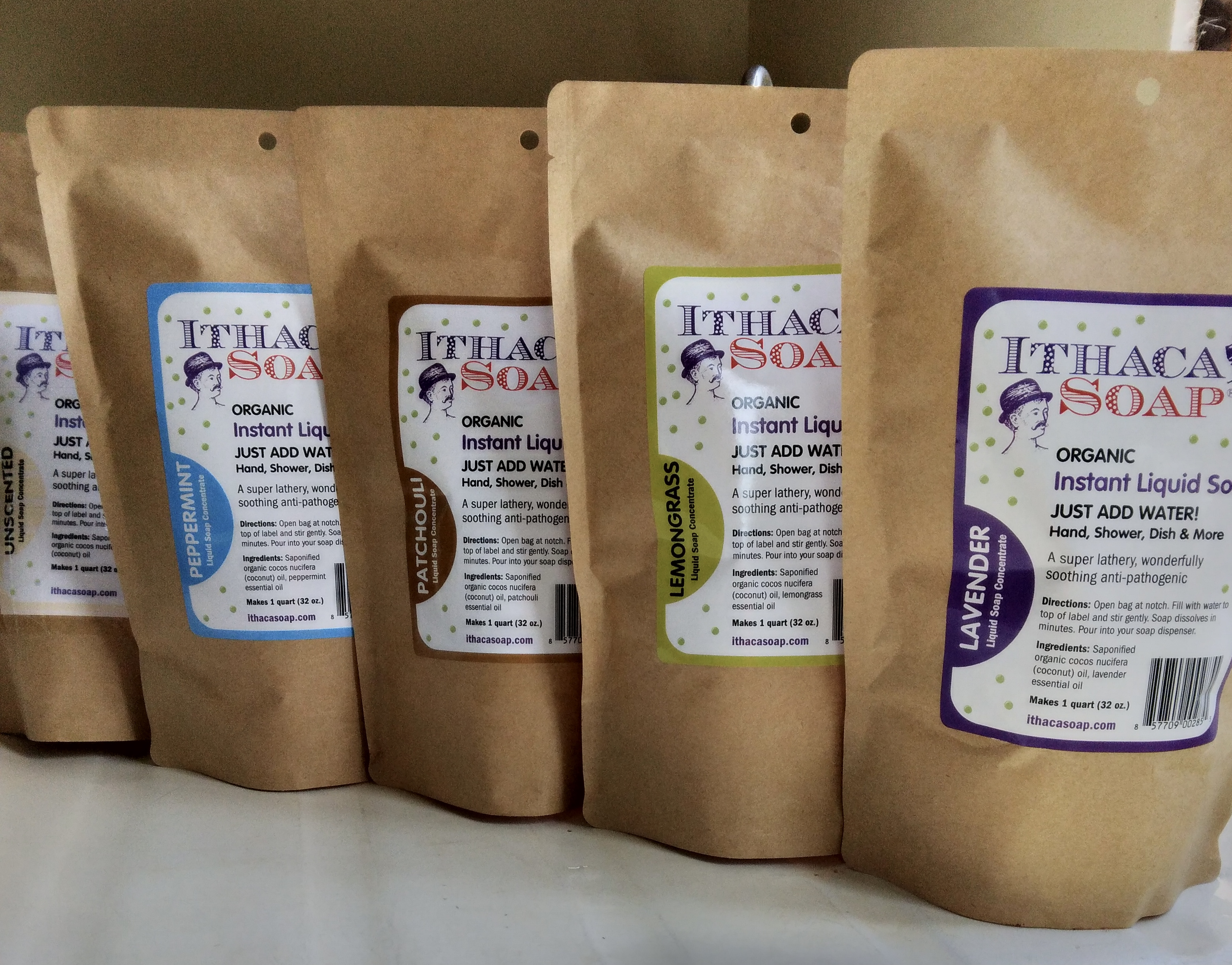 Instant Liquid Soap is the perfect stovetop cleaner. It's gentle on your hands while being tough on built up, caked on grease. 
Tear open pouch at notch
Fill pouch with water to top of label. Gently stir.
Pour into a reused plastic bottle. Use.
The future starts now as you end single use plastic bottles. Click here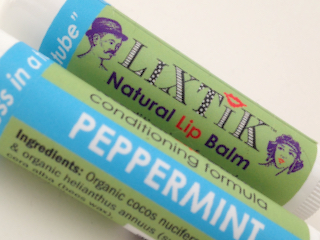 Moisturize, hydrate, and nourish your lips with wonderfully luxurious
Leave your lips moist and smooth for many hours. Soothes severely chapped lips.

| | |
| --- | --- |
| Choose from 8 LiXTiK Beeswax flavors/scents. Ingredients: Organic coconut and sunflower oils, premium beeswax, 100% pure essential oils | |