License Instant Liquid Soap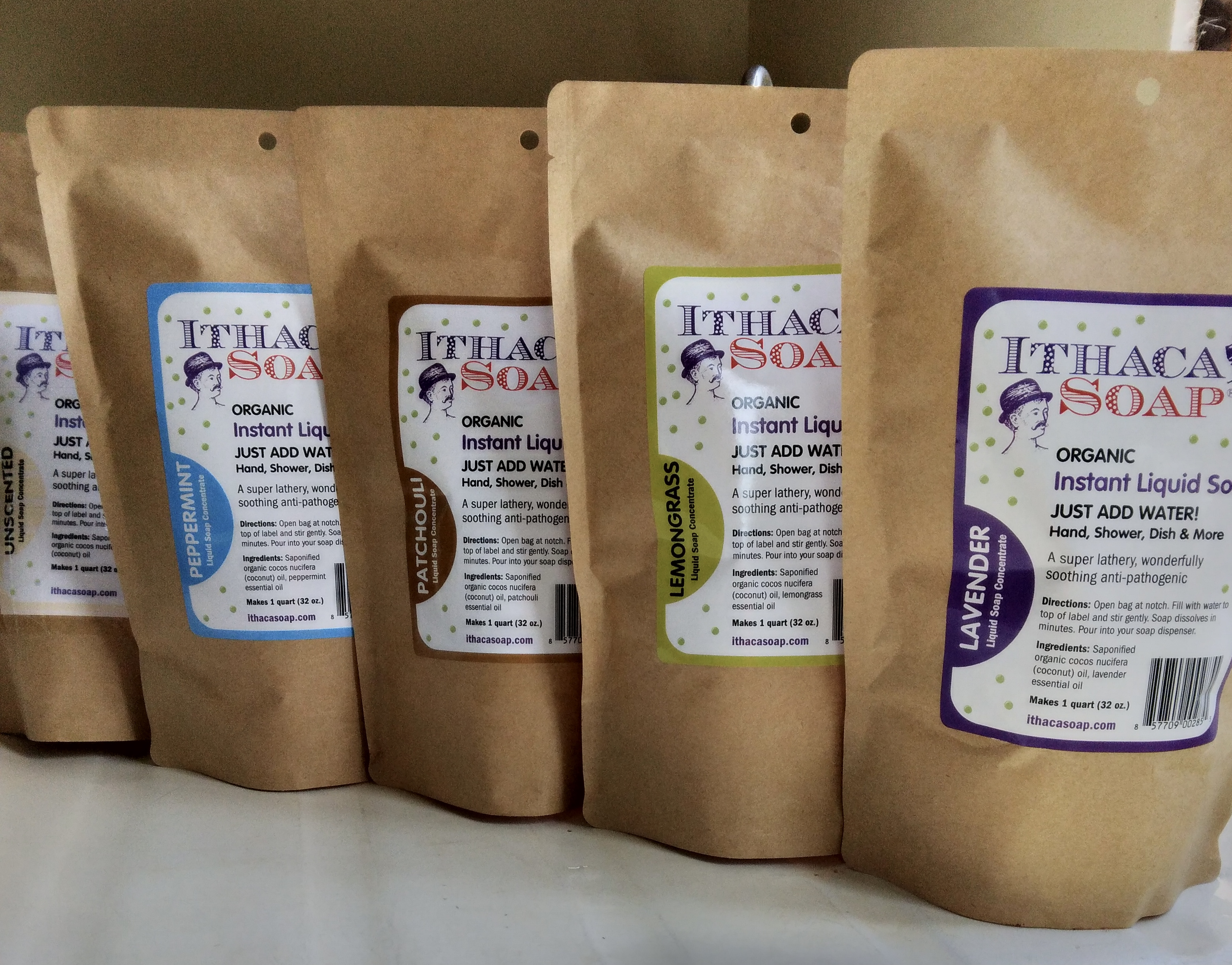 This is phase III of our Instant Liquid Soap in solid form. The end user fills the compostable bag to dilute. Pour into a reusable dispenser.
It seems as if you're taking your business to the plastic free future by 2025. What are you doing for liquid soap products? We have the solution. You need to private label our Liquid Soap in Solid Form.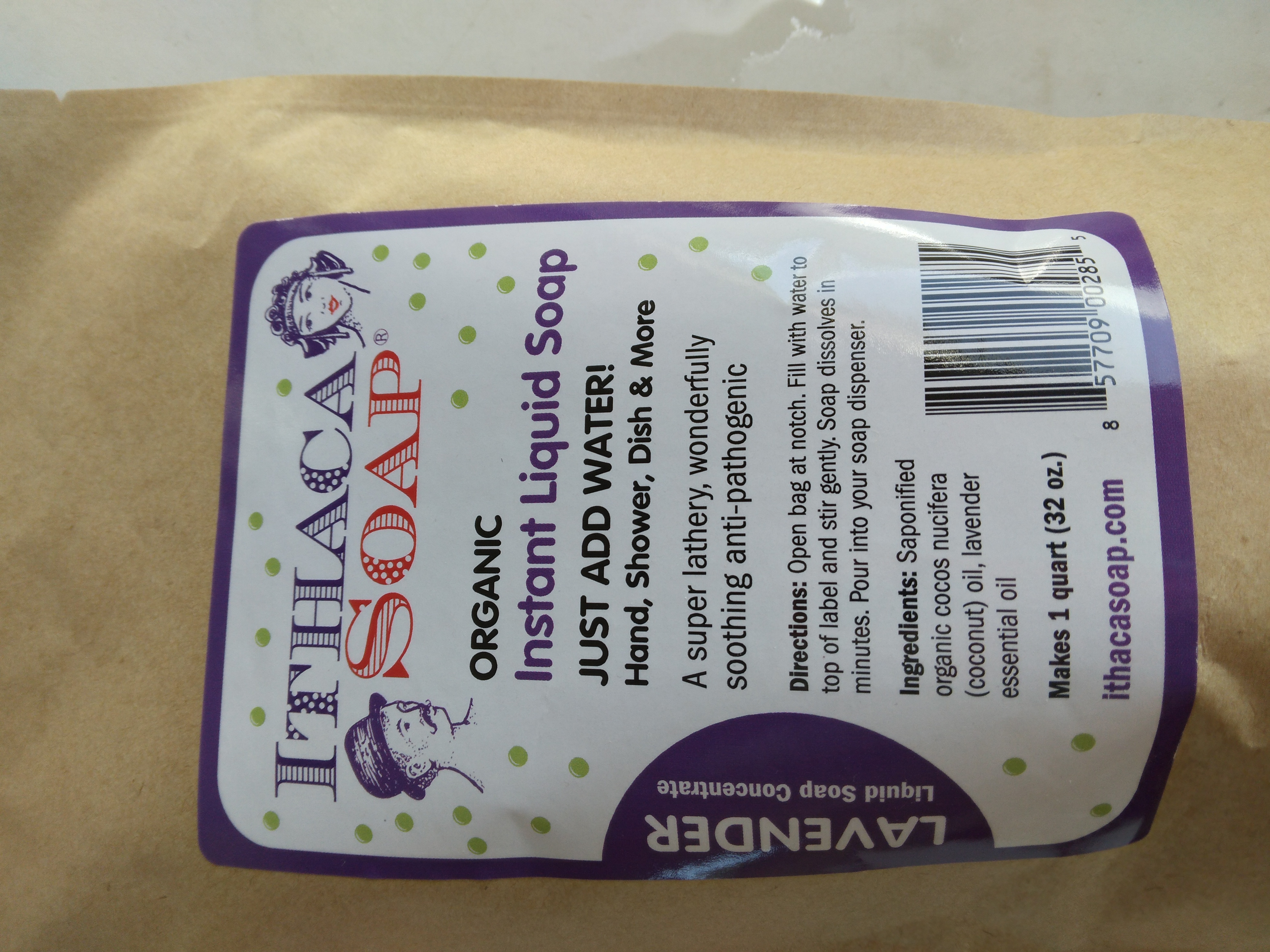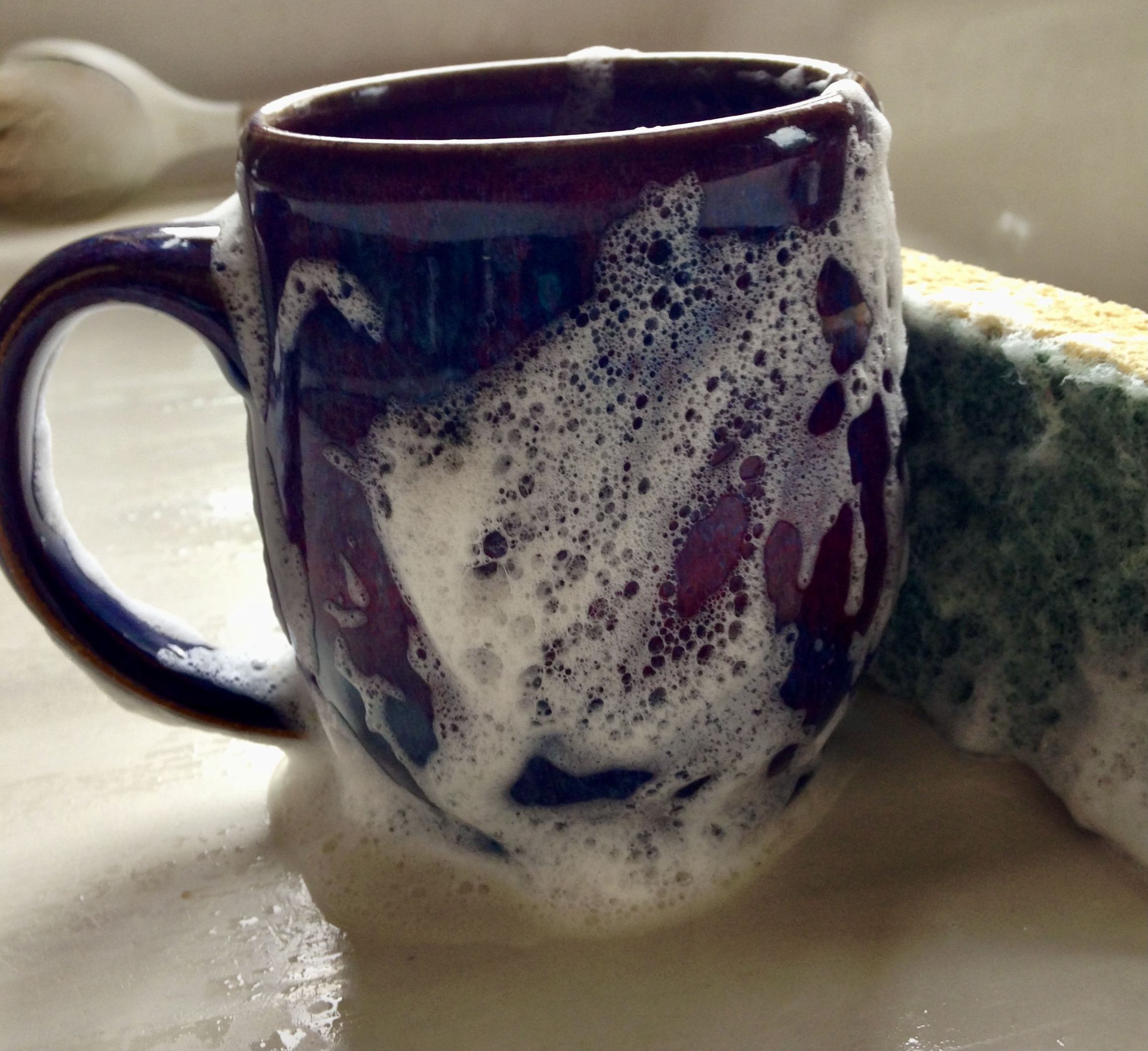 One soap is so versatile. Hand wash dishes, fruit and vegetable wash, and so much more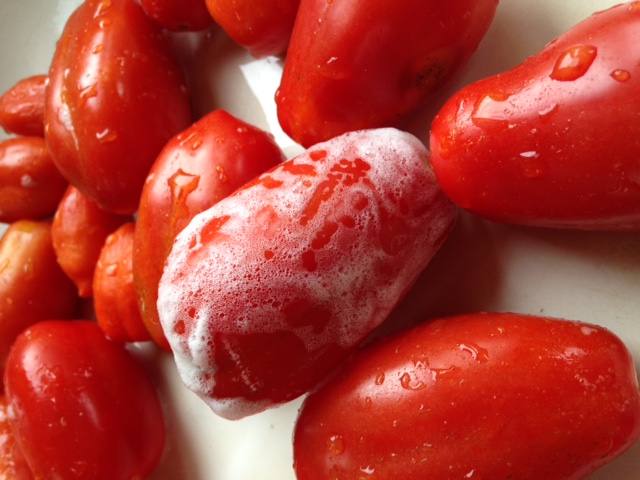 Be ahead of the curve
Ithaca Soap and LiXTiK Beeswax Lip Balm, has developed a patent pending liquid soap in solid form product and process that changes the way liquid soap is delivered to the end user. By eliminating single use plastic bottles and water redistribution from the equation, we are encouraging all sectors of the supply chain to get on board. 
Try it and see
Order your Liquid Soap In Solid Form sample here.
Samples are shipped with in 1-3 days.

Packaging made simple
Liquid soap in solid form can be packaged in a variety of materials, such as paperboard boxes or even paper bags, since there is no need for a waterproof seal. The end user simply places the dry soap in their own container and adds water. The soap dilutes into a sudsy, moisturizing, oil based, biodegradable organic liquid soap.
Benefits
This soap can be dissolved into a variety of derivative products that cover a wide range of personal care, household, pet, farm, food service, and institutional cleaning products.  
Everyone benefits along the way: 

Manufacturers reduce energy and water usage while producing the liquid soap. 
Distributers save on fuel costs as ship weight has been reduced by 80%, transport space has been reduced by 50%, and breakage is almost completely eliminated. 
Wholesalers reduce labor and warehousing costs by moving larger volumes in smaller and lighter packages.
Retailers maintain and likely increase sales volume of product as the already unwanted plastic bottles become less available.
Consumers not only save by purchasing more soap for less money, but also become part of the value added process by diluting in their own container.
A product that truly works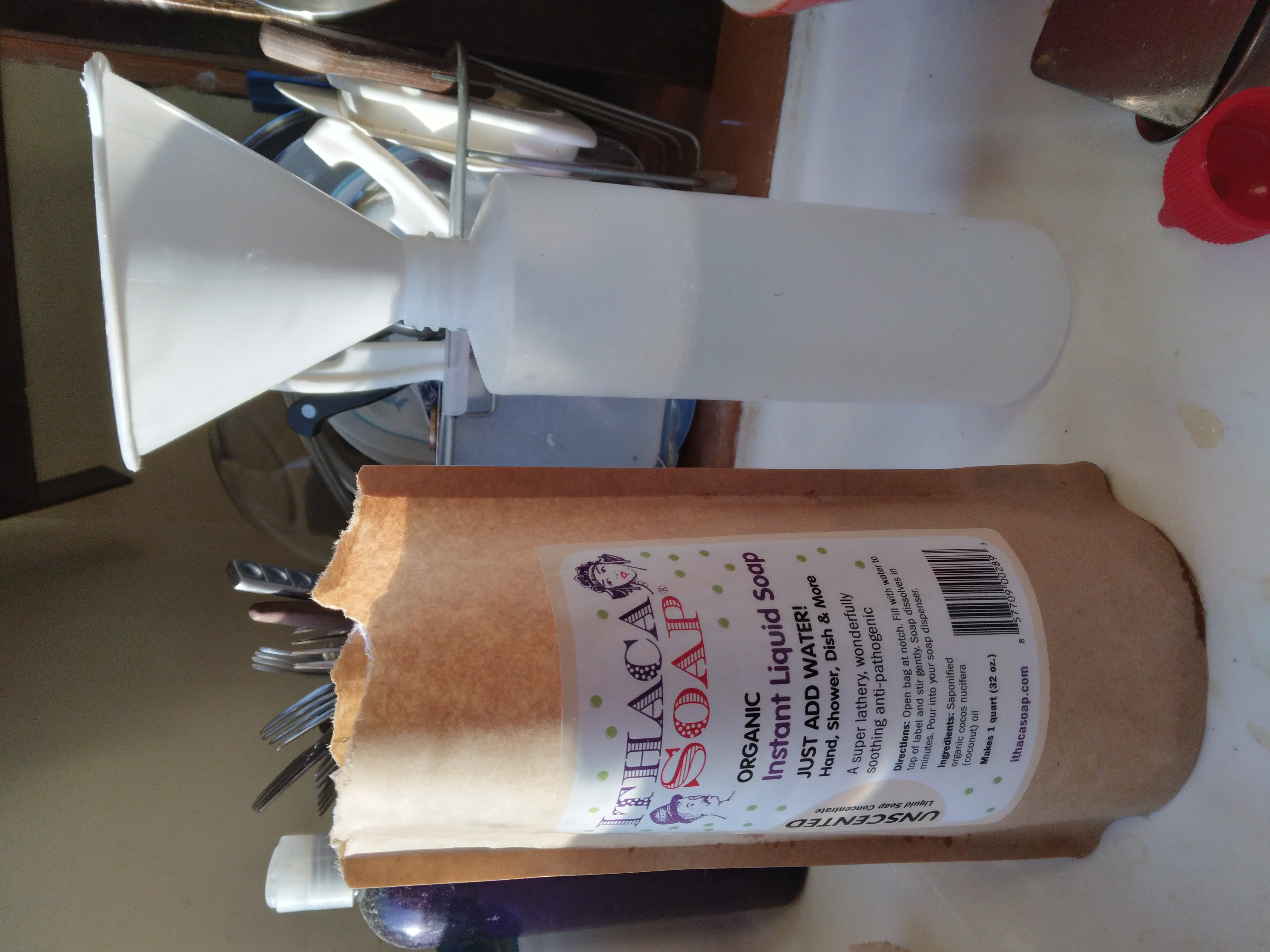 Loved by our customers
We have conducted our own in-house quality control testing, producing excellent results. Since we have been manufacturing soap for our own retail business for 20 years, our loyal long time and new customers are using the product in its prototype form. They love it.

As we weigh the impact that a product launch under our tiny brand would have, compared to the impact a launch under your brand would have, we are moving through phase II to the final soap form. Launching under your brand would be a game changer on a world level. It is the future.
Contact us today.
One
Liquid Soap 
Licensing
agreement
yields many products
We are aware that there are synthetic soap products being sold in tablet form, and liquid soap concentrates are being sold in plastic and plastic coated paperboard packages, as plastic free. Our liquid soap in solid form is the only organic saponified oil based soap in solid form, that we have found. It is in dry form until the end user dilutes it.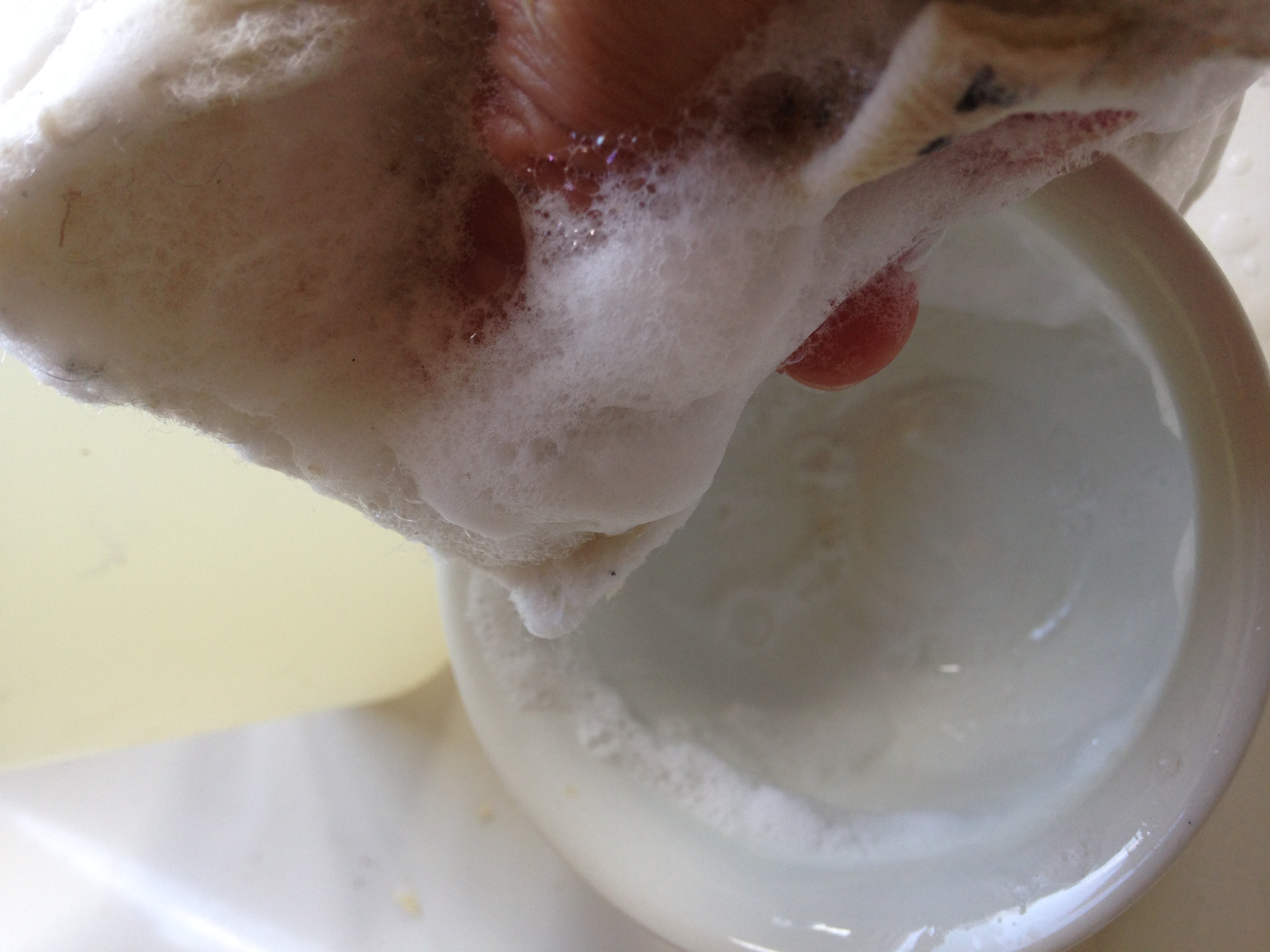 The multifaceted opportunities this process provides include storage and shipping advantages that  reduce costs immensely across many industries. This is a leader in the zero waste concept.
The liquid soap in solid form can be slightly modified and sold as a variety of personal care and household cleaning products, in various forms, in different store departments.
The spirit of cooperation this product provides, from the manufacturer through to the end user, is the key to the future. Please contact us at your earliest convenience. Let's create the future.
Multiple shelf locations in one store
License Liquid Soap in solid form and your final products will have a great shelf presence in grocery stores. Pop with the product derivatives in multiple locations throughout one store location.

As the world changes, we change with it. 
This is how we sell it now
Liquid Soap Refill Scents: Lavender, Lemongrass Peppermint, Patchouli, Unscented, custom scent
Ingredients: Saponified organic coconut oil, 100% water processed essential oils.
Liquid Soap in Solid Form is a simple concept. Just add water. Gently shake. Use. This process will become even easier to do, once it is sold in its final concept format.
Read more here about why soap is best.
This product is patent pending. 
Available for private label and contract packaging. Get a quote.
License Liquid Soap in Solid Form 
Try some and see for yourself. Great soap that is a pleasure to use at a competitive price. Serious inquiries only, please. Contact us here