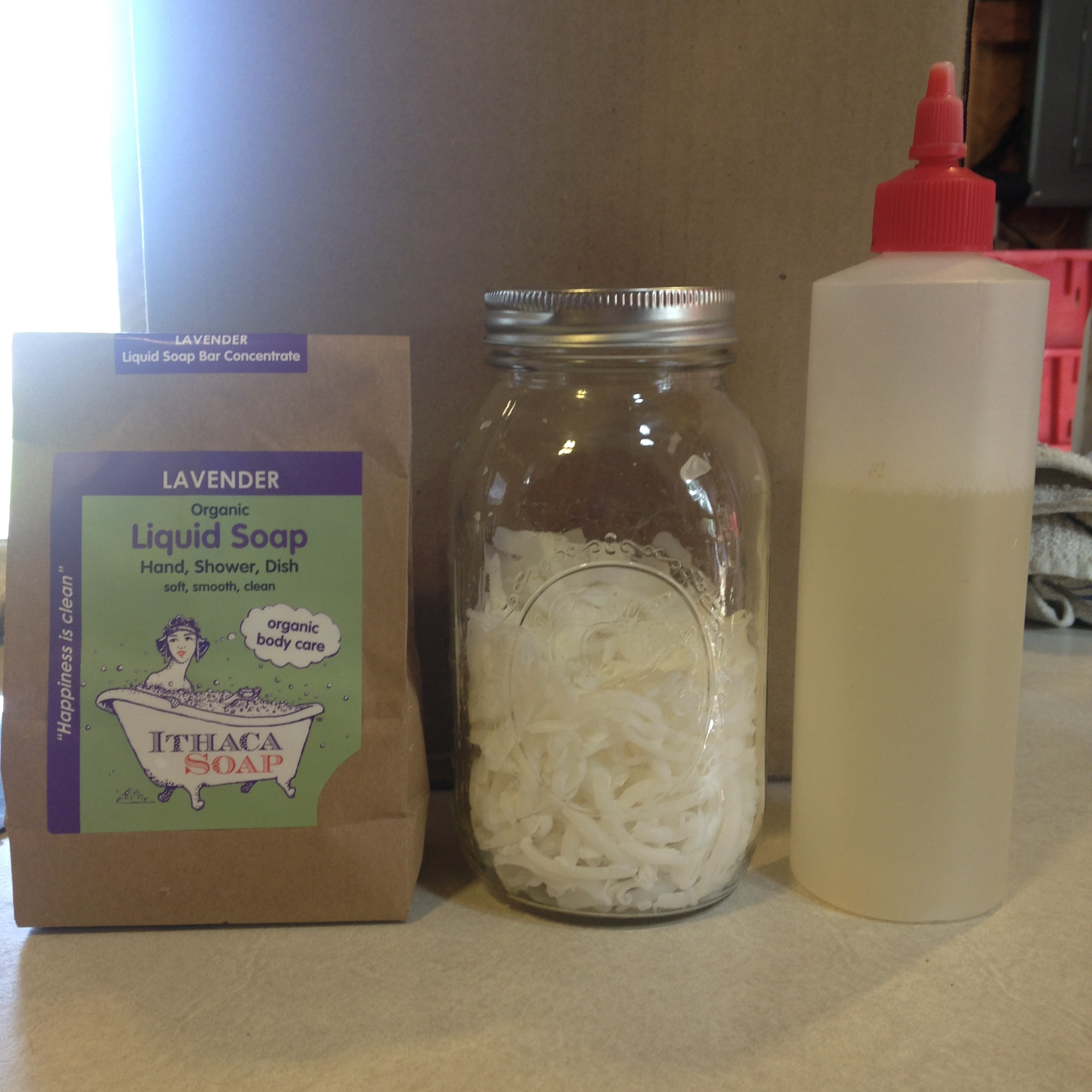 Make your life better with good soap. Try ithaca soap today.
Garden
A garden is a Zen place for me. It's peaceful, gratifying, and rewarding.  Fitting all of the tiny seedlings in, while remembering to leave enough room for them to grow to their full potential, and maximizing harvest abundance is a creative challenge. Learning about plants, what they need and how they grow is a secret world that feeds us spiritually while we watch the plants grow, and physically when we plan what to do with the harvest.
Click here for ideas and recipes
my starts are ready to go in the ground
Garden starts
My garden starts are usually a success. I frequently run out of room in my many grow places in the house, so every year, I'll have one round of succession plants. But that could include 80 more plants. Lettuces (2 different varieties), broccoli, cabbages, fennel, and Swiss chard. 
I had some nice success with the African marigold seeds I saved from my dye garden 5 years ago. I started 25 of the orange ones, which yield orange, green and purple dye. I'm going to do the yellow ones next. They are fabulous chick snacks, and garden pest deterrents. Each flower head I saved has about 50 ish seeds, so my germination rate is pretty good for old seeds.
My next round of that year's dye seeds will be direct sowed and started in 2" pots. I'll do Hopi sunflowers, coreopsis, Hopi amaranth, Burr marigolds, etc. These seeds will go in-between the 100 heirloom irises I transplanted from Andy's grandmother's iris bed. I found this iris stash underneath a building on the family dairy farm. The irises were long forgotten and peaking out. I dug them up- there were 6, and moved them to our other house. After 15 more years of simply watering them, I moved them to our next house, and I separated them. It's time to move them again. So we made a terraced bed and it fit 100 rhizomes. The rest ~about 100 stalks will be move later in the summer, to another location. They will be divided and culled to make at least another 100 rhizomes. 
The light is a little pink in my indoor garden photos because it's the full spectrum seed light.
Below are the broccoli micro-greens that I finally learned how to sprout in under 3 days!
Germination tests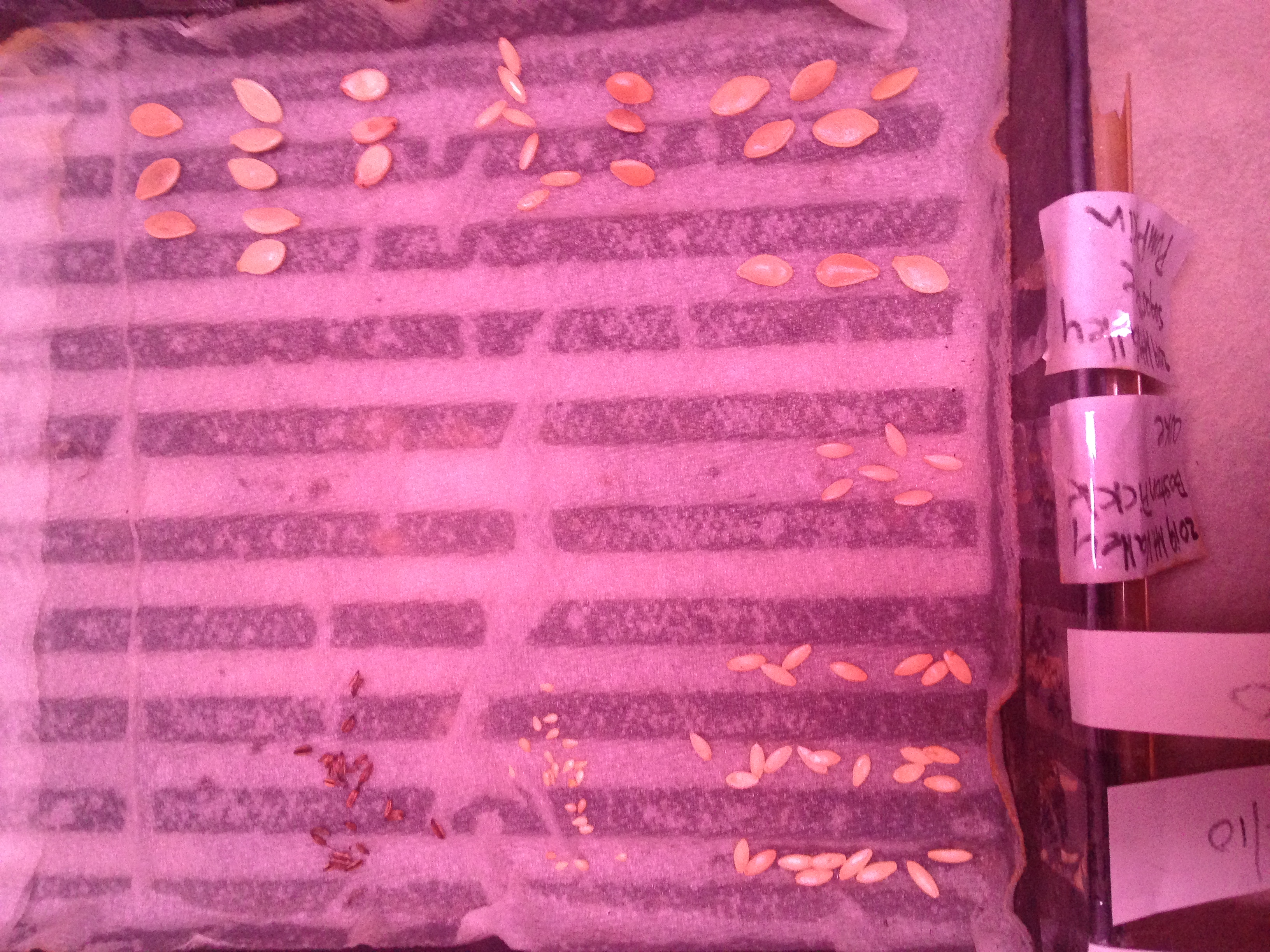 These seeds are a variety of pumpkins, cucumbers, and the brown seeds are fennel. These seeds are from last year and older to test my germination rates, so I can plan what seeds to buy and use up seeds that are still good. Those teeny seeds are Mexican Gerkins. They are really cute little snacking cucumber fruits. 
Cover and mist to pretend it's a garden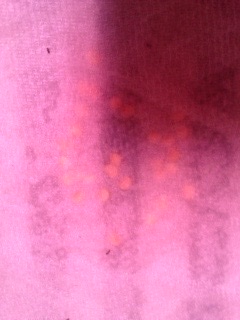 Those are seeds that I saved from the previous year to plant in the current year, and I'm checking the germination rate to see how I did with my seed saving. These are a variety of peppers and my Roma tomatoes. They are under a paper towel to keep them moist. 
Garden notes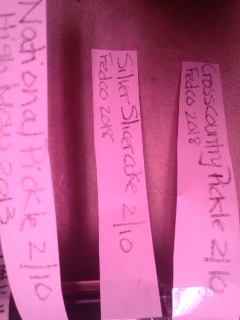 I'm not the best record keeper, so I'm making the effort to keep better records and carefully label all of my seeds in the tests. This will enable me to also see how well the plants that do grow from these tests, and how well they fruit. The tag has the kind of seed, where it's from, the year I bought them, and the date I started them.
Container garden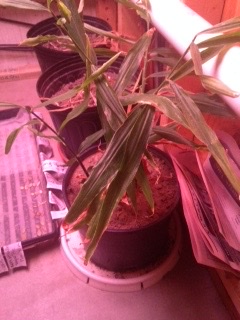 Some of my garden plants are in containers. This is ginger, that I started from some beautiful organic ginger I bought at Greenstar, my coop. It's not seed stock, so I'm attempting to grow it anyway, and see if I can produce seed stock after harvesting and replanting the best shoots. I'm no botanist, so this is just a fun and tasty experiment. I find great joy in growing food in the middle of Winter.
Indoor garden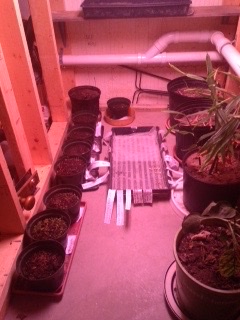 This is the indoor garden, on our heated basement floor. If you don't have a heated floor, I would highly recommend heat mats specifically designed to help you germinate micro greens, etc.
On the left are the micro greens. There's broccoli, cauliflower, cabbage, carrots (you eat the tiny greens and they taste like carrots!), onions, cilantro, basil, oregano, and lettuce in the tray up on the shelf.
The tray in the middle are my seed germination tests. The ginger is the 2 middle pots on the right.
In the front planter on the right is an Italian Frying Pepper plant, that I brought in from last year's garden. 
Micro-greens
After germination, I moved the micro greens upstairs to a sunny window location. These are ready to be clipped and sprinkled on a salad or blended up in Andy's morning green drink.
Click here to see how my tests progressed
Garden Map
Soil health is important, and ours is is full of clay and minerals, making it dense and difficult to grow food. The 1st garden I planted in this location, I tried to work with it and had mostly sad results. As a response to that, we made our own mix with great success. It's a big project to get the mix right. You need a mixing space for your dirt piles, time to get the components to your soil mixing station, and tools, like a tractor, shovels, buckets, and sometimes a pick axe. Its great exercise and very grounding. I'm guessing this is likely where that sentiment "getting grounded" came from.
Andy got a tractor bucket load of black gorgeous dirt up from our forest. Then he also got a bucket full of "bath" dirt, a soil type that has medium nutrition. This dirt is near the road, and the garden site is more private, away from the road. We bought a truckload of sand, and a few bags of peat moss. The mix is measured in the tractor bucket: 1/3 forest dirt, 1/3 bath, 1/3 sand, and a few shovel fulls of peat. 
My plans are for a GIANT garden, if you look at my map, but we will only have enough time to do so much bed building, so my map is to help me fit in the plants I'd like to grow, in the time available. As the garden gets planted, map adjustments are made.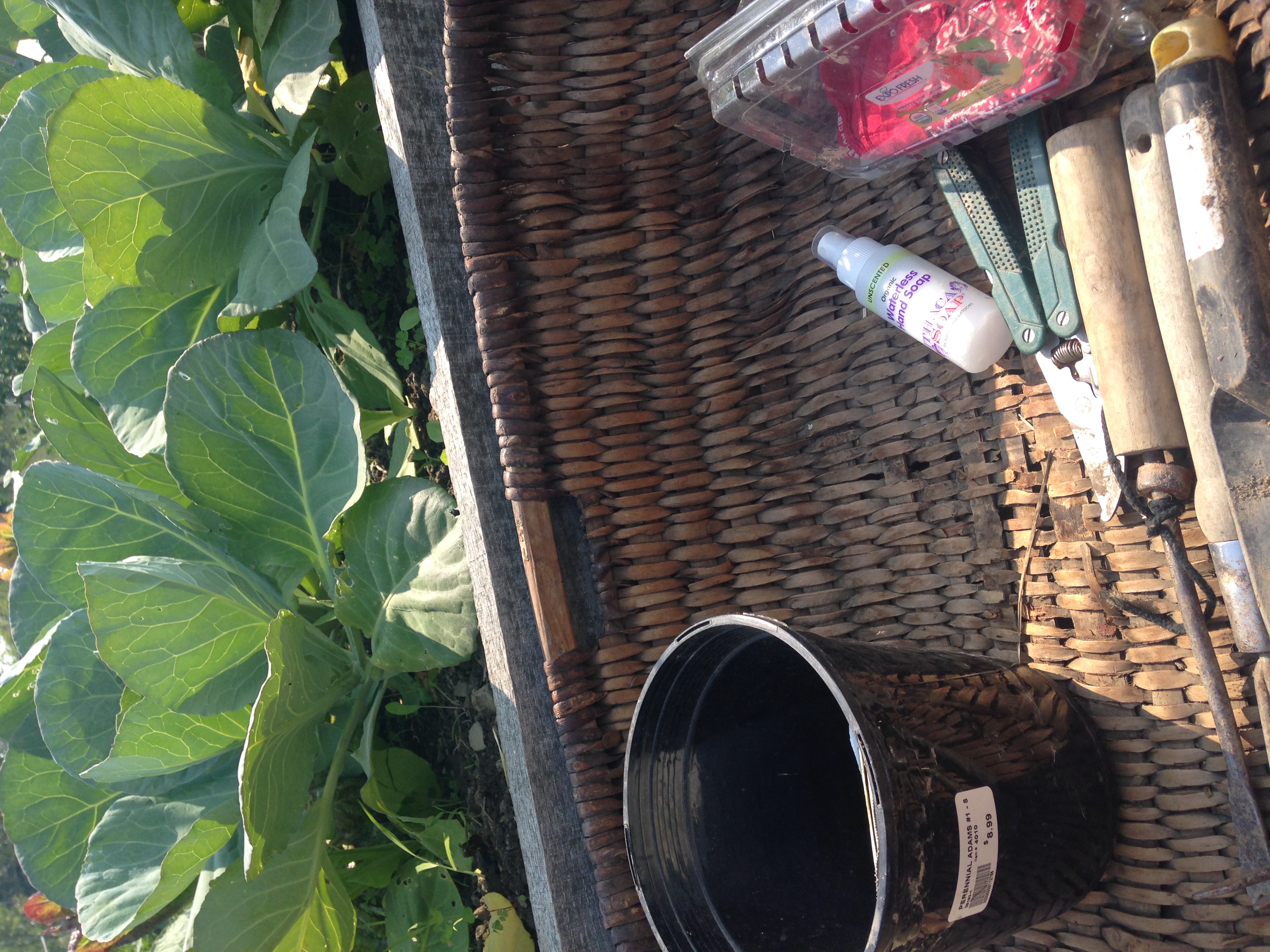 Waterless Hand Soap is a gardener's friend
I keep Waterless Hand Soap near my soil mixing station and also mounted on a garden fencepost. Even though I wear gloves, my hands still get dirty. This handy 2 oz. spray bottle makes a great addition to my garden seed and tool basket.
Morning Dew  
This is my cabbage and romaine lettuce bed. There are some broccoli's and kales in there too. I am trying to maximize the bed space, without overcrowding, and succession plant. The lettuce will be ready to pick about 2-3 weeks before the cabbage, so I alternated them. While the cabbages grow, if they give a little shade to the lettuce, that's ok. In between, I also put tiny lettuce and cabbage seedlings so they will grow and replace the ones I pick. We will see how this method works out.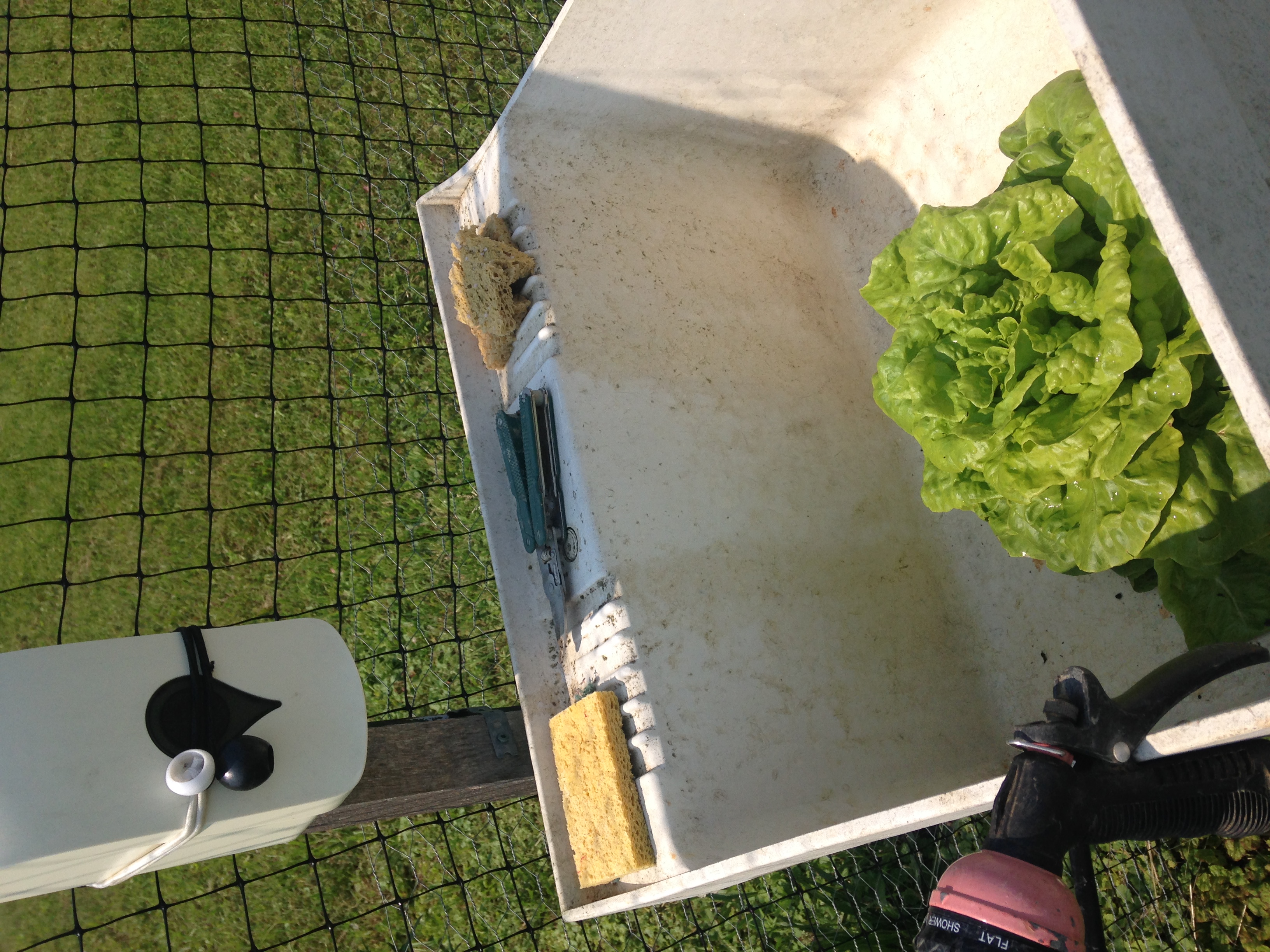 This is my fiberglass laundry sink on the south side of the garden. It has removable legs, so when gardening season is over, and it's time to drain the hoses, I pack up the sink and move it either to my natural dye studio that is under cover or storage for the winter.
I have a soap dispenser mounted on a fence post filled with Liquid Soap Refill for easy hand washing. There's a sponge, and a beautiful head of organic Grosse Blonde Paresseuse lettuce. There is nothing like picking a head of lettuce and washing off the mud splatter outside before bringing it in the kitchen for lunch. This is as fresh as it gets, retaining as much nutrition as possible. It's an energizing gift of the universe.
Seed Saving
Seed saving is a delicate and gentle task, that is fun and fruitful. I find it gives me a great sense of security somehow being connected to something so available and abundant.
Pictured above is my beautiful organic sweet red bell pepper. It is totally ripe when it's color is full and rich. Slice it open and carefully remove the seeds. Place them in a small cup and fill it with drinking water. 
Wait 30 minutes. the mature seeds will sink, while the immature seeds float. Pour off the water, along with the immature seeds. Place the mature seeds on a paper towel or smooth cloth napkin. Spread them out and fold the napkin, so the seeds are covered and protected from fruit flies and dust. Wait a few days for them to dry thoroughly. Place the seeds in an envelope, labeled with the seed type and year. Store in a dark dry place until the next planting cycle.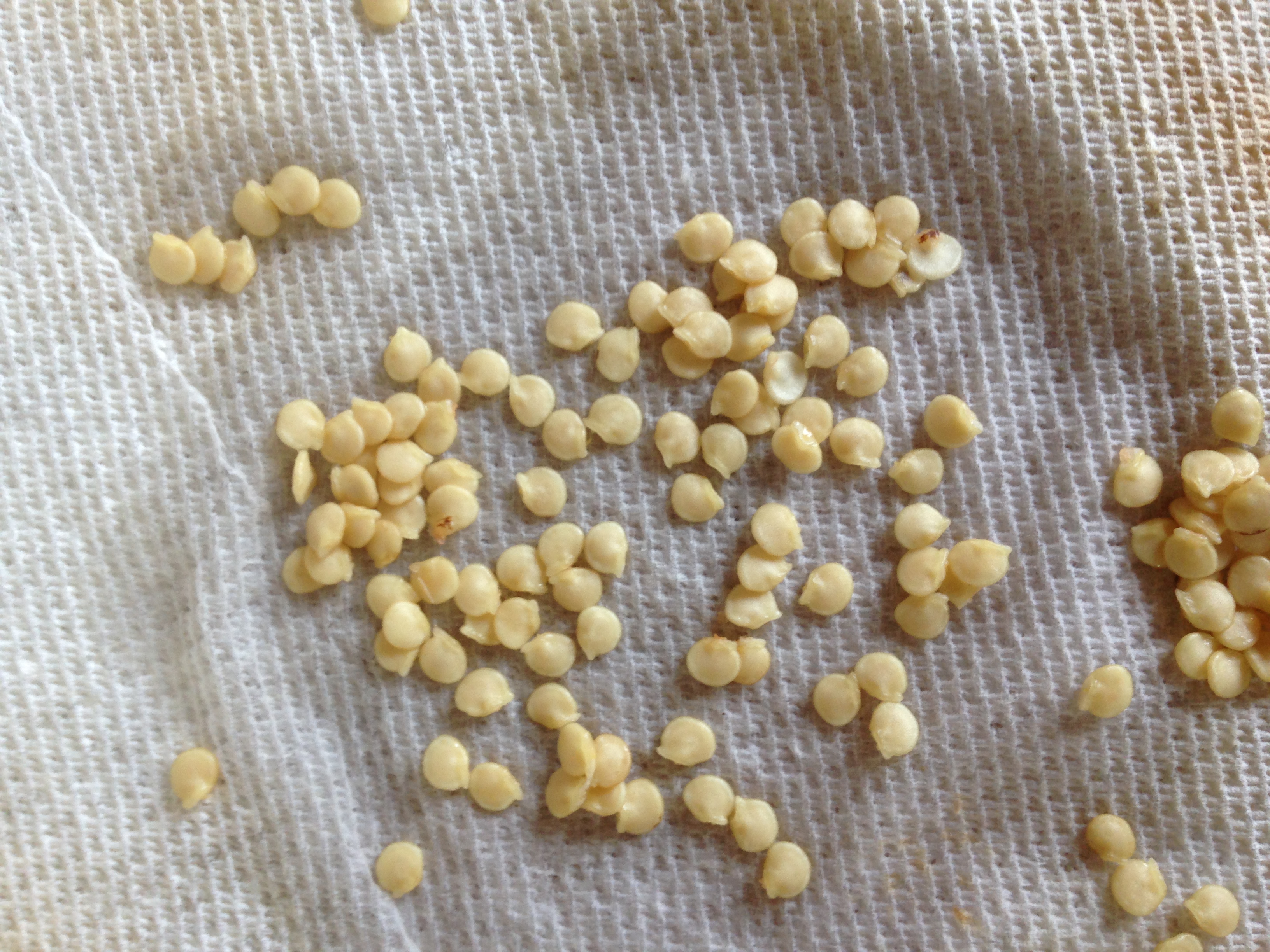 Happy gardening
Subscribe for monthly Liquid Soap Refills and save 20%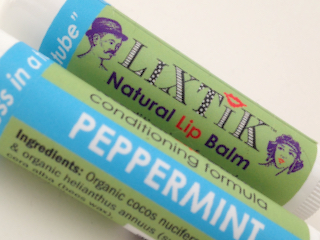 Moisturize, hydrate, and nourish your lips with wonderfully luxurious
Leave your lips moist and smooth for many hours. Soothes severely chapped lips.

save 20%

Subscribe for

monthly refills  

Join the future of plastic free, liquid soap with phase II of the best zero waste liquid soap refill.

Three easy steps:

Place all of the contents of each bag of soap in a 32 oz. bottle, or split that in 1/2 and put the soap noodles into a 16 oz. recycled pump bottle
Add water.
Shake.

Use. It's that simple!