Garden
The light is a little pink in my indoor garden photos because it's the full spectrum seed light.
Below are the broccoli micro-greens that I finally learned how to sprout in under 3 days!
Germination tests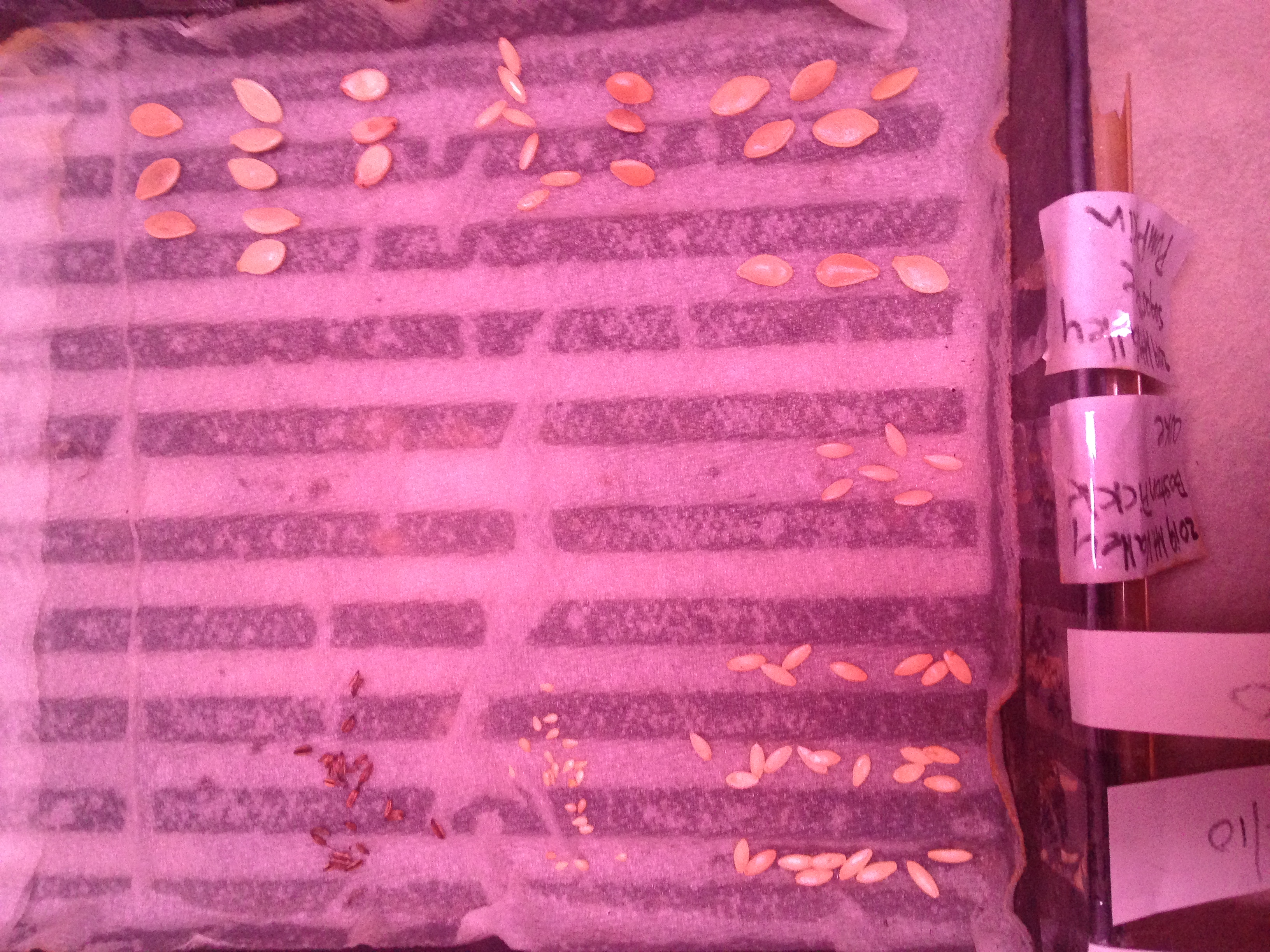 These seeds are a variety of pumpkins, cucumbers, and the brown seeds are fennel. These seeds are from last year and older to test my germination rates, so I can plan what seeds to buy and use up seeds that are still good. Those teeny seeds are Mexican Gerkins. They are really cute little snacking cucumber fruits. Click here to see how my germination tests turned out.
Cover and mist to pretend it's a garden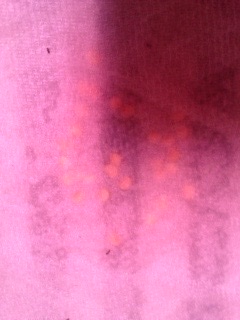 Those are seeds that I saved from last year to plant this year, and I'm checking the germination rate to see how I did with my seed saving. These are a variety of peppers, eggplants and my Roma tomatoes. They are under a paper towel to keep them moist. The eggplants are an iffy experiment, since I saved them from an eggplant that I cooked, instead of from one that was full of seed stock, so I will likely buy eggplant seeds for this years garden.
Garden notes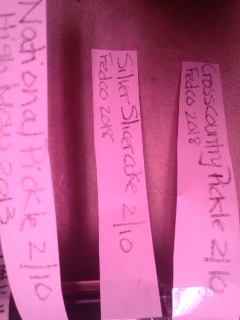 I'm not the best record keeper, so this year, I'm making the effort to keep better records and carefully label all of my seeds in the tests. This will enable me to also see how well the plants that do grow from these tests, and how well they fruit.
Container garden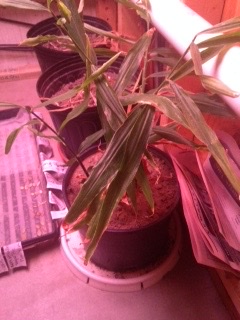 Some of my garden plants are in containers. This is ginger, that I started from some beautiful organic ginger I bought at Greenstar, my coop. It's not seed stock, so I'm attempting to grow it anyway, and see if I can produce seed stock after harvesting and replanting the best shoots. I'm no botanist, so this is just a fun and tasty experiment. While the world changes, I find great joy in growing food in the middle of Winter.
Indoor garden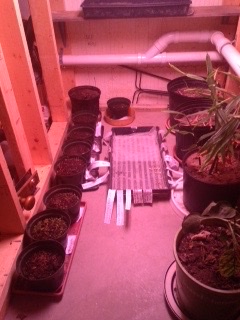 This is the indoor garden, on our heated floor. If you don't have a heated floor, I would highly recommend heat mats specifically designed to help you grow micro greens, etc.
On the left are the micro greens. There's broccoli, cauliflower, cabbage, carrots (you eat the tiny greens and they taste like carrots!), onions, cilantro, basil, oregano, and lettuce in the tray up on the shelf.
The tray in the middle are my germination tests. The ginger is there, with 2 pots behind that, with the 2nd round of ginger to try to grow seed stock.
In the front planter on the right is an Italian Frying Pepper plant, that I brought in from last year's garden. It was full of flowers and looked great. It should have produced peppers all winter, which I've done in the past, but this one had a spider move in, and spin its web on a lot of the leaves, even though I cleaned it off regularly. So I clipped off the leaves, to see if I could get it to fruit again.
Micro-greens
These are ready to be clipped and sprinkled on a salad or blended up in Andy's morning green drink.
Click here to see how my tests progressed
Garden Map
Soil health is important, and ours is is full of clay and minerals, making it dense and difficult to grow food. I tried to work with it and had mostly sad results. So we made our own mix last year with great success. It's a big project to get the mix right. You need a mixing space for your dirt piles, time to get the components to your soil mixing station, and tools, like a tractor, shovels, buckets, and sometimes a pick axe. Its great exercise and very grounding. This is likely where that sentiment of getting grounded came from.
Andy got a tractor bucket load of black gorgeous dirt up from our forest with. Then he also got a bucket full of "bath" dirt (a soil type) from near the road (where we don't want the garden to be). We bought a truckload of sand, and a few bags of peat moss. The mix is measured in the tractor bucket: 1/3 forest dirt, 1/3 bath, 1/3 sand, and a few shovel fulls of peat. 
My plans are for a GIANT garden, if you look at my map, but we will only have enough time to do so much bed building, so my map is to help me fit in the plants I'd like to grow, in the time I will have.
Waterless Hand Soap is a gardener's friend
I will definitely have Waterless Hand Soap near my soil mixing station and also mounted on a garden fencepost. Even though I wear gloves, my hands still get dirty. This handy spray bottle will make a great addition to my garden seed and tool bucket this season.
Happy gardening
---