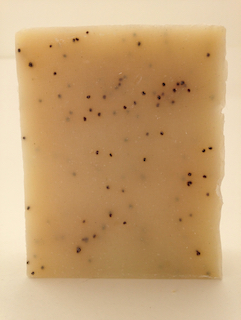 What soap is made from is important. You are putting it on your skin and it matters what it is made of.
Our lathery, perfectly balanced minimal ingredients for hand soap and shower bars are specially formulated. Each bar of Ithaca Soap gives 2 people 4-8 weeks of daily showers. 

Saponified certified organic coconut oil, certified organic sunflower oil, and 100% pure water processed essential oils (in all scented varieties.) Unscented and Unscented Oat soaps do not contain essential oils. Pumice and poppy seeds in our hand soap, the Tough Guy bar, pictured here.
 Saponified organic coconut oil. That's it!
Simple hand soap ingredients make for a safe and effective hand sanitizer replacement. Waterless Hand Soap is alcohol free and not flammable or irritating.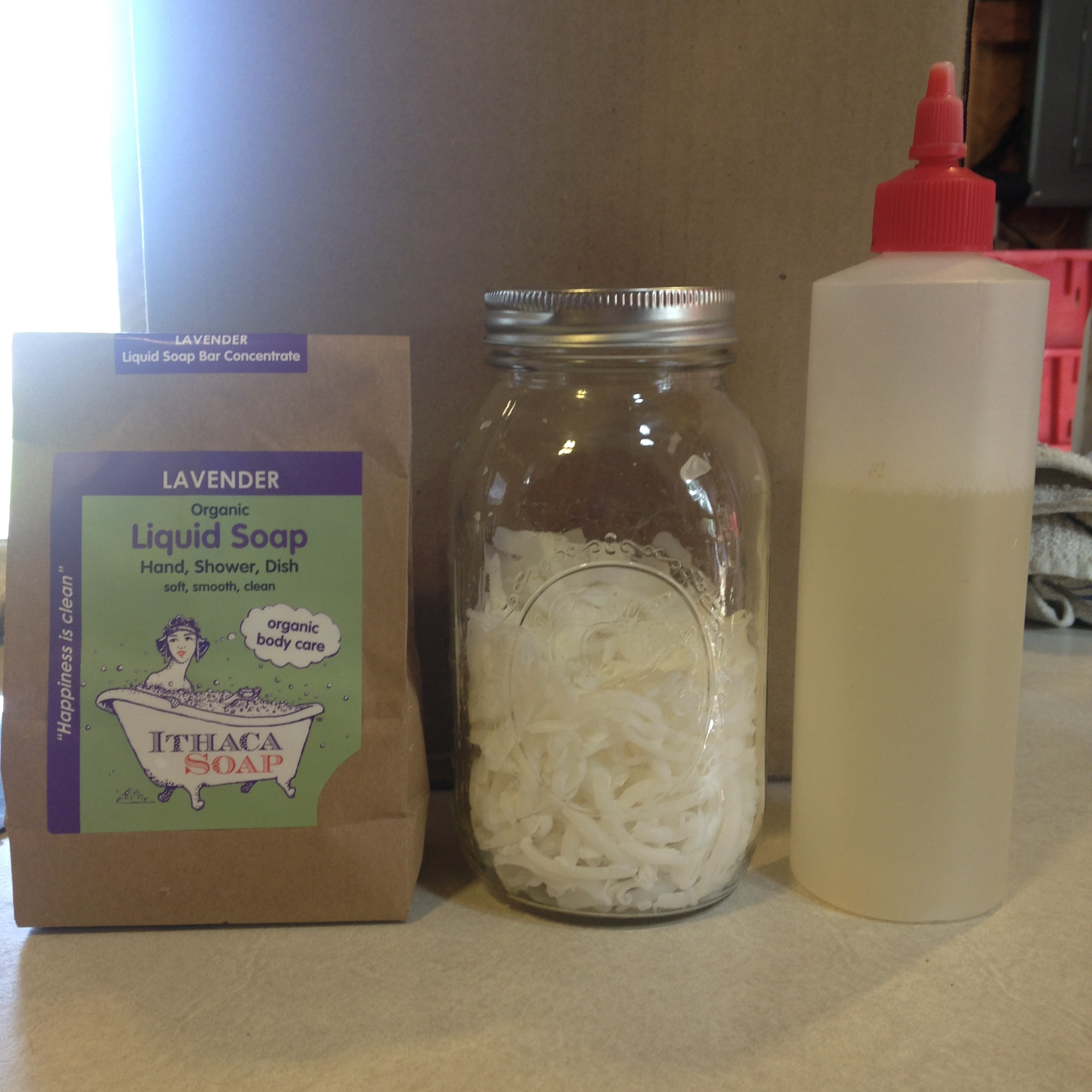 Liquid Soap Refill is a DIY liquid soap. No plastic. Just add water. Saponified certified organic coconut oil, 100% pure water processed essential oils (in all scented varieties. Unscented liquid soap does not contain essential oils).
Enjoy worry free dishwashing with anti viral and anti bacterial, lathery, non irritating soap. Liquid Soap Refill instructions are simple. One bag dilutes into a 32 oz. hand soap refill. So much better than Mrs. Meyers Clean Day Soap, where I read in an instagram post chat answer to a question about bacteria in their new sponge, that you have to clean unsanitary bacteria off your sponge regularly by placing it in the microwave. What good is a soap if it doesn't kill bacteria? 
Dilute at home to make dish soap, hand soap, and surface cleanser. This item is available for license. Read about it here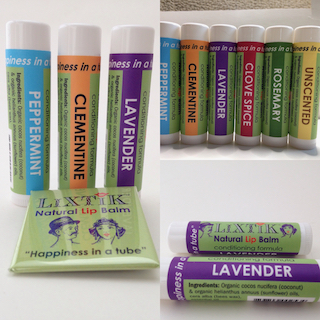 Certified organic coconut oil,  certified organic sunflower oil, sustainably harvested NY natural beeswax, 100% pure water processed essential oils (in scented varieties). 
click here for more lip balm info
Click here to read about using our lip balm as the best long hair conditioner
All Ithaca Soap and Beeswax Lip Balm products and our whole factory is Free from:
petroleum and mineral ingredients and oils 

synthetic vegetable oils

limonene: a natural ingredient derived from citrus rind and known to suck all of the moisture out of your skin and lips, leaving them dry and irritated. Many companies use limonene to promote more frequent product use.

parabens

alcohols including extracts

artificial and mineral colors and phthalates

artificial and coal derived fragrances

sodium laural and sodium laureth sulfates and sulfites of any kind

antibiotics

palm oil in all forms: Palm oil may seem ok, but the slash and burn harvest technique is deadly to the animals living in the same forests where these trees grow. We definitely do not use palm oil.

GMO's in all forms, including organically grown GMO's

soy, corn, wheat, canola, lanolin, flax, anything in the pea family including peanuts

all tree nuts (except sunflower seed oil, which is a seed not a nut, and coconut which is a different allergy, and coconut is a fruit) 
Our body care conditions your skin, hair and lips to be soft, smooth and glow with its own natural beauty.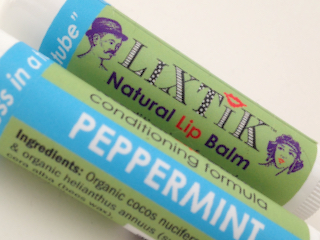 Moisturize, hydrate, and nourish your lips with wonderfully luxurious
Leave your lips moist and smooth for many hours. Soothes severely chapped lips.