Best Long Hair Conditioner
The best long hair conditioner? That looks like Ithaca Soap and Beeswax Lip Balm to me.
I went to the Ithaca Farmers Market, and a friend had new hair. It was curly! Normally it's very straight. She did a long hair conditioning method that is specific and best for long curly hair.
This will work on short hair also. Now that I've had actual short hair a few times for a few years, I know how much easier and more difficult it is than long hair. What takes an hour for long hair will take 5 minutes or less with short hair.
Of course I asked about this. She gave me the step by step instructions about how to get your hair to display it's curls, while not getting the friz. She put great emphasis on the styling gel. These techniques are all over the internet. As I listened, I came up with my own method and gel replacement ideas. It worked well, considering that I do not own a hair dryer. If you have a hair dryer, it will likely work better. So my wave was still there a day later, but if I'd like to get the curl/wave freshly washed look back, I would have to wet my hair.
To be clear, my hair has a lot of wave, and a few unruly banana curls. I usually brush them out the day after I wash my hair. For the most part my hair looks straight. I do not have curly hair, but would definitely like to keep the wave and banana curls longer than a few hours. Once I decided to use only our olive oil shampoo, and now the Olive Oil Shampoo Bar exclusively, I sort of forgot about the hair conditioners, since most of them are made from synthetic oils (otherwise known as plastics). My hair has great shine and is very soft, just from using our shampoo bar with olive oil (applied before the wash). 
I will definitely not be using the styling hair gels on my hair, since the ingredients are usually a variety of liquid plastics. These are things I wouldn't recommend using for personal care. 
Using LiXTiK Beeswax Lip Balm as a long hair conditioner, is alcohol free. Alcohol is a known skin irritant, so I'm not recommending that you put that on your hair. Then there's the gel itself, which is liquid vinyl, that you would then melt with a hair dryer so it completely coats your hair.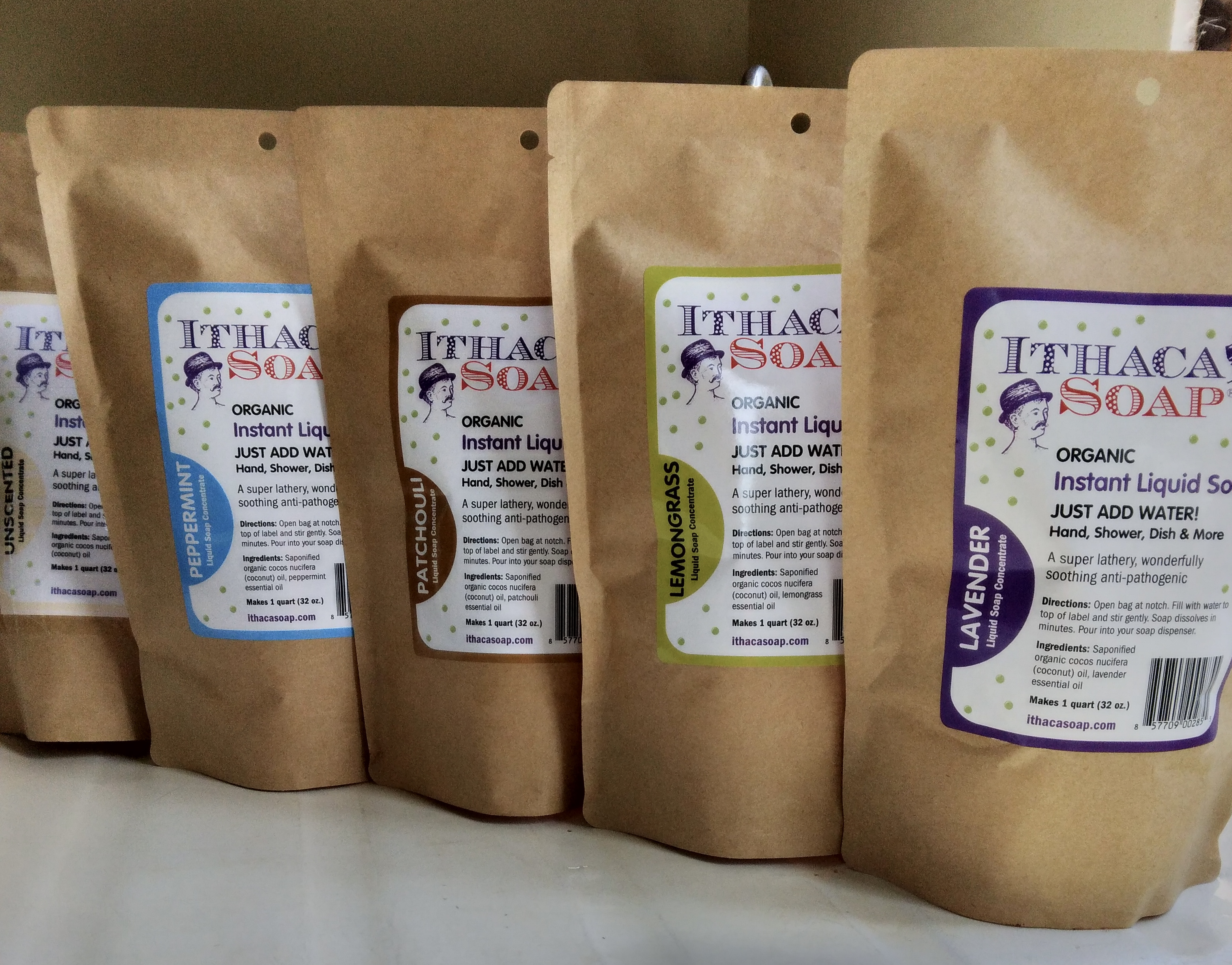 Choose from 5 different natural essential oil scents
Instant Liquid Soap is the perfect stovetop cleaner. It's gentle on your hands while being tough on built up, caked on grease. Click here to read How to Clean your Greasy Stovetop using zero waste natural soap methods
Tear open pouch at notch
Fill pouch with water to top of label. Gently stir.
Pour into a reused plastic bottle. Use.
The future starts now as you end single use plastic bottles. Click here
Bees wax lip balm as hair conditioner
I decided to take the plunge and try using bees wax lip balm as hair conditioner, thinking the bees wax and oil would be a great hair gel substitute. I can honestly say I wasn't sure how it would look or feel. We had a customer, who has since moved to Europe, that used to use our beeswax lip balm as a mouse and hair conditioner. Since she loved it, I thought it would be worth a try. 

Best Long Hair Conditioner
What is hair conditioner? Conventional hair conditioner, is artificial greases and alcohols to mimic natural oils and waxes. The concept is that oil and waxes coat individual hairs to give it body, bounce, and shine. I have been ok without the body and bounce for a while, since flat straight hair is in style and it's a look that's easy for me. But body and bounce are way more fun. The best long hair conditioner is so simple using our natural soap and lip balm.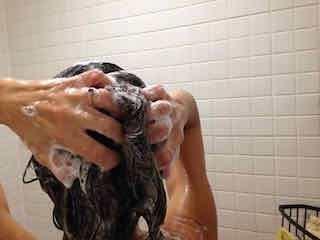 Olive Oil Shampoo Bar suds are smaller bubbles
I washed my hair the same as always. First, I gently coated my hair with a small amount of olive oil, then wet my hair and shampooed with the Olive Oil Shampoo Bar.  After I towel dryer my hair and separated the hairs, I gently rubbed little bits of lip balm onto my hands and distributed it throughout my hair. This could really be the best long hair conditioner. Plus it only took a few minutes.
I crimped it, using my hands, palms up and scrunching the hair all the way up to my scalp. This reinforces the waves and curls that are weighted down by the length of my hair, which is back down to my waist again.
It held the wave better, still had the great shampoo bar shine. When I brushed my hair the next morning, I was pleased to feel how soft my hair was, but also the wave was still there! And my hair has a lot more body. Ithaca Soap and LiXTiK Beeswax Lip Balm worked beautifully as the best long hair conditioner.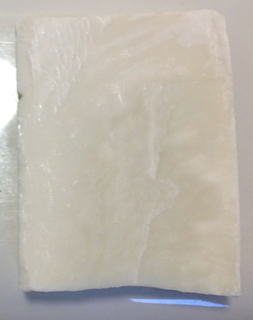 Ithaca Soap Olive Oil Shampoo Bar
possible residue build up
Another thing my friend emphasized, was the residue build up left on hair by styling hair gels. The tiny bit of beeswax that I evenly distributed on my hair could build up. I am careful not to put any oil or lip balm directly on my scalp. I am a firm believer that my sense of well being is greatly enhanced it I don't suffocate my scalp. It needs to breath.
If it does build up I will use apple cider vinegar to remove it. It is a great hair conditioner and balancer. My hair is abundant and very fine, so a vinegar treatment flatness it.
My second hair wash was a great success. I washed my hair 2 times. The first wash removed excess dirt and the conditioner. The second wash lathered up fantastically, leaving my hair squeaky clean. 
As you can see, it's still a little wet, but the wave is nice and defined. I wanted to get these photos taken before the sun set. My biggest concern was a sticky texture. My hair is very soft. There is no wax feeling, or residue. Plus there is a little weight to my hair, making the bounce pronounced. I'm very pleased. This is the best long hair conditioner.
Residue?
After months of this shampoo method, I felt like I had a slight residue on my hair from the lip balm. Here's what I did to easily take care of it.
I put olive oil on my hair before I got in the shower, like usual.. Then I washed 2 times, and still felt a slight residue, so I washed my hair a 3rd time, and rinsed with really hot water. Beeswax has a low melt temperature and simply slides off. It worked. 
Instead of applying more lip balm this time, I tried something else and put on more olive oil. Then I wrapped my hair up in a towel and went to bed with my hair wet!
It looked great in the morning, but the crimp and wave didn't last past the 2nd day. 4 days later, my hair is still clean and shiny, with good volume, but I will be putting the lip balm on again this week. I will also let my hair dry wrapped up in the towel, except I'm going to try a new wrapping method instead of the one I have always used. 
A note on towels. For my hair, I prefer old towels that have no plush terry left in them. They are flat cotton. This is apparently what's recommended, but I have always done it this way.
Week 3 of long hair conditioning
This week I made some more changes to how I washed my hair. 
I did not put any oil on my hair before I washed it, then I did one shampooing. After I conditioned only with lip balm, crimped it in a towel and then wrapped my hair up in an old tee shirt for a few hours.

My hair was crimped nicely and there was no frizz at all. It was flat, but it looked nice. I took off the tee shirt my hair, and went to sleep. The results were great.
Since I have nice wave, but not too much curl, I sometimes quickly give my hair a spray with water and a quick crimp in the old towel or tee shirt and it springs right back. 
Week 4
I have finally settled on a weekly hair wash routine.
Wash my hair with the Olive Oil Shampoo Bar. I do this in the evening, once a week.
Dry with a flat, low pile towel. Separate the clumps into strands.
Take a small amount if LiXTiK Beeswax Lip Balm, and rub it in between my fingers to melt it and carefully and quickly apply small amounts to the ends of my hair. 
Take another small amount of lip balm, rub it in between my fingers, and apply it evenly to the rest of my hair, avoiding getting any on my scalp.
Fluff and rub my hair in between my hands to warm the lip balm up so it spreads evenly. 
Take an old tee shirt and crimp clumps of my hair up and squeeze out any excess water. Repeat this process a few times to crimp all of your hair several times. 
You can also use a hair dryer blowing on the outside of the tee shirt, while squeezing out the excess water.
This is the new part. I wrapped my hair in the tee shirt for a couple of hours, while it was wet.
I took it out let it air dry for another hour or two, and then went to bed. Yes, it was still damp.
In the morning, I waited a little while to brush it. Then sprayed it with plain water and crimped it again. 
I repeated this step every morning til the next hair wash day. The wave lasts all day. 
how to use hair conditioner (lip Balm as hair conditioner)
ok, I tried something new again
After visiting my cousins and their children, I looked at their hair and thought of a slight variation.
This time, I didn't apply anything prior to getting in the shower. I did take LiXTiK Lip Balm in the shower with me. 
I washed my hair 2x with the Olive Oil Shampoo Bar. Then while I was in the shower and the water was running on me, I applied the lip balm to my hair, using the steam and heat of the water to carefully apply it evenly to my hair. 
When I finished my shower, I wrapped my hair up in a towel for 5-10 minutes, then separated and crimped my hair. Now I like this method the best and will do it again next week.
Apple Cider Vinegar
Occasionally I like to do an apple cider vinegar rinse on my hair. It easily removes build up from the shampoo or lip balm conditioner. It's really a super conditioner, which is why I only apply it once in a while, like once a year. It makes my hair super silky, which is a very desirable result for some hair looks and types. On me, it's a little too flat for an all the time look, which is why I don't do it very often.
Andy uses vinegar more often, averaging once a month. He washes his hair every 2-3 days. (I am still washing mine once a week). He washes once with the shampoo bar. Does a vinegar rinse and washes his hair again. His wave and bounce responds really well.
So, for my annual vinegar rinse, I copied his method, by applying the vinegar between my 2 shampoo washes, and then applied the lip balm conditioner same as always after the final wash.  
no conditioner, then back to lip balm
I did some more hair conditioner experiments.
For a few weeks, I went back to plain olive oil, applied only after washing, in the shower while the hot water helped me spread it evenly throughout my hair. Then I had a very busy week and didn't condition my hair at all. My hair was shiny, but straighter, and went flat after 1-2 days.
Then I had a very busy few weeks and didn't have time at all to apply any type of conditioner. After the 1st day, I kept my hair mostly in a braid. It was clean but boring and flat. 
After going back and forth with plain olive oil, I thought I would cut my hair. Things change and I'm tired of long straight hair. But before I just go and chop it all off, I will do more lip balm experiments.  
I went back to the best long hair conditioner, which is our lip balm, LiXTiK. Two hair washes with Olive Oil Shampoo Bar, and about 1/4" of lip balm applied in 2 rounds; one on the top half of my hair and the other mostly on the lower part concentrating on the ends.  Success and confirmation! The bounce, wave, shine all came back.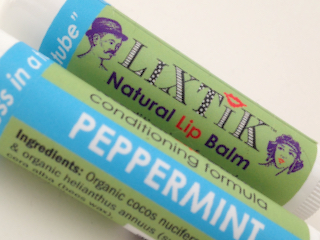 Peppermint bees wax lip balm
Moisturize, hydrate, and nourish your lips with wonderfully luxurious
Leave your lips moist and smooth for many hours. Soothes severely chapped lips.
| | |
| --- | --- |
| Choose from 8 LiXTiK Beeswax flavors/scents. Ingredients: Organic coconut and sunflower oils, premium beeswax, 100% pure essential oils | Get a 3 pack and save |