Make a 1st Aid Kit with Essential Oils 
I always have a 1st aid kit on hand, even if it's just the one in the bathroom closet. Maiking a custom 1st aid kit is easy. Mine contains:
a bar of soap-I prefer Unscented, but any of our scents will do
a Calendula Stik with Lavender Mint
a few LiXTiK Lip Balms: Lavender, Peppermint, and Clove Spice 
Bandaids
cotton swabs
cotton bandages
tweezers
a tourniquet - it's like a giant rubber band and I've never used it.
tiny flashlight
an ace bandage
a small glass jar of plain clean water
Small bottle of hydrogen peroxide
Replace the pharmaceuticals 
Good Old fashioned remedies do the trick, when you have minor accidents. Cuts, scrapes, bruises. Andy skinned his knuckle, while fixing the tractor. He sprayed the Waterless Hand Soap on it right away to keep out germs and bacteria, so he could keep on working. 
When he came in the house, he washed the scrape with bar soap and water, then sprayed some more Waterless Hand Soap on it. It closed right up, with no issues.
The Lavender Lip Balm is a very versatile 1st aid kit addition. Great for sunburn and mosquito repellant.
The Calendula Stik is gentle enough for babies diaper rash and potent enough for soothing a bee sting.
The Lavender Essential Oil and Water is an excellent burn remedy. Read about it here.
Hydrogen Peroxide-to keep tetanus away. If you or someone in your party accidentally comes in contact with a rusty nail. Immediately clean the wound and squirt a generous amount of hydrogen peroxide into it.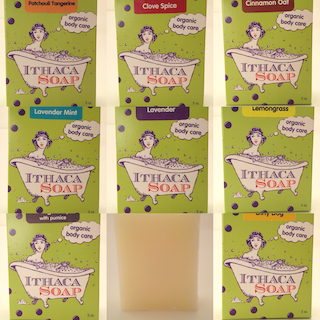 Soap and water kill germs, while cleaning you
Good bar soap is an essential as a whole body soap wash. It's economical, luxurious, and effective. When selecting a bar of soap, look for simple ingredients with pleasing essential oil aromas and lots of sudsy lather. Sudsing all the way down to a sliver, over 3-4 months of daily use, is key in good bar soap. Try Ithaca Soap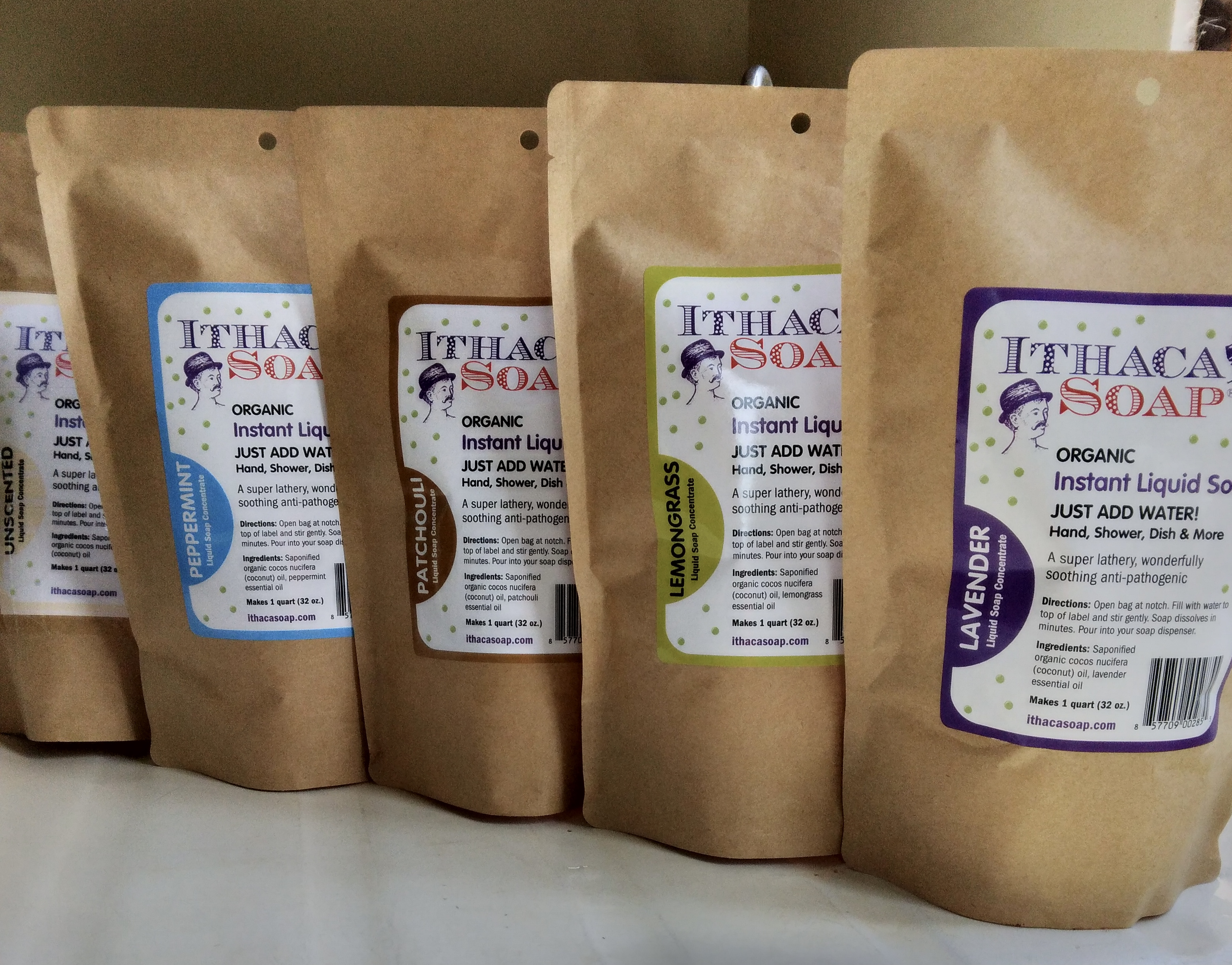 Instant Liquid Soap is the perfect stovetop cleaner. It's gentle on your hands while being tough on built up, caked on grease. Click here to read How to Clean your Greasy Stovetop using zero waste natural soap methods
Tear open pouch at notch
Fill pouch with water to top of label. Gently stir.
Pour into a reused plastic bottle. Use.
The future starts now as you end single use plastic bottles. Click here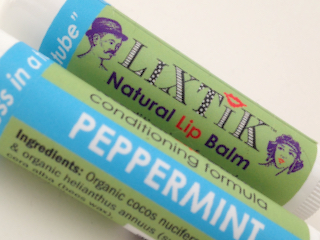 Moisturize, hydrate, and nourish your lips with wonderfully luxurious
Leave your lips moist and smooth for many hours. Soothes severely chapped lips.

| | |
| --- | --- |
| Choose from 8 LiXTiK Beeswax flavors/scents. Ingredients: Organic coconut and sunflower oils, premium beeswax, 100% pure essential oils | |