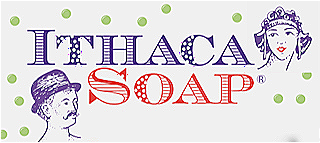 ---
Made in New York
As many of you know, Andy and I run our business mostly ourselves. We partner with OraBrite on the Waterless Hand Soap, which is where the free sample kits with the silk dental floss and bamboo toothbrushes come from. Click the link below to see some photos of The Waterless Hand Soap filling line.

For large institutional Waterless Hand Soap orders please click the OraBrite link below.

Speaking of sample kits, we have more to give away with every $20.00 or more purchase.
waterlesshandsoap.html
OraLine WHS
---
Recipes
I have more recipes that I will be putting up on the website this week. As you may have noticed, I don't use sugar very often and love to bake pies and pastries, and make pickles.

Next up is blueberry jam and Cantaloupe Custard Pie, topped with fresh blueberries. This time the custard was made out of the actual canteloupe fruit instead of milk.

And it's pickling time. My 1st small batch are bread and butter pickles with hot peppers.

Look for it.

blueberry-custard-pie.html
---
Peaches and plums at Ithaca Farmers Market
Peaches and plums are ripe! I'm so happy to know some talented fruit farmers. We have a couple of fruit trees in our "orchard" and it's definitely a learning curve for us!

I stocked up on apple butter and apple cider vinegar to make pickles with. Our friends at Little Tree Orchards have the best apple cider vinegar. It's almost like an apple cordial. I am growing a variety of pickling cucumbers and only use this vinegar. Since it's so sweet, you guessed it, I feel like there's no need to add sugar.

Andy will be in Booth 6. Visit him til 3 on Saturdays and Sundays.
ithaca-farmers-market.html

---
Liquid Soap Refill update
If you really think about it, going completely plastic free is a difficult task at best. Everything is plastic, comes wrapped in it, or it's a component or something. Plastic is EVERYWHERE!!

We are definitely getting the word out about the Liquid Soap Refill. Spread the word to your friends, neighbors, family, and coworkers. Go plastic free easily with your liquid soap.

One bag of Liquid Soap Refill makes 1 quart (32 oz.) of liquid soap:

1.Empty contents of bag into container.

2.Add water and stir. Soap noodles dissolve in minutes.

3.Pour liquid soap into your dispenser. Ingredients: Saponified organic cocos nucifera (coconut) oil, pure essential oil (scented only)
Save 20% when you sign up for auto ship Liquid Soap Refill
Liquid Hand Soap Refill
---
What's your opinion

We have used 100% water processed essential oils for the life of our company. The Lemongrass essential oil we have been using for the last 17 years is what I call grassy. We are considering replacing it with a more perfume-y Lemongrass essential oil.

For all of you long time lemongrass fans, what's your opinion? It's important to us.

Click the link below and take a few minutes to tell us what you think. We appreciate your time! The opinion form is at the bottom of the page.
essential-oils.html

---
Write a review
Thank you for all of the really nice reviews. I love reading them and appreciate your efforts and cooperation in getting our new websites in the internet algorithms.
beeswax-lip-balm.html
hand-soap-ingredients.html


---
Give the gift of good soap. Buy in bulk and spread the idea that soft hands is possible in the age of washing your hands a lot. gift cards
---
Free shipping on orders of $60.00 or more in the continental US
---