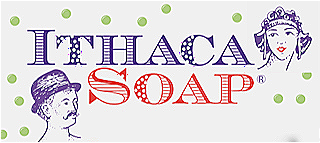 ---
30% off Waterless Hand Soap
Wash your hands with soap and water when running water isn't available Waterless Hand Soap (WHS) is a convenient way to always have soap and water with you. Leave your hands soft, smooth and protected. WHS is a safe and effective, even for children. Relieve yourself of hand irritation and replace your irritating alcohol based hand sanitizers today!

Do you have a soon to be college graduate? Waterless Hand Soap makes a great party favor for that graduation party.

30% off while supplies last

Ithaca Soap


---
Memorial Day Weekend
Relax on Memorial Day weekend in Ithaca, NY. There's so much to do. At the Ithaca Farmers Market, you can sample wine and hard cider to decide which wineries and ciders to visit. Eat lunch on the waterfront and go for a boat ride with Captian Stephanie.

Wherever you are, get to know the local people who grow the food. We have been eating a local diet for about a year now, and it's wonderful. Try it!

Ithaca farmers Market hours:

Saturday's Hours: from 9-3 the 1st Sat. in April through Oct. Sunday's Hours: 10-3pm. May through the last Sunday in Oct.

November's Hours: Saturday and Sunday 10-2pm December's Hours: Saturdays 10-2 til Dec. 17th (the Rutabaga Curl)

ithaca-farmers-market.html


---
New package for the Liquid Soap Refill


This is still phase II for the liquid soap, but this new package is great. You can dilute right in the bag! It is a paper pouch lined with a compostable plant plastic liner, transforming the diluting process.

Simply tear open the pouch at the notch and fill the pouch to top of the label. Click the link below to read more about it.

Eliminating single use plastic bottles is an easy way to participate in the future and reduce plastic garbage.

Spread the word! Thank you.

Liquid Soap bar Concentrate


---
How to clean a greasy stovetop
Did you know that natural soap cleans your kitchen appliances better than detergents?

Dispose food debris and kitchen grease in your compost bin, without all of the toxic fumes or dry hands that result from "cleaning fluids".

Make cleaning your kitchen fun with the Liquid Soap Refill. We are working on a new package that will be easier to use and is compostable. Photos and videos (!!) coming soon.



how-to-clean-your-stovetop.html

how-to-hand-wash-dishes.html


---
It's time to work in the garden
Next week, all of my seedlings move to the garden. My fabulous tomato plants and some of my lettuce varieties are all started from seeds I saved. I have kale seeds growing for next year's crop and new kale for Andy to enjoy as chips.

I also collected potato seeds last year, which are sprouting! Potato seeds are a new adventure for me. I've discovered that potato seeds make new varieties!

Get your hands dirty and see if you can grow a salad, some french fries, or a tomato sandwich!

Keep your garden tool basket stocked with Waterless Hand Soap, which is on sale for 30% off, a Lavender Mint Calendula Stik, and lip balm, so your hands are easily cleaned, stay soft, and your lips are protected from too much sun.

garden.html

WHS Link

Beeswax Lip Balm

Lavender Mint Calendula Stik


---
Small business rocks!
Are you planning an Ithaca Visit? The Enfield Manor Bed and Breakfast is a lovely place to stay. They have beautiful gardens, a pond, fire pit, deck and are dog friendly. Check out their website by clicking the link below.

Oh and they have our lavender liquid hand soap in their bathrooms.

Check out P and C Fresh at East HIll Plaza. They have the largest selection of Ithaca Soap and LiXTiK Beeswax Lip Balm and the best prices! Make sure you visit us to say hello at The Ithaca Farmers Market on Sat. and Sun.

Maybe you're going to Niagara Falls. You can get LiXTiK Lip Balm at the Lexington Coop.



Enfield Manor

hand-soap-locations.html

Lex Coop

Greenstar


---
what-soap-is-made-of.html
---
Shipping


Since shipping is out of our hands, I have adjusted our free shipping offer to keep up with the changing times.

Because you are Soap Tribune Subscribers, you have a free shipping coupon for orders of $75.00 or more.

Simply copy and paste the coupon code in the shopping cart. This is the code "freeshippingtribune"

I apologize for this extra step in the checkout process.

I've been reading about shipping rates going up in Dec and January.


---