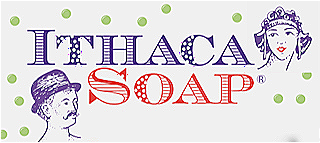 ---
Small business rocks
I love small businesses. They are all different from each other, quirky, and many spend the time to go the extra mile for their customers. Small business people have a wide range of talents, many wearing 2-3 hats to cover all of the jobs needed to create their products. Some small businesses (like ours) actually produce their products in mini factories and are highly skilled tradespeople.

Check out our retailers, who sell products made by small businesses:

Home Green Home on The Ithaca Commons has a great selection of healthy home goods.
---
Lavender
I'm not sure why that draft newsletter went out on Tuesday. I had a hectic week last week and lost that draft. My apologies for cluttering up anyones inbox.

Lavender bar soap, a bouquet of roses, and a box of chocolate is the classic Valentines gift.

Or a simple gift card that arrives in an e mail is quick for those of you who wait til the last minute.

Ithaca Soap Bars

lavender-essential-oil.html

gift cards


---
Coupon!!
Liquid Soap Refill 25% off coupon to Feb. 21, 2022

Use this code 25LiquidSoapRefill

(The link below still says liquid soap bar concentrate only because the link names need to be updated to reflect that we are still in phase II of this product launch.)

Liquid Soap bar Concentrate

bubble-bath.html
---
---
Fermented Foods tutorial
I finally added fermented carrots to the fermented vegetable page. Yummy!

fermented-vegetables.html

Ithaca Soap


---
Winter Ithaca Market

The Ithaca Winter Farmers Market is open at The Triphammer Market Place. 10:30-2pm

Click the link below to read about it. You can order Ithaca Soap and LiXTiK Lip Balm online from the farmers market store and pickup
Winter Ithaca Farmers Market

---
Shipping


Since shipping is out of our hands, I have adjusted our free shipping offer to keep up with the changing times.

Because you are Soap Tribune Subscribers, you have a free shipping coupon for orders of $75.00 or more.

Simply copy and paste the coupon code in the shopping cart. This is the code "freeshippingtribune"

I apologize for this extra step in the checkout process.

I've been reading about shipping rates going up in Dec and January.


---