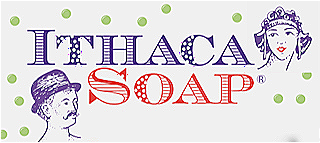 ---
What is Castile Soap
The name Castile Soap, comes from the Castilian region of Spain. It was made out of olive oil, because that was (and still is) an oil commodity that Spain grew. Castile soap means a soap made from vegetable oil and not made out of animal fats or petroleum oil.

Growing up, we had Castile soap in the house, but it was harsh, dried my skin out, and left my hair feeling like straw.

As our business grew, I shied away from calling our soap Castile soap because of my own biases. I wanted better, and figured out how to make better soap.

With that said, all of the soap made by Ithaca Soap is Castile soap.

If you have gotten an order from us recently, you have a coupon!

how-to-hand-wash-dishes.html

About-Ithaca-Soap.html

Liquid Soap bar Concentrate
Garden sink
It's time to work in the garden!

We are hustling to get all of our beds ready for planting. It's a great workout and the chickens help by eating all of the pest bugs. I am hoping this method of rooting out the wintered over squash pests and giving the chickens all of that nutrition will increase my zucchini, melon, and cucumber success.

The garden sink needs to have winter cleaned off of it, and get the hose hooked up to it, so I can wash my hands, tools, and vegetables out there before bringing them into the house. I'd rather wash the dirt off there. It's simply a fiberglass laundry sink, with a hose attached. Some day we will get around to putting in works and plumbing it, but for now, having a sink with soap and water is really handy.

I have a soap dispenser filled with a solution of Liquid Soap Refill diluted and a sponge right there in the garden. I also keep a bottle of Waterless Hand Soap in my tool basket.

garden.html

WHS Link

Beeswax Lip Balm


---
Ithaca Farmers Market booth 6
From 9-3pm!

Ithaca Farmers Market is open Saturdays in April from 9-3pm Come visit us in booth 6 in-between Macro Mama and Waid's Honey.

Celebrate Spring with fresh local food from a small business and farmer or gardener. Get great nutrition from real food and clean hands from real soap, provided for you by small producers

If you haven't been, you are in for a treat. We are a cooperative market with close to 150 small businesses, all growing, cooking, producing, right here in the Finger Lakes of Central NY.

Plan your next trip to visit us in person.

ithaca-farmers-market.html


---
Small business rocks!
We have a new Bed and Breakfast that has our soap and other goodies in their amenity baskets. Check out the Naturalist Retreat right around the corner from us. Click the link below to book your stay.

Lexington Coop is a vibrant community coop in Buffalo, NY Check it out. I'm doing LiXTiK Lip Balm tasting on 4/16 from noon-2 in the Hertle store. They usually have a really good LiXTiK sale when I'm there

You can find LiXTiK Lip Balm at Health Beat in Johnson City and Old Barn Hollow in Binghampton, NY

Naturalist Retreat

Health Beat Natural Foods

Old Barn Hollow

hand-soap-locations.html

Lex Coop

Greenstar


---
what-soap-is-made-of.html
---
Shipping


Since shipping is out of our hands, I have adjusted our free shipping offer to keep up with the changing times.

Because you are Soap Tribune Subscribers, you have a free shipping coupon for orders of $75.00 or more.

Simply copy and paste the coupon code in the shopping cart. This is the code "freeshippingtribune"

I apologize for this extra step in the checkout process.

I've been reading about shipping rates going up in Dec and January.


---