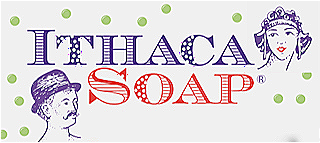 ---
Happy Holidays
Thank you all for a wonderful year. I hope you have love, warmth, comfort, and good food to celebrate.

As we move through the darkest time of the year, I find myself celebrating the small simple things. Things like sorting all of the seeds I collected from my garden and planning next year's garden. Making kohlrabi fries as a Wintertime snack for Andy, and giving the peels to my chicks who squeal and cluck with delight. Knitting that sweater I've been working on for a long time out of the indigo dyed buffalo yarn Felting new hats for us. All of these things involve using soap in one form or another, which makes me really appreciate our business right at the moment when I think I need a vacation.

Whatever you do, make it good.
It's the Rutabaga Curl-the silver year
Every year the last Saturday market is the Annual International Rutabaga Curl. This is the 25th year for the Curl!! (45 years for IFM)

Click the Farmers Market Link to read all about our local twist on a Winter Olympic Sport and how you can join in the fun. Be a spectator or a player!

Place your soap order on line. Select pickup and we will have it ready for you in booth 6. This way you can concentrate on curling!

Select Pickup in the shopping cart for Ithaca Farmers Market pickup. Your Soap Gift set will be all ready when you arrive. Please place orders by the previous Friday by 9am. Orders placed after 9am will be ready by the following weekend for pickup.

Location change for Winter!

Last Steamboat Landing market for 2022: Sat. 12/17/22 10-2pm

The Market moves indoors for the Winter to Triphammer Marketplace – 2255 North Triphammer Rd, Ithaca NY Saturdays only 1/7/22- 3/25/22, 10:30AM to 2:00PM

We do not attend the Winter Market

ithaca-farmers-market.html

Instant Liquid Soap

Soap Gift Sets
---
Live Kitchen Series
Once the whirlwind of farmers market is over for the year, I will turn my attention to showing you all how to have a live kitchen. Stay tuned for that.

a-live-kitchen.html


---
How to clean a greasy stovetop
For me, Winter is a time for visiting, cooking, tending to the indoor garden and planning the outdoor garden.

As you can imagine, my kitchen, especially my stovetop, is constantly being cleaned.

how-to-clean-your-stovetop.html
---
Natural plant dyeing
I had to clean all of my dye flowers out my freezer, to make room for this year's bounty. So I made dye with my frozen flowers. Stay tuned for washing wool and cotton to get it ready to soak up all of that color that Mother Nature gives to us in plants and flowers.

Instant Liquid Soap

hand-wash-laundry.html

wool-yarn-and-felt-studio.html


---
Small business rocks!
We have a new retail store that is carrying LiXTiK Lip Balm. They have some great clothing, in a comfortable fashionable style.

612 West 3rd Street Owen, WI 54460

715-255-7307



best-natural-hand-soap-near-me.html

Beeswax Lip Balm
---
bubble-bath.html
---
Shipping


Since shipping is out of our hands, I have adjusted our free shipping offer to keep up with the changing times.

Because you are Soap Tribune Subscribers, you have a free shipping coupon for orders of $75.00 or more.

Simply copy and paste the coupon code in the shopping cart. This is the code "freeshippingtribune"

I apologize for this extra step in the checkout process.




---