Zero Waste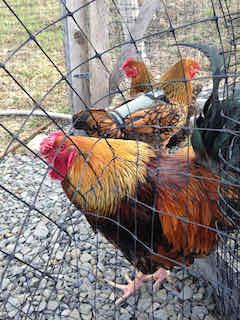 As we all move into a zero waste world, waste is created. It's a process leading us to the goal of producing as little pollution as possible while maintaining a standard of living. Convenience products buy time, which can lead to being more productive, or enjoying leisure time. This is a journey that the whole world is on together.
In the best case scenario, zero waste means that the leftovers from any life activity are recycled and or composted back into a useful resource. It all goes back to a day in a chicken's life cycle. They eat, poop, sift and scratch through the poop to find and eat the leftover bits that didn't get used the first time around. While scratching though the poop, they turn that poop into dirt and take a dust bath. Then food grows in the leftover dust bath and the cycle begins again.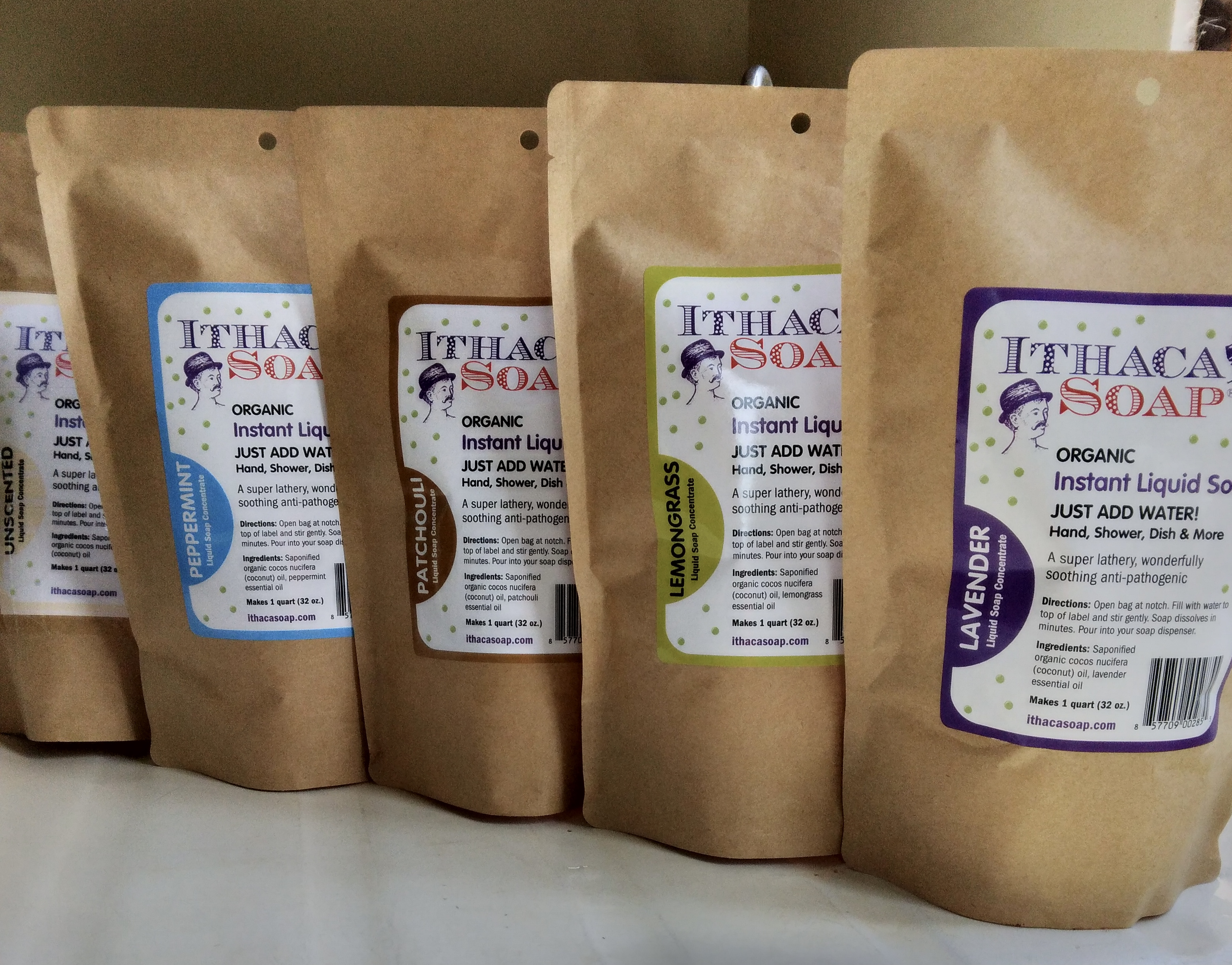 Instant Liquid Soap is the perfect stovetop cleaner. It's gentle on your hands while being tough on built up, caked on grease. Click here to read How to Clean your Greasy Stovetop using zero waste natural soap methods
Tear open pouch at notch
Fill pouch with water to top of label. Gently stir.
Pour into a reused plastic bottle. Use.
The future starts now as you end single use plastic bottles. Click here
Zero waste part one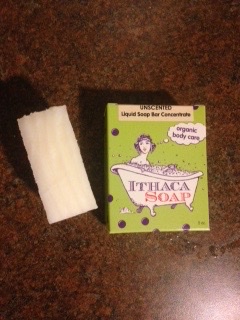 This is what zero waste really looks like now as the world begins on the zero waste journey, when it comes to ordinary household and personal care products. Pictured above is the best diy Liquid Soap Refill in Phase I.
True zero waste means no waste. Absolutely zero waste in a product's manufacturing and end user life cycle, is pretty difficult to achieve. Businesses can claim to be zero waste, by purchasing carbon credits to offset their carbon footprint. This means that every person on the planet is theoretically assigned an amount of waste they can produce to meet maximum levels before the collective whole is tipped into a waste danger zone. Businesses produce more waste than individuals, simply by providing products and services that use a lot of energy and materials. The consumers are using the products that created the waste. 
Carbon Credits, in my understanding, are a calculation of waste that the planet can handle over a period of defined time, divided by the number of people on the planet. Individuals have a positive number of carbon credits, while businesses and the elite class (the .01% to the 1%) have a negative number of carbon credits. A business purchases the positive credits through an intermediary carbon credit "bank" from the "individuals' balance" to offset their negative credits, in order to keep track of the total output of pollution. Through this accounting balance system, a business can therefore claim zero waste. It's an accounting system for pollution output. 
How our company fits into zero waste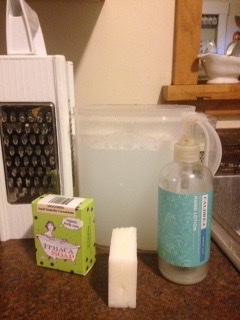 The paperboard box our soap comes (pictured above) in is made from pre consumer recycled factory waste, meaning it is printed on the outer edges of bigger projects. This process takes time to find the right printing job for our project to fit into.
The box is printed and varnished with legume based inks and varnish.
This box is free from all plastic, including silicone. Did you know that silicone is a fantastic vinyl, with a very high melt point, made to resemble rubber? It is actually a hydrogen (water based) and carbon (petroleum based) plastic blend. 
Disclaimer: we have been using a mylar label (polyester vinyl plastic) on this phase I prototype box, which is the packaging for Ithaca Soap Bars. As we move through the DIY Liquid Soap Phase II, and into Phase III, the packaging and label will be replaced it with paper label. 
In theory, the best DIY Liquid Soap Refill, will be delivered in a 100% pre-consumer factory waste, recyclable package, that is also compostable over time. 
Ithaca Soap DIY Liquid Soap cleans dishes, veggies, floors, bathroom fixtures, windows, chicken coops, kitty litter boxes, cars, motorcycles, and a whole bunch more with ease, because it lathers up really nicely and rinses off beautifully. 
It feels good on your hands, body and face as a shower wash
It kills viruses and bacteria in 20 seconds.
It dilutes easily with tap water at any temperature. No need to boil water. Grate up the bar or chop it up put it in 32 oz. of water and shake. You will have liquid soap in a matter of minutes. If you don't feel like grating it, simply place the bar in a quart jar, fill with water and come back in a few hours. Stir and you have Ithaca Soap's fabulous liquid soap. Click here for instructions if you want to see it in pictures.
Ithaca Soap's DIY Liquid Soap Refill is a specially formulated soap meant to be a liquid Soap. Many diy liquid soaps are made from bar soaps meant to be hard bars of soap. When you melt them, you don't really get a liquid soap, you get a diluted gloopy bar soap that leaves a residue, when you clean, because you have disrupted the saponification process and changed the soap's molecular composition. We have a fabulous bar soap that gives you up to 12 weeks of daily showers. Leave hard lathery long-lasting bar soap to us, and use the DIY Liquid Soap Refill for your liquid soap needs.
Working together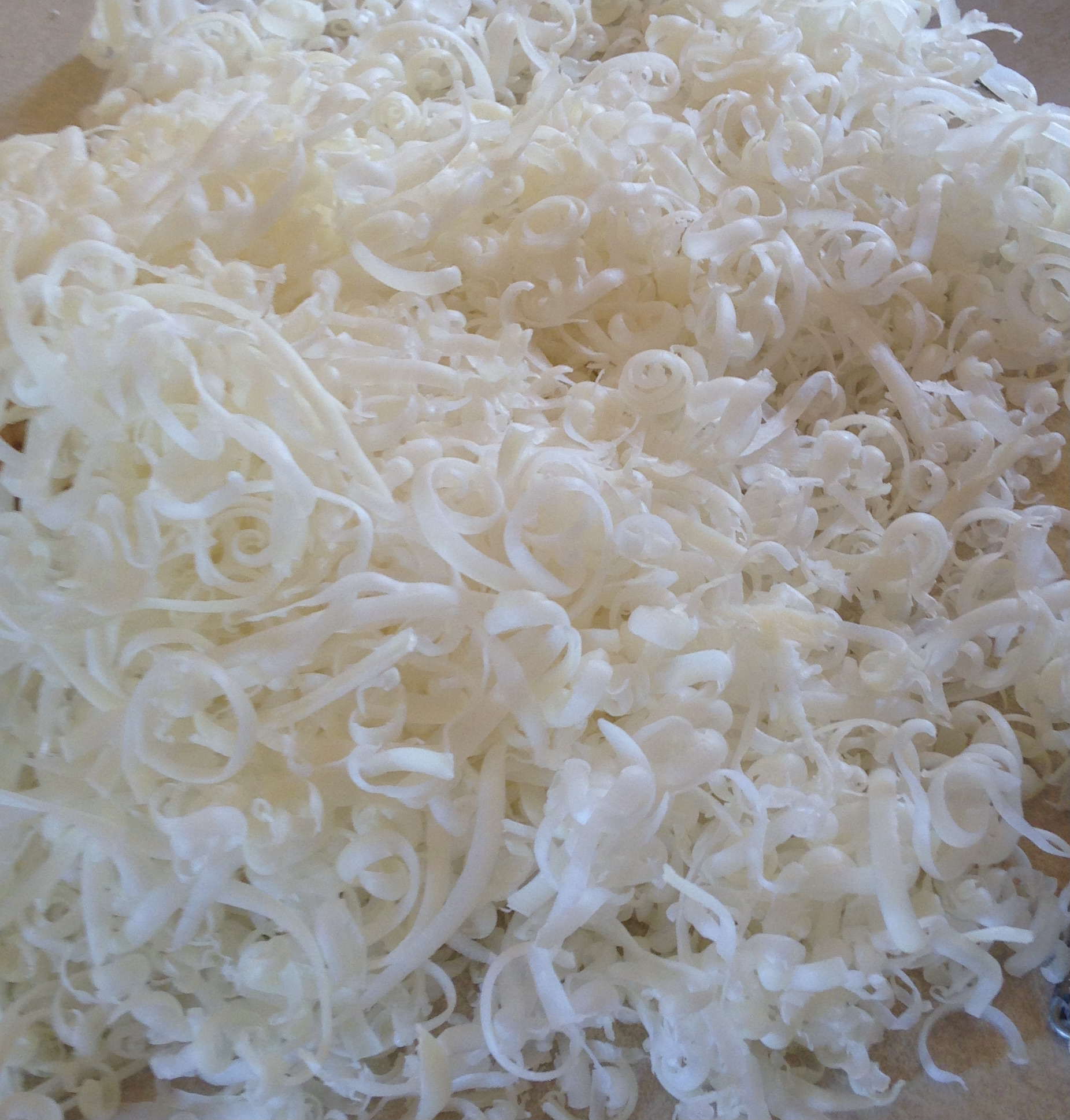 The reality of zero waste is everyone needs to work together. Manufacturers should to be as upfront as possible about what they are producing for you. It is up to you to do your homework, by staying informed. What you purchase, how you use it, and how you dispose of the waste, you are the critical component of completing the zero waste cycle. Be the chicken. Turn the leftover bits back into useable materials.
Partner with us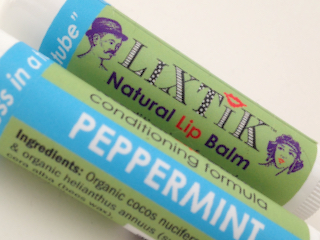 Moisturize, hydrate, and nourish your lips with wonderfully luxurious
Leave your lips moist and smooth for many hours. Soothes severely chapped lips.

| | |
| --- | --- |
| Choose from 8 LiXTiK Beeswax flavors/scents. Ingredients: Organic coconut and sunflower oils, premium beeswax, 100% pure essential oils | |