What is a Loofah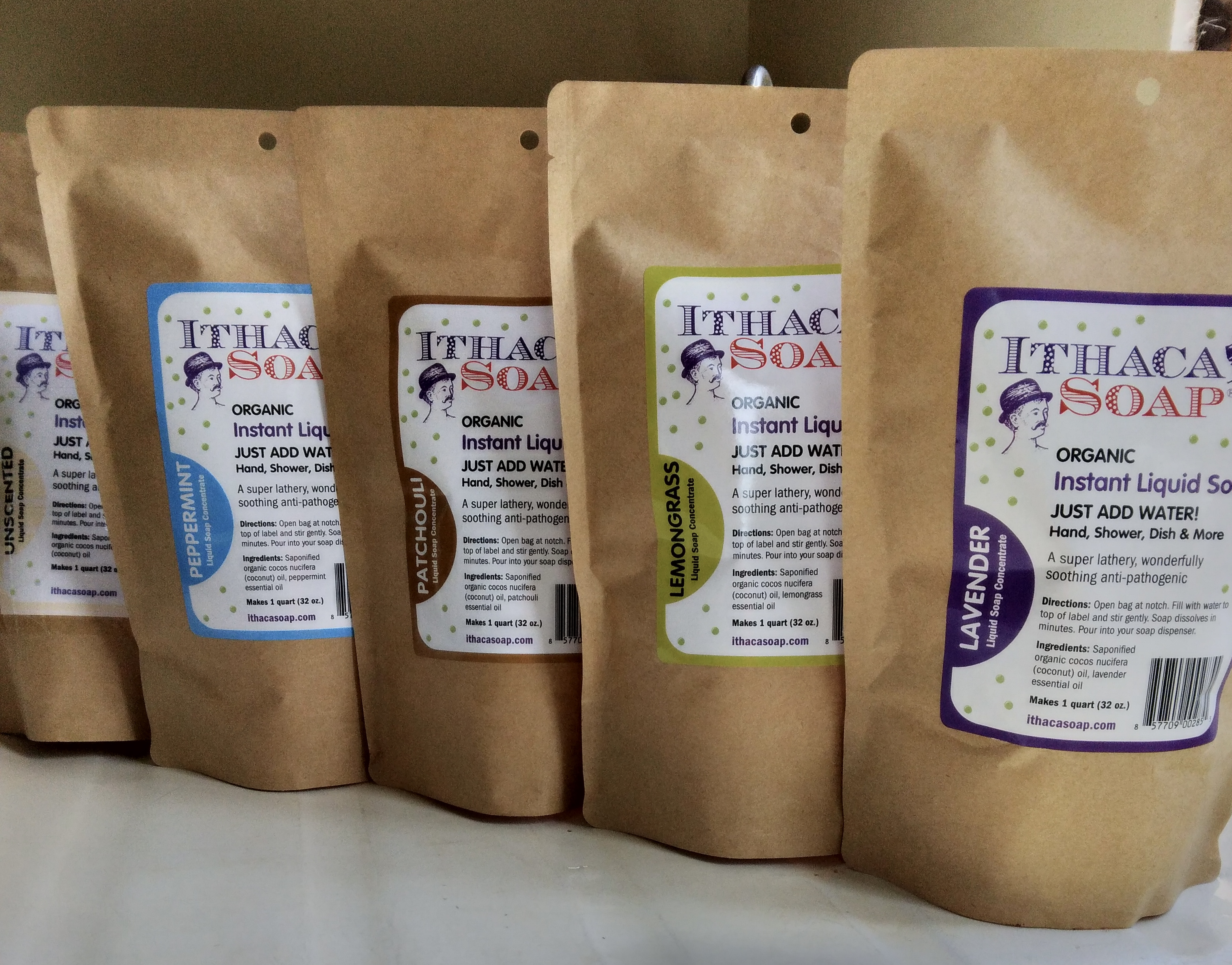 Choose from 5 different natural essential oil scents
Instant Liquid Soap is the perfect stovetop cleaner. It's gentle on your hands while being tough on built up, caked on grease. Click here to read How to Clean your Greasy Stovetop using zero waste natural soap methods
Tear open pouch at notch
Fill pouch with water to top of label. Gently stir.
Pour into a reused plastic bottle. Use.
The future starts now as you end single use plastic bottles. Click here
What is a loofah?
A loofah sponge (or luffa sponge) is a natural sponge, in a tube shape, that is anywhere from 8-24 inches long in its natural state, and 4-6 inches in diameter. It is a mesh of fibers and has fibrous webbing throughout the inside of the tube, in a flower pattern. 
What is a loofah made of?
A loofah is made from a plant. Grown, in the ground, that is. It is a common misconception, that a loofah sponge is a sea sponge. It is not. It is a plant, in the gourd family, which is in the squash family, otherwise known as the cucurbitaceae family. This plant family includes squashes, such as pumpkins, Winter squashes, gourds of all kinds, and zucchinis. It also includes all cucumbers and all melons. Some say when a loofah is young, it can be eaten. 
There are 2 species of loofah plant. One name is Luffa Aegyptiaca and the other is Luffa Acutangula. It is also known as Dishcloth Gourd,  or dishrag gourd, or Luffa Gourd, or Loofa, or Loofah, lufa, or loufa. It is a heat loving plant, but with a little help, can be grown in cooler climates. I have some in my garden.
| | |
| --- | --- |
| Look very closely, in the lower left 1/4 of the photo, to find the tiny loofah with an unopened flower on the tip. | This is an organically garden grown loofah that I bought at an Israeli grocery on Long Island, NY |
What is a Loofah quality
There is a big difference in loofah sponge quality, when you compare organically garden grown loofah sponges that are air dried and commercial factory farmed and kiln dried loofah sponges.
Organic garden style grown loofah sponges that are air dried are soft and can be easily squeezed in your hand. They gently exfoliate dead skin, while invigorating your skin, when used to wash your body, face hands and feet.
Factory farmed and kiln dried loofah sponges are hard and cannot be easily squeezed in your hand. This makes them very rough on your skin. They are scratchy. This rough quality may be enjoyable to you and will definitely exfoliate dead skin cells, while also removing a layer or two of live skin.
| | |
| --- | --- |
| Loofah flower open on a small loofah gourde. The flower pattern looks very similar to the inside of the sponge gourde. The photo to the right is a big loofah pod | |
A Loofah Sponge History 
Historically the loofah is thought to have originated in Asia or Africa. Carbon dating has the loofah brought to the Americas over 9000 years ago. It is one of the first known crops grown for intentional cultivation and harvest. Eaten young, and then dried, peeled and harvested for washing dishes, household cleaning, and personal care. 
Loofah is excellent for exfoliating skin and revitalizing your healthy glow.
| | |
| --- | --- |
| Loofah gourde 8-10 inches long. | Baby loofah with open flower |
How to clean a loofah  
How to clean a loofah is easy. Depending on how you use and store it between uses, will depend how often you will want to clean it. It is best to store the loofah in a place where it will dry between uses.
When purchasing your first loofah sponge, be very conscious of how easy it is to squeeze. If it does not squeeze like a regular dish washing sponge, you may want to consider finding another, softer one.
Before you use it for the first time, rinse it out under warm water. Depending on how it was displayed in its retail setting, you may want to wash your loofah sponge with soap and water, before your frost use. Consider using good natural soap for your carefully selected natural loofah sponge.
Fill a small basin or your bathroom sink with warm water and a little bit of natural Castile soap, like the Instant Liquid Soap. Submerge the loofah sponge, squeeze it a few times to get the soapy water inside the fibers of the sponge. Let your loofah sponge soak for 15 minutes.
Empty your wash basin or sink and fill with clean warm water. Submerge the loofah, squeeze a few times to get the soap out of the sponge. Replace the rinse water a d repeat the squeezing process, until all of the soap has been removed. Dry in the sun, hang on your laundry line, or simply put on a rack in a dry place in your bathroom.
How to use a loofah 
Loofahs are very versatile. If you get a big loofah, you can cut it to suite your personal care and household cleaning needs.
Cut a 3 x 4 1/2 inch piece for the kitchen, so you can hand wash your dishes. Take this piece and cut in half lengthwise, exposing the center of the loofah sponge. This will give you a soft and scrubby side. Squirt a little bit of Instant Liquid Soap on the scrubby sponge, and wash your dishes. The soft side is great for wiping up the counter tops.
For the shower or bath, cut a 4 x 4 inch piece to use as a whole body scrubber. Cut a 2 x 3 inch piece , which is cut in half lengthwise for your facial exfoliating scrubber. I prefer the soft side for my face.
I also like to have a 10-12 inch whole loofah as a back scrubber for the shower or bath.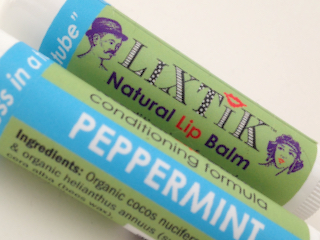 Peppermint bees wax lip balm
Moisturize, hydrate, and nourish your lips with wonderfully luxurious
Leave your lips moist and smooth for many hours. Soothes severely chapped lips.
| | |
| --- | --- |
| Choose from 8 LiXTiK Beeswax flavors/scents. Ingredients: Organic coconut and sunflower oils, premium beeswax, 100% pure essential oils | Get a 3 pack and save |