Yarn and Dye Studio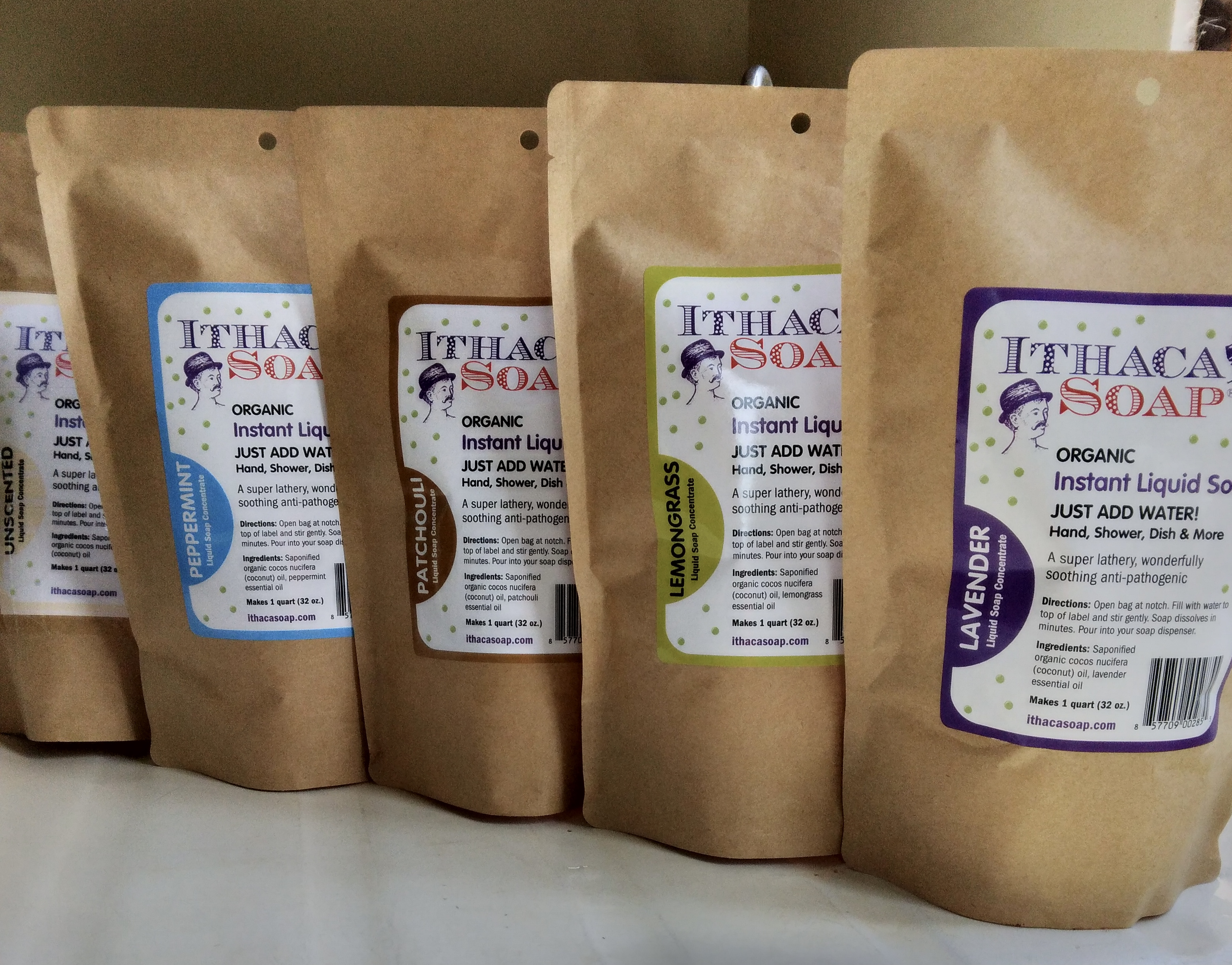 Instant Liquid Soap is the perfect stovetop cleaner. It's gentle on your hands while being tough on built up, caked on grease. Click here to read How to Clean your Greasy Stovetop using zero waste natural soap methods
Tear open pouch at notch
Fill pouch with water to top of label. Gently stir.
Pour into a reused plastic bottle. Use.
The future starts now as you end single use plastic bottles. Click here
My yarn and dye studio is a place of meditation for me. Working with plants and fibers is slow, active, sometimes physically demanding, meditative work. In the end, there's a dress, curtains, a sweater, a hat. Something soft, lovely, and fun to continue enjoying the sacred space of slow fiber.
Naturally dyed wool, silk, and cotton yarns and eco printed fabrics wash beautifully with Ithaca Soap's Liquid Soap Refill. Every natural dye project I do, begins with a gentle hand washing and soak in a cold water bath with Ithaca Soap Liquid Soap Refill. 
If I'm getting ready to dye wool that has not been treated for moths (which is mostly the fiber I get), I will use Patchouli Soap for the first washing before dyeing, since it is a natural moth repellant. It's all I have ever used as a moth repellent and in 22 years, none of my plant dyed, hand knit garments have ever had moths destroy them.
Wash instructions for natural moth prevention for wool yarn or fiber plant dye  preparation below. 
Pre dye rinse: Patagonian Merino yarn in vinegar rinse after washing with Patchouli Liquid Soap Refill. Each hank is fingering weight 400 grams, 400 meters Needle size US2-4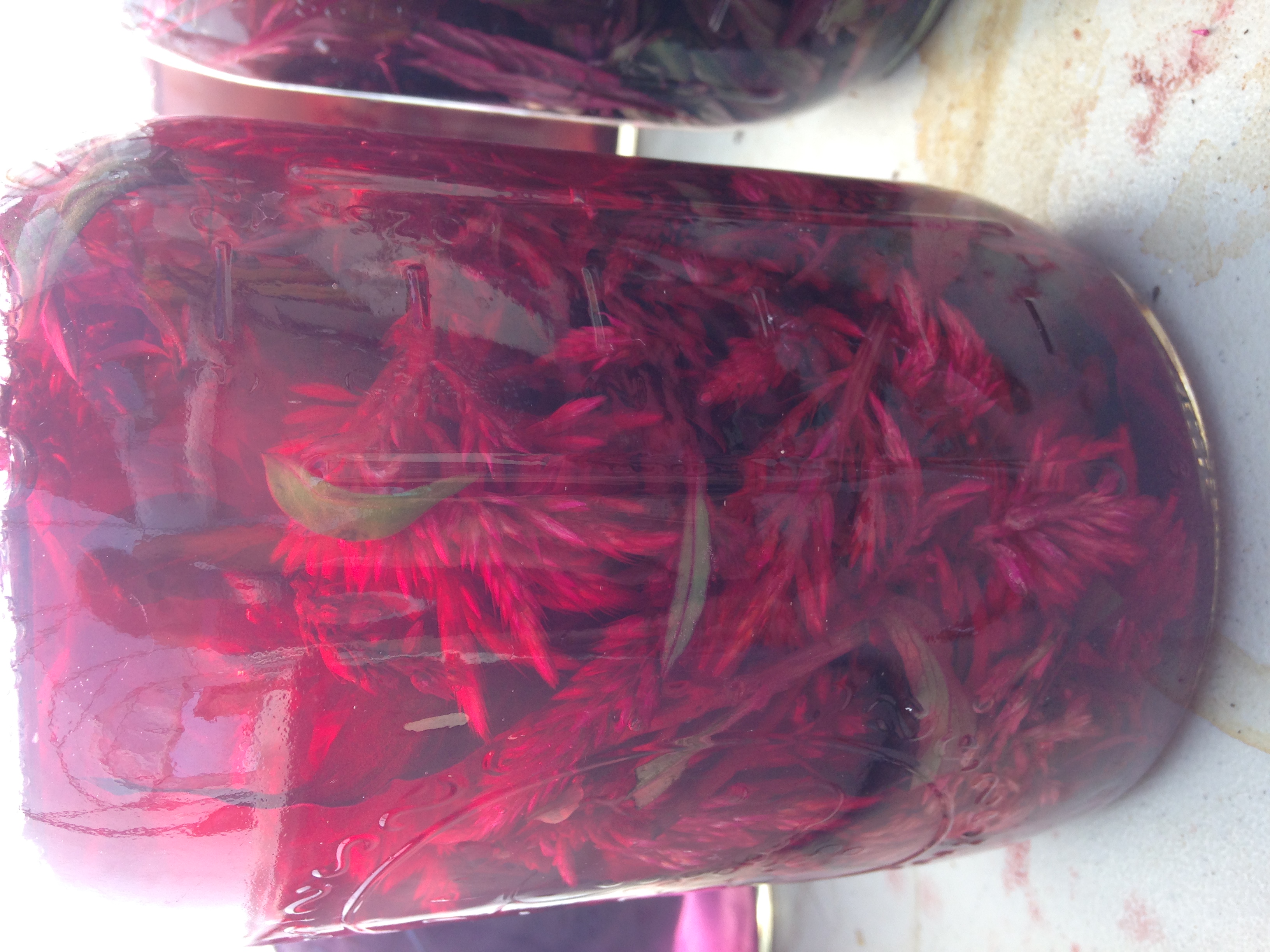 I grew Hopi Amaranth and made a solar dye. The yarn was in the dye for 4 weeks in the hot sun. When it was ready, I washed it again with Unscented Liquid Soap, and them did another vinegar rinse.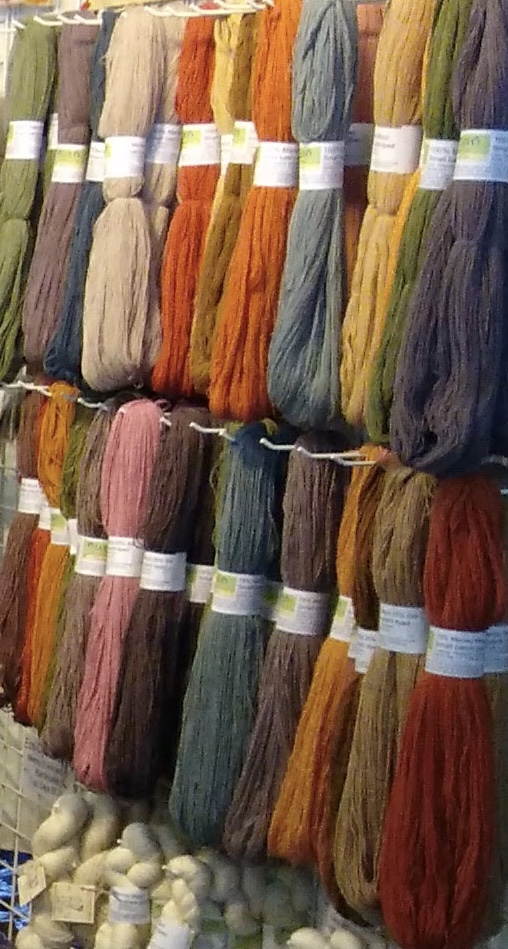 New York Sheep and Wool Festival, Rhinebeck, NY.
Moth prevention wash instructions
If you are going to dye natural wool yarn or fabric to prepare it for plant dyes, follow these instructions:
Take the bar of Patchouli Soap and swish it around in your wash basin to make a nice sudsy bath. Remove the bar of soap, and set it in a well drained place to dry. Soak your yarn or fiber, giving it a gentle swish to make sure the fiber is evenly soaked. Leave for at least 30 minutes. Drain and squeeze out any excess water. 
Fill your wash basin again and gently rinse your wool. Drain and fill the wash basin again with clean cool water. Add about 1/2 C white vinegar for every 4 oz. of wool. Soak for at least 30 minutes. Squeeze dry, roll up in a towel and step on it to get out all of the water. 
Yarn from the dye studio
I have a selection of eco plant dyed Patagonian Merino yarn. Each hank is 400 meters, 400 grams. It knits up like cotton with beautiful spring and memory. We will no longer be going to the New York Sheep and Wool Festival, in Rhinebeck along the Hudson River, as vendors. 
Click here to see the yarn selection.
When you finish knitting your sweater, I recommend washing and blocking it for the best results. Click here for hand washing instructions.
Blocking means to lay the wet sweater flat to dry, and shape it. Match your cuffs, make sure the shoulders and neck are straight, and the bottom rib is aligned.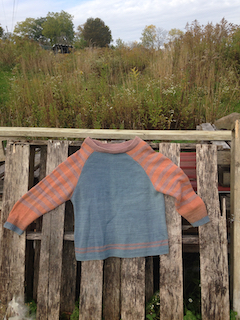 Dyes with Indigo, madder, and purple logwood, this boatneck sweater with jersey sleeves is super comfortable. Ask for the free pattern when you make a yarn purchase.
Eco plant prints on silk
Eco plant prints on natural fibers, such as wool, silk, rayon, and cotton is taking what nature has to offer to another level. It's like capturing the energy before it leaves at the end of the season. 
Andy's grandmother's heirloom iris on rayon
Spring scarlet maple leaf on silk. The maples only give this color within a 3 week window.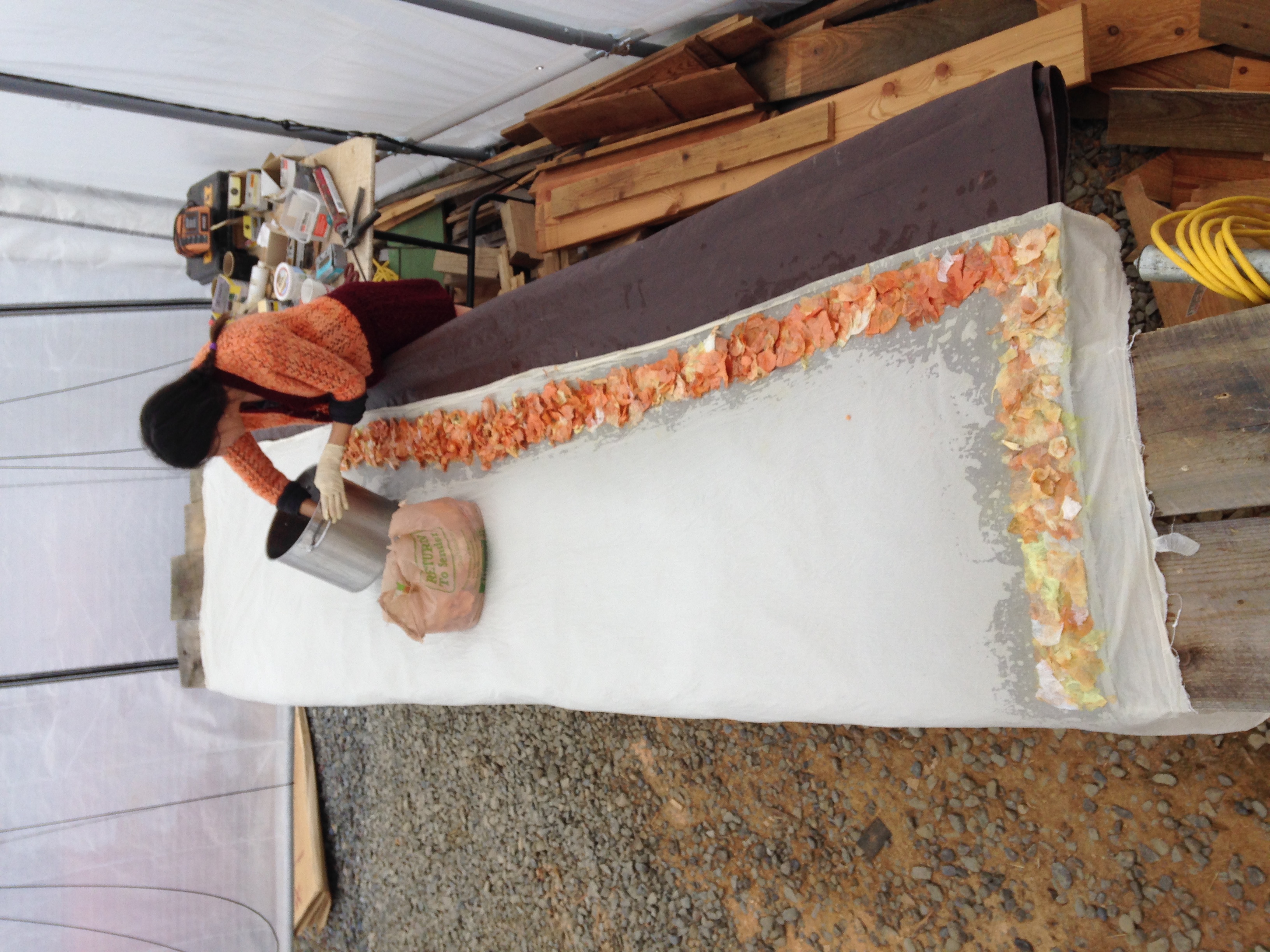 Placing onion skins on cotton
Marigolds
I had great success with African marigold seeds. I like this variety in particular because they are 3-4 feet tall and extremely prolific. 
I save the seeds and grade them. The best seeds are for replanting, while the weaker and imperfect ones are for my dye studio. Marigolds are an easy and very useful garden plant. They are nutritious chicken food, a terrific deer deterrent since they smell terrible, and make rich plant dyes for wool, silk, and cotton. 
The orange marigolds yield orange, green and purple dye, while the yellow marigolds yield yellow and purple. I'm going to do the yellow ones next. They are fabulous chick snacks, and garden pest deterrents. Each flower head  has about 50 ish seeds, so 10 saved flower heads is enough seeds to plant a fence.
Click here for more on seed starting and saving.
Hopi sunflower which yields purple, blue, grey and black dyes
Hopi amaranth, which yields pinks and reds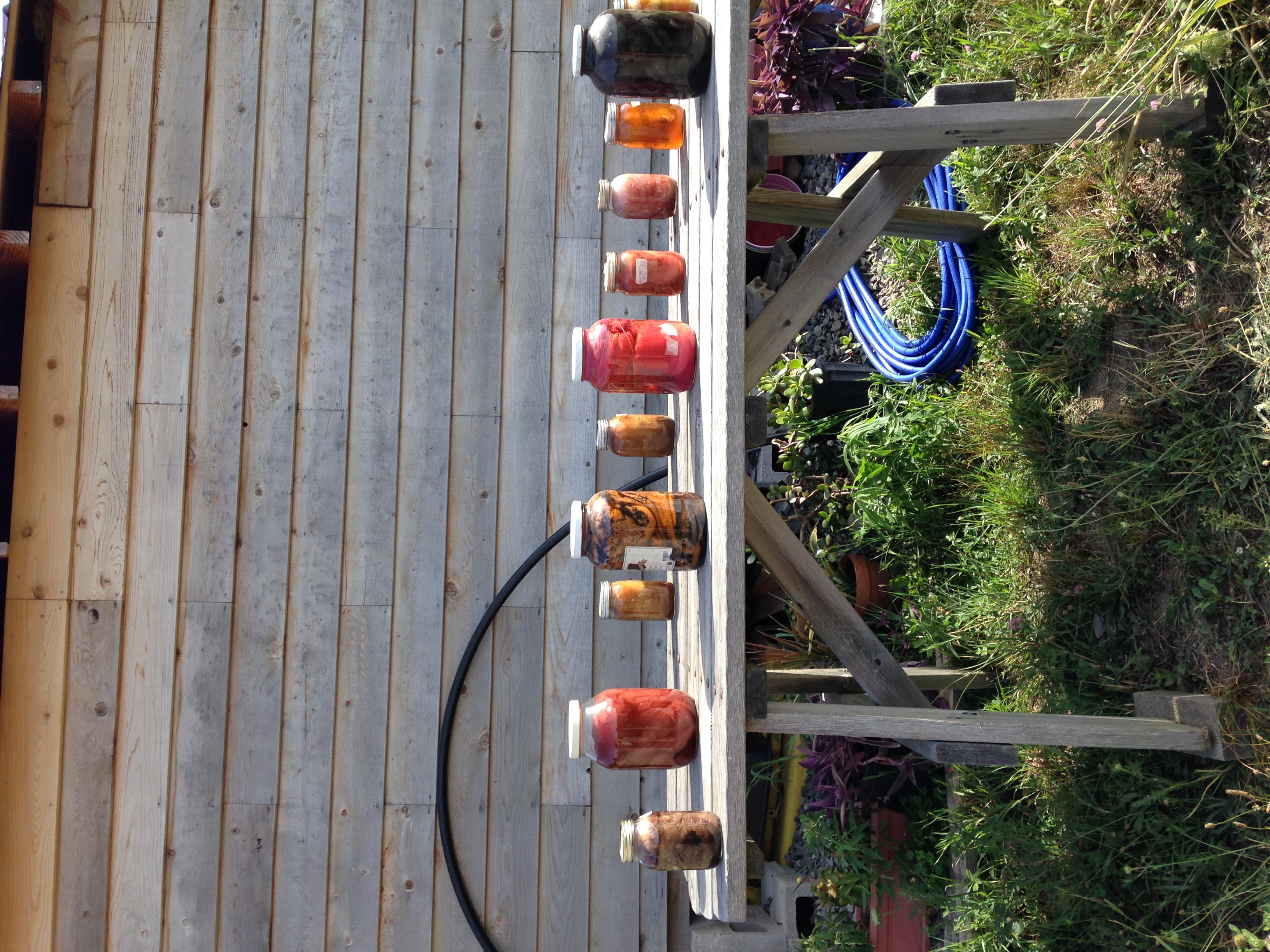 Solar plant dyes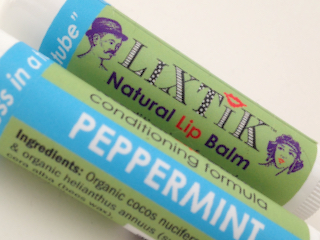 Moisturize, hydrate, and nourish your lips with wonderfully luxurious
Leave your lips moist and smooth for many hours. Soothes severely chapped lips.

| | |
| --- | --- |
| Choose from 8 LiXTiK Beeswax flavors/scents. Ingredients: Organic coconut and sunflower oils, premium beeswax, 100% pure essential oils | |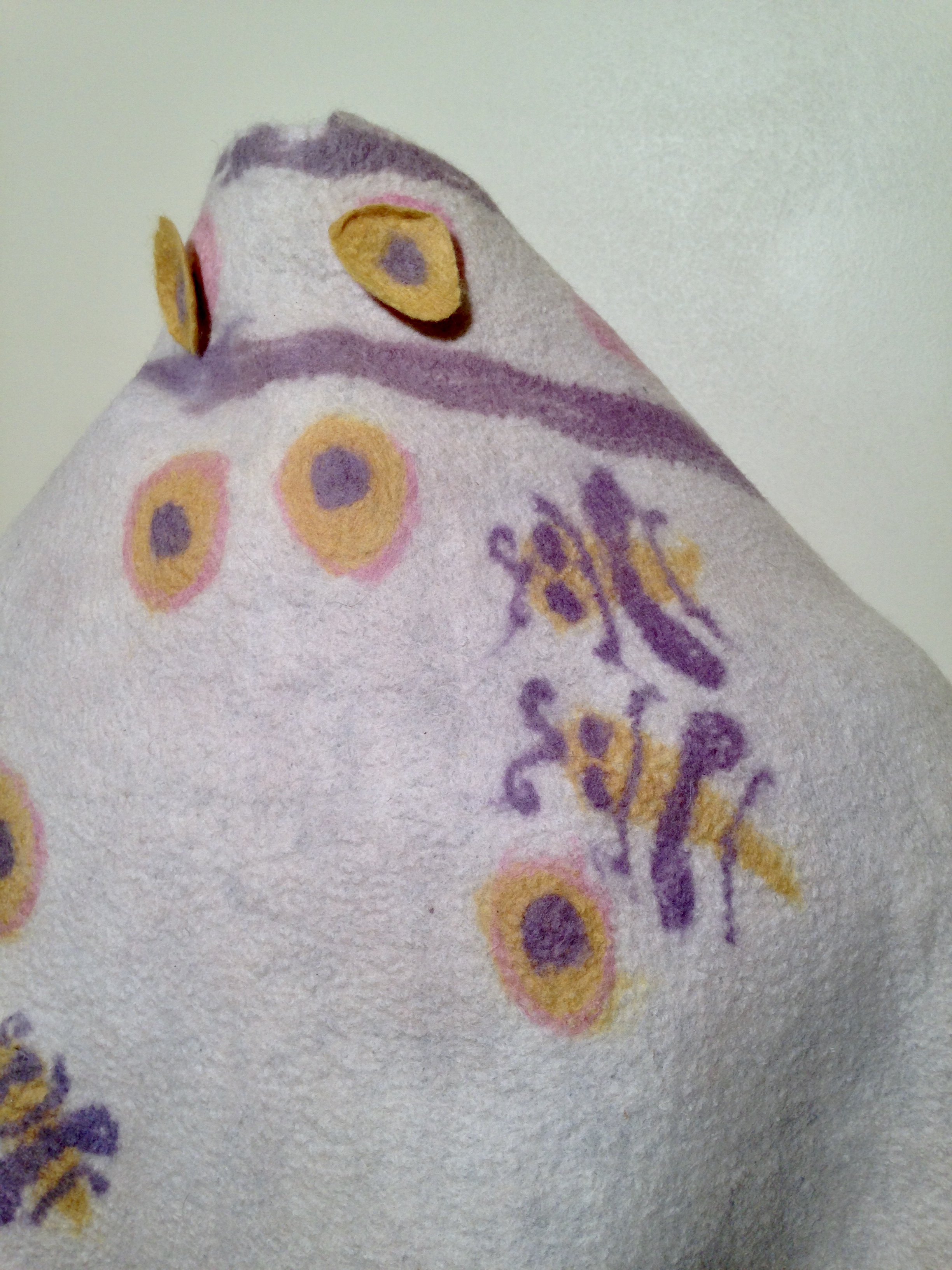 Closeup of the Bees and Buttercups Shawl. The wool is Falklands Island Merino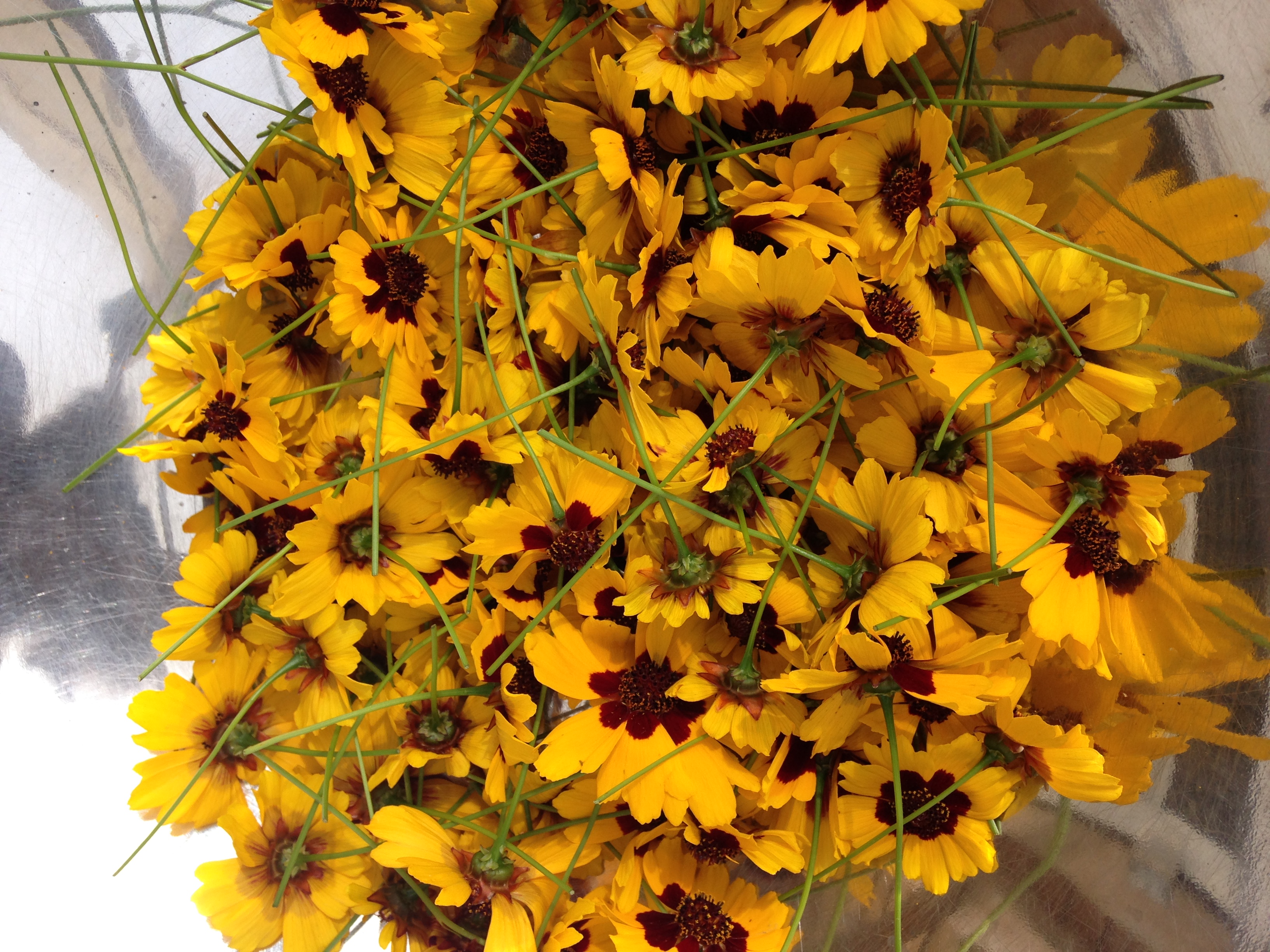 Fresh picked coreopsis flowers, ready for the dye vat. Coreopsis makes a variety of yellows, oranges, and reds.
Front view of Bees and Buttercups Shawl with matching hat
Merino Wool Felt Art
Click here to learn about the magical world of eco dyed wool felt art.